GOP leader removes Rep. Steve King from committee assignments after racist remarks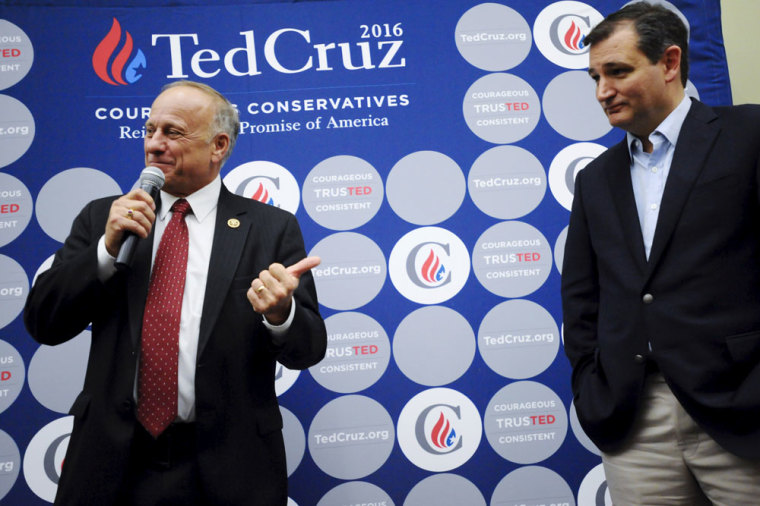 Congressional Republicans are speaking out against one of their colleagues, Steve King, saying he exemplifies why some continue thinking conservatives do not take racism seriously, amid a growing Congressional push to censure him.
House Republican leader Kevin McCarthy informed reporters Monday evening that King will not receive any committee assignments this term. The Democrats, who now control the House, will schedule a vote to censure him, according to Politico. 
King, who has represented northwestern Iowa in the U.S. House of Representatives since 2003, maintains that he does not hold the views being attributed to him, though did not deny the accuracy of the report.
The latest episode that has precipitated criticism of the Iowa Congressman came about following The New York Times interviewed King in a Friday article about the immigration debate.
"White nationalist, white supremacist, Western civilization – how did that language become offensive? Why did I sit in classes teaching me about the merits of our history and our civilization?" he said.
Following the publication of the article, King took to the floor of the House Friday, saying that he is an "American nationalist," is a believer in the values of Western civilization, and that he rejects the labels and ideologies of white supremacy and white nationalism and what they represent. 
His comments to The New York Times drew swift backlash from fellow Republicans, including some from his home state.
In a tweet Saturday, Sen. Joni Ernst, R-Iowa, condemned King's remarks, calling them "offensive and racist — and not representative of our state of Iowa."
King has a reputation for similar rhetoric and it has nearly cost him his political career. In the 2018 cycle, he was barely reelected, edging out his Democrat opponent by a few points in a district Trump won overwhelmingly in 2016. 
Sen. Tim Scott, R-South Carolina, who is African-American, explained in a Washington Post editorial that the reason Republicans are often accused of racism is that the party is too often silent when comments such as King's emerge.
Sen. Ted Cruz, R-Texas, also weighed in on the matter, saying in an interview on NBC's "Meet the Press," that King's remarks were "stupid," "hurtful," and "wrong."
"And he needs to stop it. I think all of us ought to be united regardless of party in saying white supremacism, white nationalism is hatred, it is bigotry, it is evil, it is wrong. And I think we need that clarity. And I'm certainly going to urge everyone to provide that clarity."
Such was also the sentiment of other conservative thought leaders, including prominent publications like National Review.
In a Saturday editorial titled "Dump Steve King," the National Review editors urged the Republican party to stop supporting him for the next election cycle.
"King has done nothing to earn the benefit of the doubt or to credibly suggest that his comments to the Times were somehow a slip of the tongue," they wrote of his most recent remarks.
"Over the last several months, the congressman has compiled a distressing record: endorsing the political campaign of a protest candidate for mayor of Toronto who appeared on a white-supremacist podcast and has repeated white-supremacist mantras; approvingly citing white nationalists on social media and, when pressed, refusing to admit error; and nodding to fringe tropes such as 'cultural suicide by demographic transformation' that reduce the legitimate issue of national cohesion to an ugly exercise in racial bean-counting."
Rep. Liz Cheney, R-Wyoming, did not mince words.
"These comments are abhorrent and racist and should have no place in our national discourse," Cheney, who is the daughter of former Vice President Cheney, said of King's words in a tweet Friday afternoon.
McCarthy warned, in a CBS "Face the Nation" interview Sunday, that he would do something about King's remarks.
"Action will be taken. I'm having a serious conversation with Congressman Steve King about his future and role in this Republican Party," he said.
"I will not stand back as a leader of this party, believing in this nation that all are created equal, that that stands or continues to stand and have any role with us."