Gospel singer says God told her to sing on Delta flight and it caused a firestorm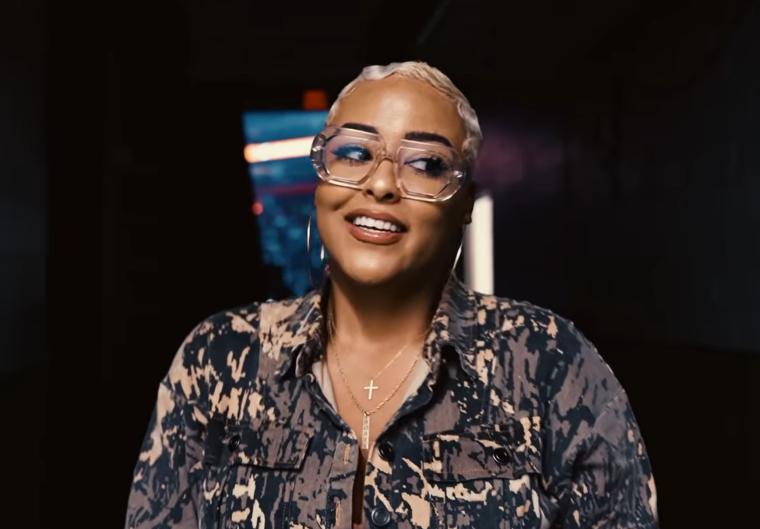 When gospel singer Bobbi Storm got baptized at the height of the COVID-19 pandemic in October 2020, at Emmanuel Christian Center Inc., in Philadelphia, Pennsylvania, she declared that "God is about to use me in ways like never before."
"Today is the day! Take one good look at this woman in this pic ... because after today she will never be the same! God is about to use me in ways like never before and I feel it! I receive it! Whew!" she said in an Instagram post with a photo showing her dressed in white baptismal garb. "Baptized in a pandemic! I feel strength and power like never before!"
Just over three years later, Storm who is a featured vocalist on Maverick City Music's The Maverick Way Completealbum, which is nominated for best gospel album for the 2024 Grammys, is making headlines for doing what she says the Lord recently told her to do — sing her new song called "We Can't Forget Him" for passengers on a Delta Air Lines flight before takeoff.
Video posted by Storm on Instagram on the weekend, however, shows a flight attendant challenging her attempt to sing to passengers who she said told her it was OK to do after asking their permission.
"So I used to sing on planes a long time ago. I just found out I'm up for two Grammys. My very first time you guys. My name is Bobbi Storm and I'm up for two Grammys. I sing for the Lord and my song is out on all platforms. It's called, 'We Can't Forget Him'," she told the passengers before asking if she could share the song.
"I wanted to do it when I first got on the plane. But I was like, you know, I haven't done this in a while. I've gotten to the next status," she continued before she was firmly interrupted by the male flight attendant.
"Are you able to be quiet?" he asked.
"But they're enjoying it. So while we're sitting here, can I please," she tried to plead before she was interrupted.
"I'm not enjoying it. So I'm asking you can you be quiet?" the flight attendant asked again.
"Am I gonna go to jail if I don't?" Storm shot back.
"Can you please answer my question? Are you willing and able to be quiet right now?" the flight attendant insisted.
And that's when Storm invoked her faith.
"I'm doing what the Lord is telling me to do," she replied.
The flight attendant was not impressed.
"I'm asking you a question. Yes, or no? I'm your flight leader. I need you to follow my instructions. My instructions for you [are] to answer my question. Are you able to be quiet?" he demanded again firmly.
Though she claimed the Lord had told her to sing, Storm turned to the passengers for their opinion on whether or not she should be quiet.
"What do you guys think?" she asked.
When she did that the flight attendant threatened to remove her from the flight if she refused to comply with his request to be quiet.
"If you're not able to follow my instruction, you will not be taking this flight. Are you able to be quiet?" he asked again.
Storm appeared to relent.
"If that's the case, then that's fine. If you are the person in charge of it all."
Gospel singer Bobbi Storm was almost kicked off a Delta Airlines flight after she refused to stop singing.

What would you do in you were on the flight? #CYPY

pic.twitter.com/KIaZbFYm77

— Ebro In The Morning (@EBROINTHEAM) November 14, 2023
Once the flight attendant left, Storm still ended up singing her song for the passengers and received applause at the end of it where she told them where they could follow her on social media and buy her music.
Video of the kerfuffle between Storm and the Delta flight attendant has now gone viral and triggered a wide range of opposing views.
"The Lord works Decently and IN ORDER. Ma'am you are out of order. Don't put God's name in that," Curtis Lawrence Jr., wrote on Facebook in response to the video on Tuesday. "When I get on a plane, the last thing I want to do is sit next to a Chatter Box, especially one talking to the whole plane. She needs to be taught ORDER. Speak when it's your time. This man's job it to make sure the flight is comfortable for everyone. You all out of your seat talking to the whole plane. Sit Down and Hush."
Actor Edmund Janas, who had only seen an edited version of the video posted by Storm online, had a different take when he viewed the video which is approximately 4 minutes long.
"I knew something was off when they were posting edited versions of this online. Commander Rukus was completely wrong to speak to a passenger like this. Notice they all fell quiet out of fear, not because she did anything wrong," he wrote on X. "Watch how the energy of the passengers change from happy and celebratory to fearful this 'authority' admonishes the woman. Notice they all fell quiet out of fear, not because of her."
In the video clip, Storm shared with passengers that she previously sang on flights and never had an issue. And she has not been the only person to sing on a flight.
Multiple instances of passengers and choirs singing on flights can be found on YouTube.
The Christian Post reached out to Storm through the church where she got baptized but the church did not immediately respond.
Storm did reveal in a follow-up video on Instagram that Delta executives reached out to her and made things right.
The airline confirmed in a statement to The New York Times that they had been in contact with Storm but insisted that passengers need to follow the instructions of the crew.
"For the safety of our customers and crew, it's always important to follow crew instructions," the statement said.
Despite the criticism she has been receiving from some onlookers online, Storm insists that all she did on the flight was obey God.
"One thing you will never be able to do is question my obedience, and the people saying God won't call you to cause disruption, in fact He will. Even in his word he has told his ppl to disrupt and shake things up for his glory," she wrote in an Instagram post over the weekend.
"I urge especially my Christian's to really have a heart check and a word check before attacking another one of your kind. I'm up for this bc I know to whom much is given much is required, but one thing I can't let rock when I have the platform to correct, is ignorance. People should be informed. I believe my music will also show us who really is a believer and who is not! Let's all pray and watch and all will be well!"