Greg Laurie Offers Prayer for Paris Jackson Amid Reports of Attempted Suicide
Greg Laurie of Harvest Ministries has offered a prayer for Michael Jackson's daughter after it was reported that 15-year-old Paris Jackson may have attempted suicide by swallowing 20 Motrin pills and cutting her wrist with a kitchen knife.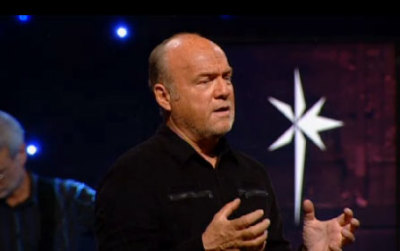 "I pray that Paris Jackson will hear the Good News that Jesus loves her. And I pray that whatever pain she is facing, she would know that though her earthly father is gone, she has a Father in heaven who wants to give her life meaning and purpose," Laurie wrote on Facebook. "Don't take your life, but rather dedicate your life to Jesus Christ. If you do that, you will find the happiness you desire and also have the hope of Heaven."
It was reported Wednesday that Jackson had been taken from her family's Calabasas, Calif., home on a stretcher in the early morning hours and transported to a nearby hospital, where the purportedly deeply depressed girl was later said to be "safe and doing fine," according to relatives. She has been undergoing psychiatric evaluation.
There was speculation Thursday that the upcoming anniversary of Michael Jackson's June 25, 2009, death might have contributed to his only daughter's alleged attempt to kill herself. Reports also point to a series of cryptic tweets sent out by Paris Jackson in the hours leading up to a 911 call from her home.
The tweets sent out to her 1.2 million Twitter followers include a line from a Beatles song "Yesterday" that read, "Yesterday, all my troubles seemed so far away now it looks as though they're here to stay." Earlier, she questioned, "I wonder why tears are salty?" The contents of a reported suicide note left by the teen have not been disclosed by law enforcement officials.
A comment from an attorney representing Katherine Jackson, Paris Jackson's grandmother and guardian, however, suggested that the loss of the young girl's father may indeed have been a contributing factor.
"Paris is physically fine and is getting appropriate medical attention. Being a sensitive 15-year-old is difficult no matter who you are. It is especially difficult when you lose the person closest to you," attorney Perry Sanders said in a statement.
Paris Jackson lives with her grandmother and two brothers, Prince Michael Jackson, 16, and Prince Michael "Blanket" Jackson II, 11. The children's father died from an overdose of prescription drugs, with his personal doctor sentenced to four years in jail for involuntary manslaughter in relation to the death. The Jackson family has since filed a wrongful death lawsuit against AEG Live, a concert promoter working with the king of pop on a comeback show at the time of his passing.
Laurie, pastor of Harvest Christian Fellowship in Riverside, Calif., called Paris Jackson's attempted suicide "so terribly sad" and referenced Psalm 144:15: "Happy are the people whose God is the Lord." He added, "Happiness is not in what you have, but who you know."
There were more than 1,500 responses to Laurie's prayer for Paris Jackson, with comments from some sharing their own struggles with mental illness or suicide attempts.
"I have wrestled with depression most of my life and I have attempted suicide (four) times and each time I could feel God pulling me back to life," shared one commenter. "The pain one feels from severe depression is indescribable. It's the darkest and deeper pain imaginable. However, In that darkness God never left me and waited until I could see the light was on. His light was follow(ing) me in my darkness until it took over the darkness."
The commenter added, "When we have reached the bottom WE ARE NEVER ALONE. God is with us every step of the way and when we cry out to him and keep reaching out to him even in the smallest way he understands our suffering and reaches back in the biggest way! Keep reaching out for God and he will always pull you to him. Never give up on him as he would never give up on you."
Laurie, who lost one of his sons to an automobile accident in 2008, helped counsel Saddleback Church Pastor Rick Warren when he and his wife lost their 27-year-old son, Matthew Warren, to suicide in April after a life-long battle with mental illness.