Greg Laurie Says Prosperity Preachers 'Hijacked' the Bible; Explains What It Means to Prosper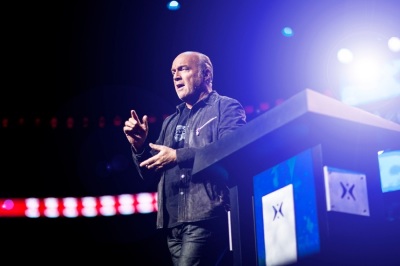 Megachurch pastor and evangelist Greg Laurie chided a teaching known as the "prosperity gospel" for twisting what it means to be prosperous and explained that the prosperity promised Christians in the Bible does not erase hardships from their lives.
In his September 16th blog, Laurie took issue with the prosperity gospel's assurances that Christians are meant to be "wealthy, healthy and wise."
He wrote, "Sometimes I think that today's 'prosperity preachers' have hijacked a legitimate biblical term. After all, God does want His sons and daughters to prosper. But what does that really mean? That you'll never get sick? Never have problems? Never run out of money? Never have strains in your relationships? No, that is not what the Bible means by 'prosperity.'"
Laurie explained, using the apostle Paul and his ministry in Rome as an example, that the path to biblical prosperity is often littered with unexpected problems and unforeseen circumstances.
Paul, he recalled, prayed that he would have a prosperous journey to Rome.
"Did God answer his prayer? Yes. He did make it to Rome and had an amazing ministry there of preaching, teaching, discipleship, and writing. He just hadn't understood that getting to Rome would mean false accusations, arrest, incarceration, and chains. He couldn't have foreseen that it would involve hurricane-force winds at sea, shipwreck on an island, and the bite of a poisonous viper on the way," described Laurie.
He summed, "The reality is that you can live a prosperous life in the will of God and still face fierce personal conflict and adversity."
The California preacher is not the only major church figure to question the prosperity gospel's teachings. Last year, evangelical teacher John Piper said in his last sermon at Bethlehem Baptist Church, "If you entice people with wealth, ... ease, health, chipper, bouncy, light-hearted, playful, superficial banter in your worship service posing as joy in Christ, you will attract people, oh yeah, you can grow a huge church that way. But Christ will not be seen in His glory and the Christian life will not be seen as the Calvary road that it is."
Yet some ministers continue to peach about the benefits of Christianity without talking about suffering. Laurie wrote that prosperity is not about avoiding adversity, but moving forward in spite of them.
He shared, "Rather than trying to avoid the storms of life, we need to learn how to get through them, how to survive them, and how to learn the lessons that we can only learn in such times and such places. It has been said that you can't direct the wind, but you can adjust your sails. In other words, I can't control all the elements of my world—or even very many of them at all. But I can control my reaction to them. I can adjust my sails—and adapt."