Greg Laurie Talks Who Can Take Over Billy Graham's Mantle Ahead of Harvest America 2018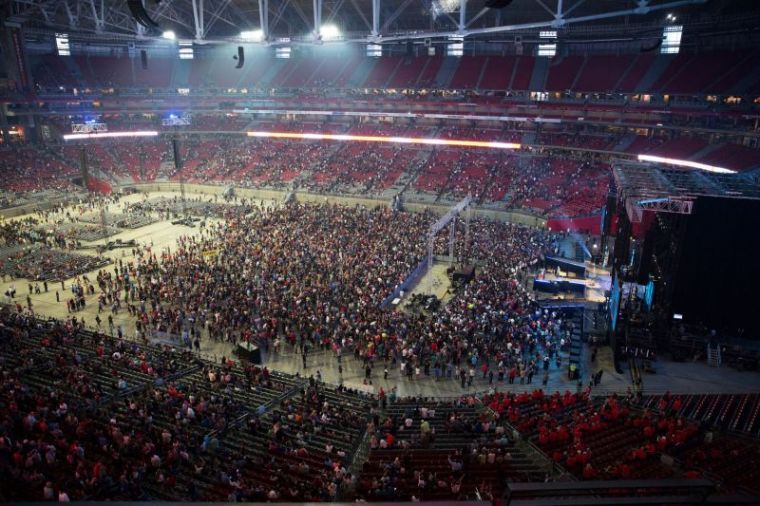 Pastor Greg Laurie of Harvest Christian Fellowship in Irvine and Riverside, California, has said that no one can take over the mantle of the late evangelist Billy Graham, even as Harvest America 2018 seeks to become the largest one-day evangelistic event in U.S. history in June.
Laurie said in a statement Wednesday that much of his ministry's work over the past 30 years has been influenced by Graham, who died in February at 99.
"He always encouraged me personally, once telling me he thought I should go into evangelism full-time. I responded, 'Billy, when you tell me what I ought to do it's like Moses speaking! But I feel led to pastor and preach the Gospel!' Billy smiled and agreed," he recalled.
"Once, after having lunch in his home, I asked Billy what an older version of himself would say to a younger version about preaching, after all his years of experience in bringing the Gospel in stadiums around the world. His response was, 'I would preach more on the cross and blood of Christ. That's where the power is!' I never forgot that. That is exactly what I intend to do."
Still, Laurie, whose ministry has joined the Southern Baptist Convention, said that the truth is that "there will never be another Billy Graham."
"He will always be a singular figure and no one person could fill his shoes. But we must carry on the torch he carried to his generation, the torch of what I call 'Proclamation Evangelism!'" he continued.
"Our prayer is that a whole new movement of churches would see Harvest America as an opportunity to carry the torch of the Gospel forward in their own backyard and join the thousands of churches already participating in the event," he added.
"Just imagine your congregation's friends and family members giving their lives to Jesus because of your decision to host this event."
Harvest America 2018 is set for June 10 at AT&T Stadium in Arlington, Texas, and follows in the footsteps of the massive event in 2016, which at the time became the largest one-day evangelistic event in the nation's history. The event will be held at the same time the Southern Baptist Convention kicks off its Annual Meeting in Dallas on June 10–13.
The event drew record crowds, including 82,000 attendees and over 180,000 remote venue viewers across all 50 states. With another 90,000 watching the webcast, the number of cumulative participants hit 350,000. A total number of at least 25,000 were said to have committed their lives to Christ as a result of the Gospel initiative.
Organizers say that the Harvest America events throughout the years have in total been attended live or watched by simulcast by 7.6 million people, and have captured 66,000 professions of faith.
The events feature preaching by Laurie, along with musical performances by leading Christian artists.
In an op-ed in The Christian Post in March, Laurie opened up more about the way Graham guided him throughout the decades.
"I was greatly impacted by Billy's life and ministry, and all I do in evangelistic events today is directly influenced by the years I spent with him both publicly and privately," he wrote.
The pastor urged, "If you really loved Billy Graham, then do what he did: preach the Gospel without apology and call people to Christ. Billy will thank you in Heaven later, I'm sure."