Greg Laurie to Headline 'Super Bowl of Evangelism' Sunday in Phoenix (Interview)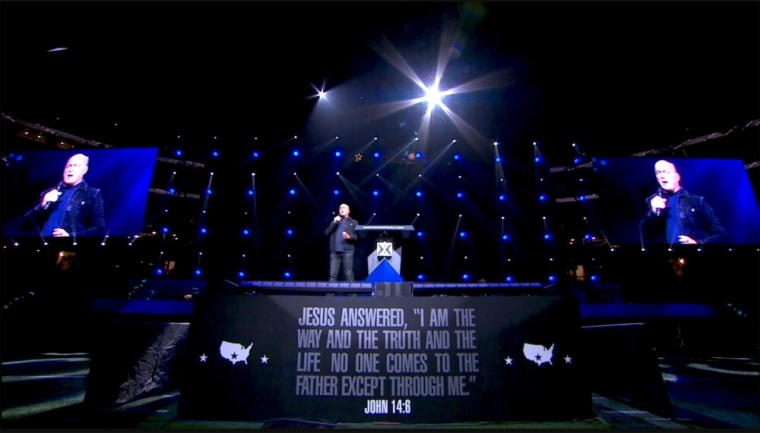 Tens of thousands of people across the nation are expected to attend or watch what evangelist Greg Laurie has referred to as the "Super Bowl of evangelism" this Sunday.
Laurie, senior pastor at Harvest Christian Fellowship in Riverside, California, and Harvest Crusades will be hosting the annual Harvest America revival event in Glendale, Arizona, which this year will feature a number of well-known Christian musical talents, a Gospel message from Laurie and a sneak peek at Laurie's upcoming documentary on the faith of Hollywood icon Steve McQueen.
The event, which is billed as "the nation's largest one-day evangelistic outreach," will be held at the University of Phoenix Stadium and begins around 4:30 p.m. It will be livestreamed online and telecast on the Trinity Broadcasting Network. 
The show will feature performances from "The Voice" star Brennley Brown, "American Idol" winner Jordin Sparks, Christian bands MercyMe and NEEDTOBREATHE, contemporary Christian musician Phil Wickham and Christian rapper Trip Lee. The night will be capped off by a sermon and call to profess faith in Christ from the 64-year-old Laurie.
"Super Bowl Sunday, which for many now is a religious holiday, is a day when many of us watch a football game on TV. It is something we all do across the country at the same time. There will be Super Bowl parties where you will invite people over to your home and then watch the game," Laurie told The Christian Post in an interview this week.
"I use that as a picture to describe what Harvest America is," he continued. "Yes, it happens in one place — Phoenix, Arizona — but the reason we call it Harvest America is there are thousands of host sites around the nation in places ranging from church sanctuaries to movie theaters to open fields to front rooms. We ask everyone simultaneously to watch this event as it happens live in Arizona."
Harvest America 2016 was hosted at the home of the Dallas Cowboys, AT&T Stadium in Arlington, Texas, and was attended by over 82,000 people while an estimated 180,000 people across the world watched the event at 7,000 different simulcast hosting locations. An estimated 25,000 people made professions of faith at the end of the night.
As Laurie has maintained that America is in need of a "spiritual awakening," this year's Harvest America coincides with Laurie's declaration earlier this year that 2017 is "the year of Good News."
"I think that right now there is a real anxiety in many people. There is a fear in the air," Laurie told CP. "Recently, I read that the No. 1 phrase typed in the Google search engine was 'Is World War III near?' because of a nation like North Korea threatening to nuke us in doing missile tests. I think that people are agitated, they are concerned, they are wondering the answers to those age-old questions. I think we need to be there with answers from the Bible."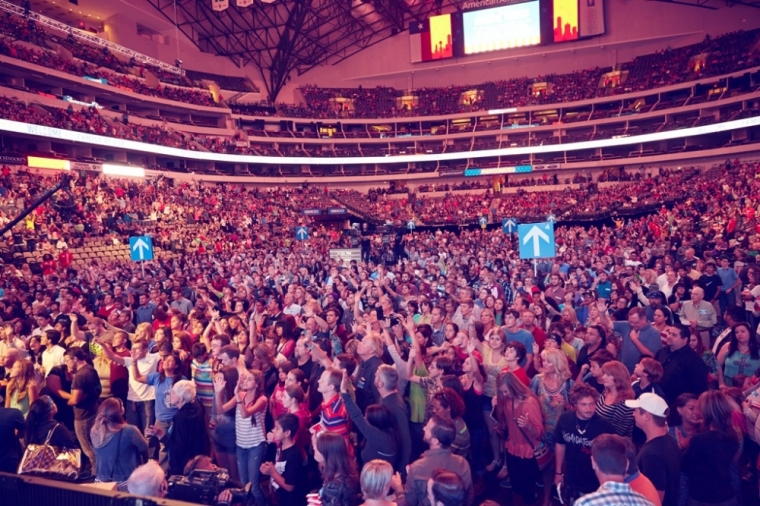 "As we have gotten away from that [biblical] virtue and those moral absolutes because we have gotten away from God's Word and we have gotten away from God Himself, we have a nation in need, a nation in crisis, a nation where the family is breaking down, a nation where we have riots in our streets and racial unrest," the evangelist added. "The answer is we need another spiritual awakening."
Laurie said that since the event will be televised on TBN and livestreamed on Harvest America's website, it creates an opportunity for people across the nation to invite their friends and neighbors to their homes and churches to watch the event in fellowship with their communities.
"When I am calling people to Christ in the University of Phoenix Stadium, I will be calling them to Christ wherever you are," Laurie said.
An aspect that will be entirely new to this year's Harvest America is Harvest's partnership with the Southern Baptist Convention's North American Mission Board's Crossover Phoenix 2017, an outreach event in which believers will be trained and expected to evangelize people on the streets of Phoenix.
"They felt like they needed an event, sort of a catalyst to wrap it around," Laurie said of NAMB's Crossover. "I thought it was a perfect fit. We, like NAMB and the SBC, are passionate about evangelism and about calling people to Christ and so we agreed."
Laurie said that experienced evangelism leaders associated with Harvest will conduct a training class for people who plan to take part in the Crossover event on Friday.
"We are hands-on involved in training and we do a lot of this sort of thing," he explained. "We train people and take them out in the streets all year long. So this is in our wheelhouse. This is a perfect cooperative effort between Harvest Ministries and NAMB because we all have the same objectives."
Laurie said that it remains to be seen if the Crossover evangelism efforts will lead to an increased attendance at Harvest America but knows that the partnership will help Harvest have a greater impact on the Phoenix community.
"People are coming in from around the country and they are being trained in sharing their faith. They are going to go out and engage people," Laurie stated. "Even if people don't come to the event itself, the fact that we are sending people out into the community to talk to people about their faith is, in itself, a really great thing. The fact that we are coordinating with the crusade itself is an even better thing."