'We don't scare easily': Greg Locke vows to fight county's lawsuit against his church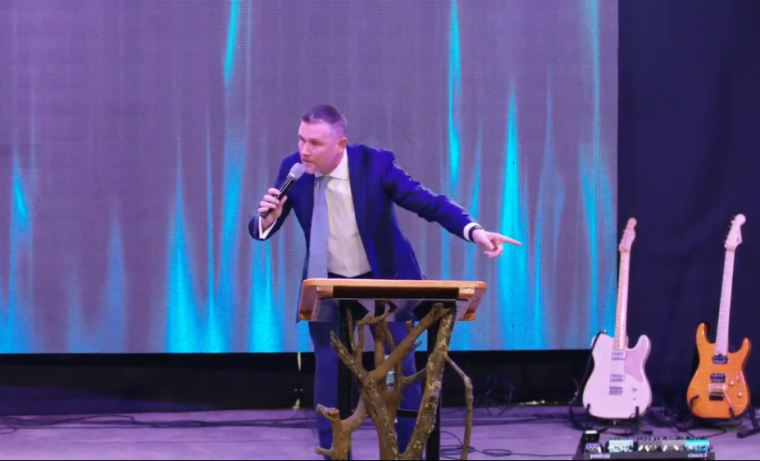 Tennessee Pastor Greg Locke plans to fight litigation against his church over allegations that it violates local ordinances regarding planned building expansion, saying the legal action is based on "faulty findings, misrepresentation, and just plain speculation."
Tom Brashear, director of Wilson County Development Services, filed a lawsuit against Locke and his Mt. Juliet-based Global Vision Bible Church last Thursday in the Circuit Court of Wilson County. 
The lawsuit claims that the church failed to have the proper permits for building and stormwater, as well as complaints over noise issues from locals. 
In comments given to The Christian Post on Monday, Locke called the lawsuit "bogus."
"We will continue to press for them to dismiss it. If they refuse, we will fight as long as it takes," Locke declared. "At the end of the day, they cannot and will not win. This is unconstitutional. We will not back down. We don't scare easily. The Lord is on our side and we will be victorious."
Locke and his church are already dealing with a lawsuit filed by a couple that lives near the facility, who complain that Global Vision's worship services are causing them many problems.
Brashear emailed CP a copy of the lawsuit the state agency filed and stated that "we are open to considering other means of resolving the zoning violations that have resulted in the suit while legal proceedings continue."
The lawsuit seeks to force the removal of "all buildings from the property" and for the church to be "permanently enjoined from placing any other buildings on the property until there is full and strict compliance with the Wilson County Zoning Ordinance and the Wilson County Strormwater Regulations." 
Dozens of noise complaints have been filed against the church by locals, according to WKRN of Nashville, as Global Vision erected a new tent in February in an attempt to reduce the noise.
Locke said his church has reportedly grown considerably since 2020, telling the news outlet that it "grew so fast that a tent is really the only option." He said that his church has grown by 1,000 members every year for the past three years.
"Even if we broke ground today, we would still need to be in a tent for two to three years," he claims. 
At a meeting last week, the Wilson County Board of Commissioners heard multiple people speak about the noise, demanding more action from the municipal government. 
"Larry and Linda Kent have filed suit against Global Vision Church and Pastor Greg Locke. A stay has been issued in this case while the Church filed an Appeal to Appellate Court," recounted the minutes for the March 20 meeting.
"Discussing Codes Violations, it was mentioned that the State of Tennessee has a Stop Work Order on the septic in front of his house. There are also issues with stormwater runoff and codes violations that the Church and the Pastor ignore."
A petition on change.org calling for a noise ordinance for Wilson County has received more than 1,900 signatures as of Monday afternoon. The petition protests "excessive amplified sound emanating in the west end of the county."
The petition, which does not mention Locke or Global Vision by name, speaks of "amplified sound from large groups of people that are frequently heard late into the night on weekdays and weekends for extensive periods of time."
"We, the undersigned residents, have placed many calls to the Wilson County Sherriff Dept reporting the loud noise and music. The excessive noise and music have continued all hours of the day and late into the night, despite our repeated complaints," reads the petition.
"In order to preserve our peaceful community, maintain property value, and protect our quiet rural community, we must push for a noise ordinance. A noise ordinance has been in the works, but nothing has yet to change."
Locke garnered controversy for many of his political stances, such as refusing to follow a face mask mandate during the COVID-19 pandemic in 2020 and telling his congregation not to vote for Democrats, prompting a Johnson Amendment complaint.
Recently, Locke has championed efforts to advance a deliverance ministry aimed at exorcising demons from people, as showcased in a recently released film titled "Come Out in Jesus' Name."