'Guns, Gays, and God,' Explain White Male Support for Donald Trump, Nancy Pelosi Says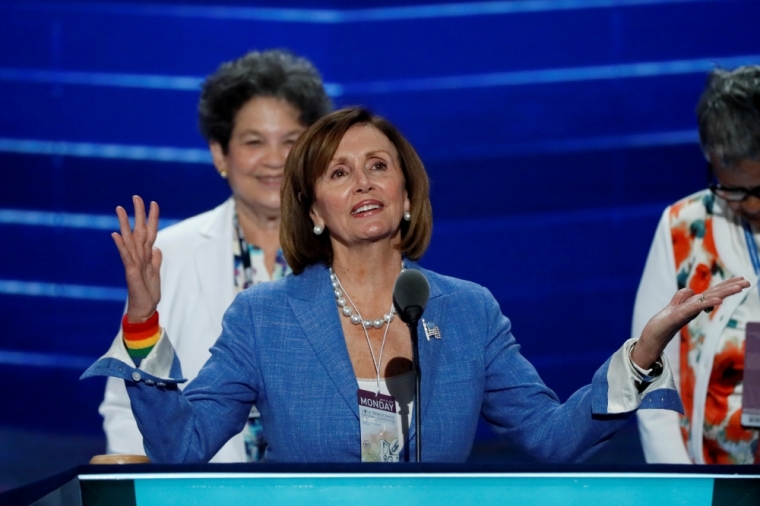 Former House Speaker Nancy Pelosi said the reason many white males prefer Republican presidential nominee Donald Trump over his rival Hillary Clinton is because of the issues of guns, gays and God.
"I think that, so many times, white — non-college-educated white males have voted Republican. They voted against their own economic interests because of guns, because of gays, and because of God, the three G's, God being the woman's right to choose," Pelosi said in an interview with PBS's Judy Woodruff on Wednesday.
Pelosi did not elaborate on that comment, but Trump and Clinton stand on opposing sides on a number of the above-mentioned issues.
Trump has been endorsed by the National Rifle Association for his support for law-abiding citizens owning guns, while Clinton has promised to "take on the gun lobby" in America and fight for "commonsense reforms," that would include background checks and stricter gun regulations.
While Clinton is a strong supporter of gay marriage, Trump has said that he is "not in favor of gay marriage."
When it comes to religion, Trump has said that he is a Presbyterian, while Clinton is a Methodist and Pelosi is Catholic. Pelosi's comments of "the woman's right to choose," could be an indicator of the abortion issue, however, as Clinton strongly backs Planned Parenthood, the nation's largest women's services and abortions provider, while Trump has called himself "pro-life."
The Economic Times said that polls show Trump leading among white voters without a degree by 58 percent to 30, a lead which is even bigger among white working class voters, at 66 percent to 29.
Pelosi argued, however, that opposition from white males toward Clinton is "softening," as the Democratic nominee is focusing on creating jobs and increasing paychecks.
"Some of those people were never going to be voting Democratic anyway. But I believe that, with the turnout that we expect to have, we will draw some of them in with our message, and enough other people to win the election," she argued.
Democratic vice-presidential nominee Sen. Tim Kaine of Virginia meanwhile said at the Democratic National Convention in Philadelphia on Wednesday night that Clinton is ready to lead the White House because of her faith, heart, and experience.
"She's ready because of her faith. She's ready because of her heart. She's ready because of her experience. She's ready because she knows in America we are stronger together. My fellow Democrats, this week we start the next chapter in our proud story," Kaine, a Roman Catholic, said in his speech.
"Hillary is ready. Ready to fight, ready to win, ready to lead."
The alliterative phrase "God, guns and gays" was first used by former Vermont Governor Howard Dean in 2008 when he ran for the Democratic presidential nomination.
"Sooner or later, voters in places like that [the South] are going to grow tired of voting on guns, God and gays and start voting on education, health care and jobs," Dean said.
The notion that working class whites who vote Republican are voting against their economic interests was popularized in the 2004 best-seller, What's the Matter with Kansas? How Conservatives Won the Heart of America, by Thomas Frank.
Clinton is expected to speak on Thursday night at the Convention, where she will address Democrats with her plan for success.