Harold Camping Hospitalized by Stroke; Speech Affected
Harold Camping, who said Judgment Day would begin on May 21, was hospitalized this week after suffering a stroke.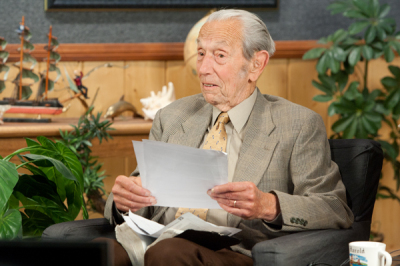 According to the Oakland Tribune, the Family Radio president was taken to the hospital Thursday night.
As of Friday, Camping's neighbor told the Tribune that the 89-year-old preacher was doing OK. His speech, however, appears to be slurred.
"The only thing that's affected is his speech," the neighbor said.
An official update on Camping's health is expected by Family Stations Inc. on Monday.
Camping, whom many Christians consider a false prophet, is infamous for his doomsday predictions. Most recently, he predicted that the rapture of true believers would occur on May 21, 2011, and that the rest of the world would suffer the beginning of Judgment Day.
Millions of dollars were spent on billboards and other advertisements around the country to warn people about the "guaranteed" coming of Judgment Day.
When the big earthquake or the rapture didn't occur on May 21, Camping remained silent in his Alameda, Calif., home for days and then appeared to the media two days later to explain what happened.
While the media and the public expected an apology or admission of mistake, Camping provided a new revelation he had. Judgment Day did come on May 21, he maintained, but it came spiritually and not physically. The world is now under judgment, he said. He moved the rapture date to Oct. 21, which is also the day he says the world will come to an end.
Over the past couple of weeks, Camping has been bombarded by angry and disappointed calls on his Open Forum radio program.
Some told him they spent their savings, trusting that his prediction would be right, and others indicated they lost their faith.
Some atheist groups have called for an investigation of fraud, accusing Camping of duping a lot of people, a couple of whom have reportedly committed suicide.
Camping co-founded Family Stations Inc., the parent company of Family Radio, in 1958. He began hosting Open Forum, a live weeknight call-in program, in 1961.