Harvey Claims Second Fatality as Floodwaters Rise in Worst Storm to Hit Texas in 50 Years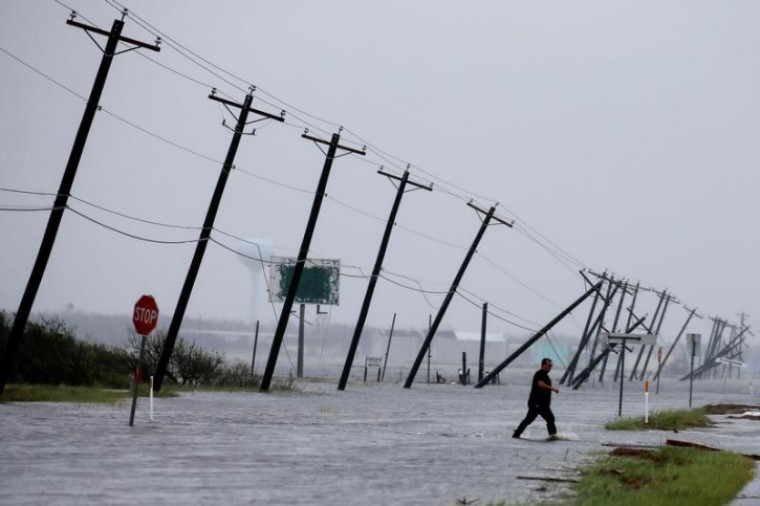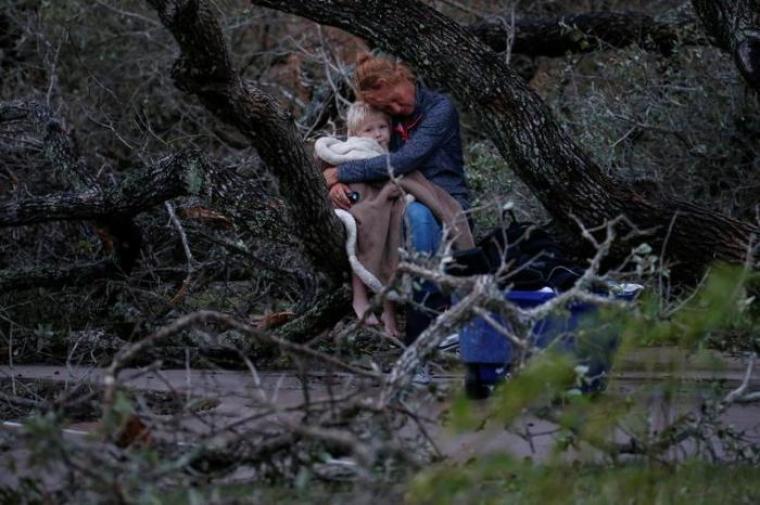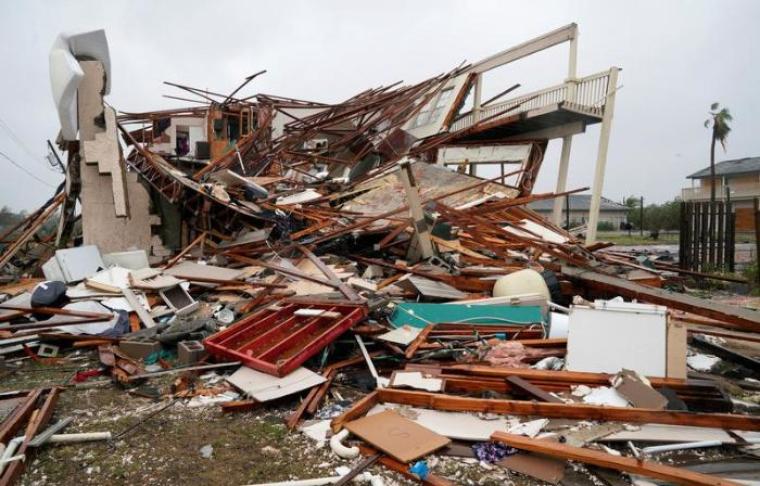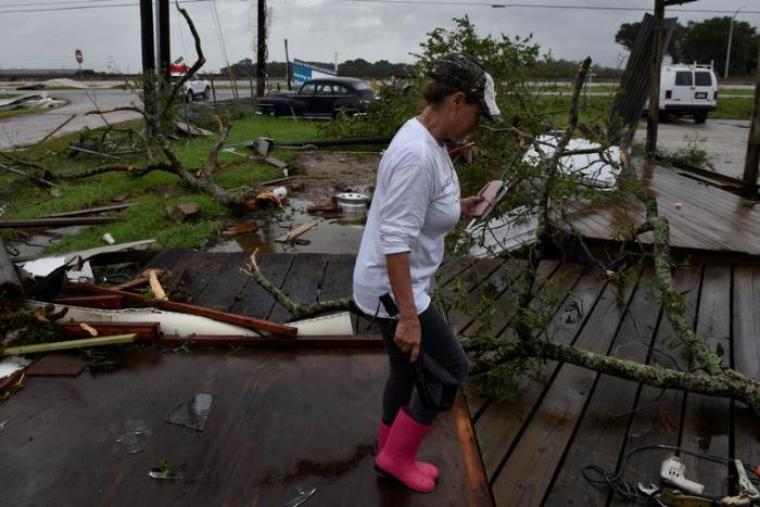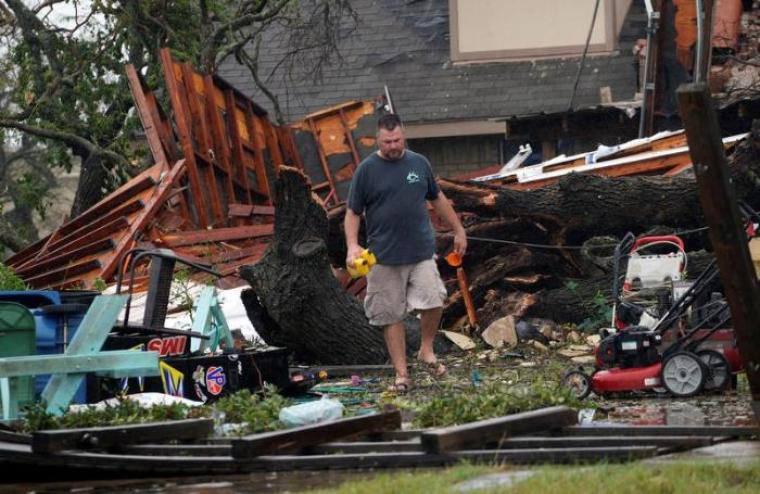 View Photos
HOUSTON, Texas — Emergency crews raced to pull people from cars and homes as flood waters rose across southeast Texas on Sunday, rescuing more than 1,000 people in the Houston area as Tropical Storm Harvey pounded the region.
The most powerful storm to hit Texas in more than 50 years has killed at least two people. The death toll is expected to rise as Harvey lingers for days above the U.S. state, triggering more floods, storm surges and tornadoes.
Harvey is forecast to arc slowly toward Houston through Wednesday. The center of the storm is still 125 miles (201.17 km) southwest of the fourth most populous city in the United States.
Emergency services in Houston told people to climb onto the roofs of their houses rather than into their attics to escape rapidly rising waters. Authorities warned the city's more than two million residents not to leave flooded homes because many of the city's roads are underwater.
The Twitter account of the sheriff of Harris County, which includes most of Houston, was inundated with rescue requests. Sheriff Ed Gonzalez said his deputies were responding to unconfirmed reports of a deceased woman and child inside a submerged vehicle on Interstate 10 near Houston.
Emergency services were stretched, and Gonzalez could only tell some people asking for help his teams were doing the best they can.
"All agencies care but everyone simply operating at maximum capacity," he tweeted at one point.
Another resident described seeing a woman's body floating in the streets during a flash flood in the same western part of the city. The flash floods were several feet high, the resident told local TV station abc13.
Houston's William P. Hobby Airport canceled all inbound and outbound flights early on Sunday due to standing water on the runway. The airport said its arrivals area was flooded, and the National Weather Service issued a flash flood alert for the surrounding area.
The second confirmed fatality from Tropical Storm Harvey came on Saturday evening as an elderly woman attempted to drive through flooded streets on Houston's west side, said Sergeant Colin Howard of the Houston police department.
"It appeared that her vehicle went into high water and she drowned as a result," he said. The victim was not immediately identified.
Houston police officials said officers were evacuating two flooded apartment complexes.
Authorities have urged residents to stay off the streets of cities across southeast Texas as rain fell at up to 5 inches (12.7 cm) per hour.
"There are a number of stranded people on our streets, calling 911, exhausting needed resources. You can help by staying off the streets," Houston Mayor Sylvester Turner said on Twitter.
On Friday night, a man died in a house fire in the town of Rockport, 30 miles (48 km) north of the city of Corpus Christi. Another dozen people in the area suffered injuries including broken bones, another official said.
Energy production in the state was disrupted as several refineries and offshore platforms closed down, triggering a rise in gasoline prices.
More than 45 percent of the country's refining capacity is along the U.S. Gulf Coast, and nearly a fifth of the nation's crude oil is produced offshore in the Gulf of Mexico.
Melanie Starnauld and her 19-year-old son Mathew, who lost their home to Hurricane Harvey, await to be evacuated from Rockport, Texas, U.S. August 26, 2017.Adrees Latif
HARVEY
Harvey slammed into Texas late Friday as a Category 4 hurricane with winds of 130 miles per hour (210 km per hour), making it the strongest storm to hit the state since 1961.
The storm ripped off roofs, destroyed buildings, flooded coastal towns and had cut off power to nearly 230,000 people in Texas as of Saturday night.
Texas Governor Greg Abbott said he was activating 1,800 members of the military to help with the statewide cleanup, while 1,000 people would conduct search-and-rescue operations.
Harvey was downgraded to a tropical storm on Saturday because its winds have slowed. But authorities issued stark warnings on the threat posed by days of torrential rain.
Slideshow (6 Images)
"This rain will lead to a prolonged, dangerous, and potentially catastrophic flooding event well into next week," the National Weather Service said.
Harvey threatens to break the record established nearly 40 years ago when Alvin, Texas, was deluged by 43 inches of rain in 24 hours on July 24-25, 1979.
'IT WAS TERRIBLE'
The coastal town of Rockport took a direct hit from the storm, leaving streets flooded and strewn with power lines and debris on Saturday.
A dozen recreational vehicles were flipped over on a sales lot, one blown into the middle of the street. A convoy of military vehicles arrived in the Rockport area on Saturday to help in the recovery efforts, and town officials announced an overnight curfew for residents.
"It was terrible," resident Joel Valdez, 57, told Reuters. The storm ripped part of the roof from his trailer home at around 4 a.m., he said as he sat in a Jeep with windows smashed by the storm. "I could feel the whole house move."
Before the storm hit, Rockport's mayor told anyone staying behind to write their names on their arms for identification in case of death or injury.
20 RESCUED AT SEA
The Texas Department of Criminal Justice said it was forced to evacuate about 4,500 inmates from three state prisons near the Brazos River because of rising water.
The U.S. Coast Guard said it had rescued 20 people from distressed vessels on Saturday, and was monitoring two Carnival Corp cruise ships carrying thousands of people stranded in the U.S. Gulf of Mexico.
The size and strength of Harvey dredged up memories of Katrina, the 2005 hurricane that made a direct hit on New Orleans as a Category 3 storm, causing levees and flood walls to fail in dozens of places. About 1,800 died in the disaster made worse by a slow government emergency response.
U.S. President Donald Trump, facing the first big natural disaster of his term, signed a disaster proclamation on Friday. He met with his cabinet and staff on Saturday to discuss the federal reaction to the storm, according to a White House statement.
Reporting by Ruthy Munoz and Gary McWilliams; Additional reporting by Liz Hampton, Ernest Scheyder, Marianna Parraga, and Ruthy Munoz in Houston; Jessica Resnick-Ault, Jarrett Renshaw, Taylor Harris, Devika Krishna Kumar, Sophia Kunthara and Chris Michaud in New York; Timothy Gardner in Washington, D.C. and; Dan Whitcomb in Los Angeles; Writing by Dan Whitcomb and Simon Webb; Editing by Mark Potter, Andrew Heavens and Andrea Ricci