Have Wild Videos of Christians Doing the 'Harlem Shake' Crossed the Line?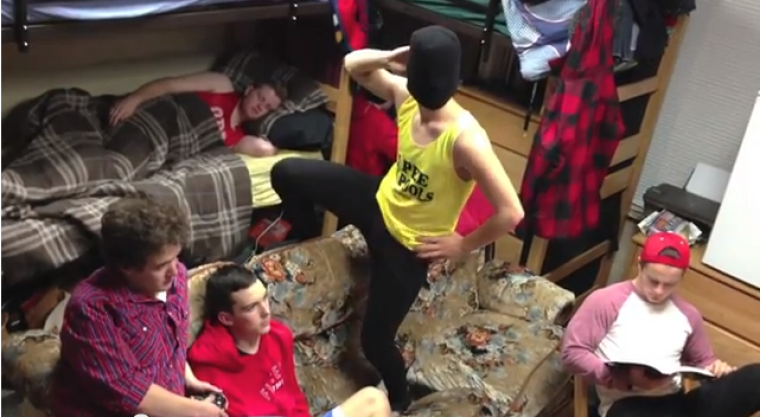 A debate is now raging online over whether or not videos depicting youth from Christian churches and universities doing a contemporary version of the "Harlem Shake" dance have crossed the line into inappropriate sexually suggestive behavior.
A Christian News Network report in April, tracked the origin of the Harlem Shake to a noted drunk from Harlem, New York City, named Albert Leopold Boyce who liked to entertain crowds with his drunken shake. He died from heart failure in 2006.
A 23-year-old DJ from Brooklyn, N.Y., however, resurrected the spirit of his dance when he combined the "Harlem Shake" with one of his club beats called "Con Los Terroristas" (With the Terrorists).
Five Australian teenagers then catapulted the dance into an internet craze when they performed a wild dance to the contemporary mix that was meant as a fluke.
Now, church youth groups and youth at several Christian universities have joined the party with a barrage of videos on YouTube and other social media that question their spiritual sobriety. Videos from Christian institutions like Saddleback high school ministry, Liberty University, Providence Christian College, Kentucky Christian University, St. Louis Christian College, Northwest University and Cedarville University show students gyrating in sexually suggestive ways with barely enough clothes on at times.
While some onlookers have washed their hands on passing judgment on the behavior, others are charging that this is not the kind of tune to which Christian youth should be marching.
"It would seem that these institutions are in full sync with this culture rather than a witness to the lost," Pastor David Whitney of Cornerstone Evangelical Free Church in Pasadena, Md., noted in the report.
In one of scores of Liberty University videos on YouTube, a student wearing a yellow shirt with the words "I pee in pools" gyrates on top of a couch with his shirtless friends.
While John Wyatt, the Executive Pastor of Celebration Church in Jacksonville, Fla., feels the videos are harmless fun and can be used to evangelize, others like Scott Brown, the director of the National Center for Family-Integrated Churches and elder at Hope Baptist Church in Wake Forest, N.C., disagreed. He noted in the report that the "Harlem Shake" is out of place in Christendom.
"When a Christian institution participates in these types of things, they are simply writing Ichabod on their door for all the world to see: 'the glory of the Lord has departed,'" he said. "The true people of God do not emulate worldly movements and personalities. The Bible says, 'Do not learn the ways of the heathen.'"