HB Charles Will Be First Black SBC Pastors' Conference President in 172 Years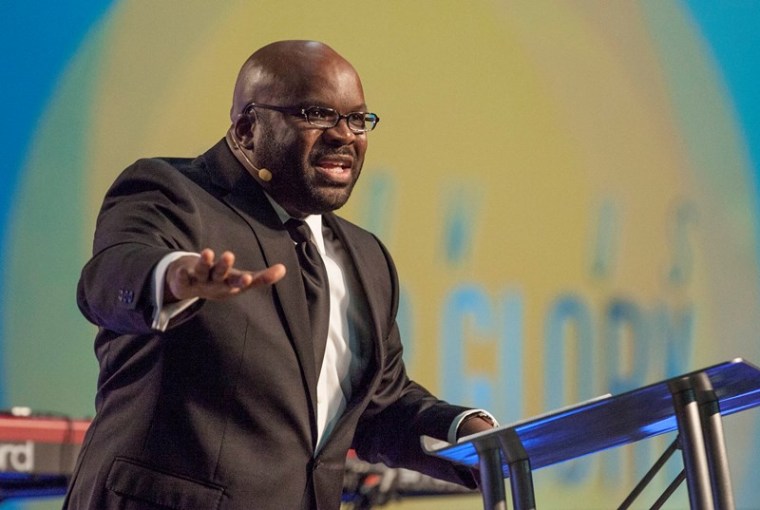 For the first time in the organization's 172-year history, a black pastor, H.B. Charles Jr. of Shiloh Church in Jacksonville, Florida, has been nominated to serve as president of the Southern Baptist Convention Pastors' Conference.
The largest Baptist denomination in the world, the SBC is also America's largest Protestant group with more than 15 million members. The denomination's Pastors' Conference takes place annually in conjunction with the meeting of the Southern Baptist Convention.
Charles, described as a "preacher extraordinaire" by former conference president Ken Whitten of the Idlewild Baptist Church in Tampa Bay, is expected to be elected at the SBC's meeting in Phoenix, Arizona, next month as he is currently the only nominee for the position.
Oklahoma pastor Brad Graves withdrew his candidacy after Whitten announced last Thursday his intention to nominate Charles to lead the 2018 conference. Graves' withdrawal all but ensures the history making move will be formalized, according to the Baptist Press.
Reacting to the news Monday, Charles said in a statement on his website that it would be a "privilege" to serve the SBC in the position.
"It has been my joy to preach the pastors' conference on several occasions. It would be a privilege to lead it in 2018. I am grateful and honored that Ken Whitten of the Idlewild Baptist Church in Tampa Bay has agreed to nominate me at the upcoming SBC meeting in Phoenix. I am also grateful for Brad Graves of the First Baptist Church in Ada (OK)," he said.
"Graves announced his nomination a month ago. Upon hearing of my nomination, however, he graciously and humbly withdrew his nomination to clear the way for my nomination. It was a sacrificial act of Christian unity, for which I thank my brother in Christ and give glory to God," he added.
Whitten told the Baptist Press that the decision to nominate Charles was an intentional nod to racial reconciliation that came out of an informal gathering of past Pastors' Conference presidents on May 2.
"We thought it was time to stop talking about racial unity in positions of leadership within our convention" and "put a president out there at the Pastors' Conference" from among the "African Americans, Hispanics and Asians who are pastoring great churches and are very worthy of being in positions of leadership in our convention," Whitten said.
Graves' candidacy for the position was announced on April 17 but when he was informed on May 9 that Charles would be nominated, he told BP that he consulted with others and prayed before deciding to "step aside" in a "a big God moment."
"I don't want to be anything divisive" in the SBC, Graves said. "I think it's time to show the culture that there is something that unites [Southern Baptists] more than just a Cooperative Program or a mission statement, but that we really do care for one another. We really are brothers in a fraternity."
Charles became pastor of Shiloh Church in 2008. It was previously a predominantly black church until 2015 when it merged with the predominantly white Ridgewood Baptist Church in Orange Park, Florida. The married father of three says if he is eventually elected next month he hopes to bring change that is more than symbolic.
"The Shiloh Church has been a member of the Southern Baptist Convention for five years. I led our congregation to join the SBC for strategic partnership in Christian education, church planting, and world missions. And I give thanks for the partnership in the gospel we have developed," he said.
"From my limited perch, I have also seen great steps of faith taken toward racial reconciliation. I view my nomination for pastors' conference president as another such step. My possible election would mark the first time an African-American pastor has led the pastors' conference. But I pray my potential election will be more than symbolic. I yearn for the Lord to use this process to lead us forward together as brothers and sisters in Christ. May the watching world know that we are true disciples by our love for one another."
In a resolution in 1995, the Southern Baptist Convention denounced its racist past.
"Be it RESOLVED, That we, the messengers to the Sesquicentennial meeting of the Southern Baptist Convention, assembled in Atlanta, Georgia, June 20-22, 1995, unwaveringly denounce racism, in all its forms, as deplorable sin," the resolution said.
"We lament and repudiate historic acts of evil such as slavery from which we continue to reap a bitter harvest, and we recognize that the racism which yet plagues our culture today is inextricably tied to the past...we apologize to all African-Americans for condoning and/or perpetuating individual and systemic racism in our lifetime; and we genuinely repent of racism of which we have been guilty, whether consciously (Psalm 19:13) or unconsciously (Leviticus 4:27)."
Fred Luter was elected as the SBC's first black president in June 2012.