HHS Secretary: No Legal Memo on Religious Freedom Issues in Birth Control Mandate
In sworn testimony before the House Education and Workforce Committee, Health and Human Services Secretary Kathleen Sebelius said that her general counsel did not write a legal memo explaining the religious freedom issues in the birth control mandate. During the same line of questioning, Sebelius also admitted to being unfamiliar with several important Supreme Court religious freedom cases.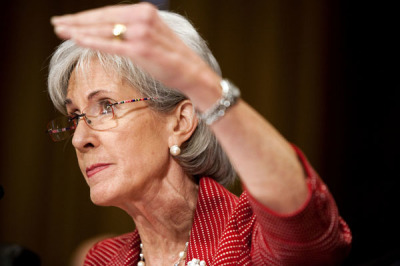 Rep. Trey Gowdy (R-S.C.) said that he knew of only three tests that the Supreme Court has used to balance a constitutionally protected freedom against a policy goal. He described those three tests and then asked Sebelius last Thursday, "Which of those three constitutional balancing tests were you making reference to when you said you 'balanced' things?"
"Congressman, I'm not a lawyer and I don't pretend to understand the nuances of the constitutional balancing tests," Sebelius answered.
"Before this rule was promulgated, did you read any of the Supreme Court cases on religious liberty?" Gowdy later asked.
Sebelius answered that she did not.
In previous testimony, Sebelius has said that she believed she struck the appropriate "balance" between protecting religious freedom and providing "preventative care" in the birth control mandate. The mandate requires employers to provide contraception, sterilization and some abortifacient drugs without a co-pay in their insurance coverage. The mandate has a religious exemption, but it is written so narrowly that most religious organizations would not qualify.
During the testimony last week, Gowdy quizzed Sebelius' understanding of Supreme Court cases on religious freedom like a law professor shaming a student who did not do their homework. In each case, Sebelius was unable to answer the question that Gowdy asked. Sebelius appeared frustrated at the line of questioning and Gowdy's condescending tone.
Sebelius then said, "I defer to our lawyers to give me good advice on our Constitution. I do not pretend to be a constitutional lawyer ..."
Gowdy interrupted Sebelius to ask if there was a legal memo that she relied upon. She said she relied upon "discussions."
Cabinet secretaries have general counsels to advise them on legal matters. It is not uncommon for a general counsel to write a memo when there are legal issues involved in a policy proposal. Congress can then read that memo to determine what legal advice the secretary was given when the policy was constructed, and to what extent the secretary followed the advice of their general counsel.
Critics of the birth control mandate have argued that it is an unconstitutional violation of religious freedom because it requires some religious groups that oppose the use of some, or all, of those services to pay for them. Proponents have argued that the issue is about women's health and the religious freedom concerns have been adequately addressed.
In a Monday article for Get Religion, a blog concerned about how the press covers religion, Mollie Ziegler criticized the press for not covering Sebelius' testimony. Ziegler believes that the press has adequately covered the women's health issues in the birth control mandate but has been inadequate in covering the religious freedom concerns about the mandate.
"One of the ways the media have botched this story is by couching it as a debate over contraception as opposed to a debate over religious freedom. While it's true that certain players in the battle do view it as a debate over contraception – and that is a legitimate and worthwhile avenue for coverage – it's also true that other players in the battle (who may not even care about contraception or generally approve of it) view this as a religious liberty debate. That side of the story has suffered from weaker coverage," Ziegler wrote.
A Google search of "Kathleen Sebelius Trey Gowdy" news articles over the past week indicates that no non-conservative, non-sectarian news organization has covered Sebelius' revelation that there was no general counsel memo on the legal religious freedom issues in the birth control mandate.
Gowdy's questioning of Sebelius can be viewed here: