Hillary Clinton Cites Scripture, Tim Kaine Shares New Testament Story, Following Election Defeat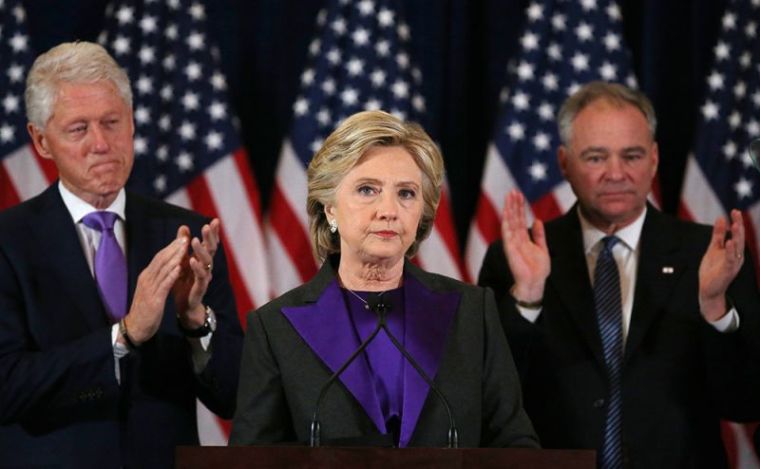 Democratic Presidential nominee Hillary Clinton and her running mate Tim Kaine sought inspiration from the Bible as they processed their defeat to Republican Donald Trump the day after the U.S. elections.
Clinton, who congratulated Trump on his victory but postponed her concession speech to Wednesday, posted a message on Twitter that was adapted from her speech, and read: "Scripture tells us: Let us not grow weary in doing good, for in due season, we shall reap, if we do not lose heart," referring to Galatians 6:9 as found in the Bible.
In another message, she added: "Let us have faith in each other. Let us not grow weary. Let us not lose heart. For there are more seasons to come and ... more work to do."
The majority of conservative Christians decided to back Trump in the race to the White House, according to evangelical author Johnnie Moore, who said that believers were most concerned about the future of religious liberty in America, and the protection of the unborn.
Other Christian commentators, such as Eric Sapp of the Eleison Group, argued that Clinton is not only genuine in her Christian faith, but also that he has witnessed first hand "her life of service dedicated to those Christ focused his attention on."
Kaine, who is a junior senator for Virginia, said in the concession speech that he is proud of the former secretary of state in the campaign that they ran together, and argued that she based her whole career on the empowerment of families and children.
Kaine, a Catholic, also referred to Matthew 20 in the Bible, calling it a "beautiful and kind of comical parable in the New Testament about a vineyard owner who hires people to work and says, 'And I'm going to pay you this for a full day.' Then he hires people at noon — 'I'm going to pay you the same thing for the half day.' Then he hires people one hour before and — 'I'm going to pay you the same.' And those who started early in the day say, 'Hold on. We don't like this. That you're treating everybody who came late just as well as you're treating us.'"
Kaine went on to say that Clinton, however, has shown the same degree of "loyalty and compassion and sensitivity" to all the people who joined her campaign team, including those who came on board later on and in the final stages.
Clinton said in her own speech that she counts her blessings "every single day that I am an American, and I still believe, as deeply as I ever have, that if we stand together and work together with respect for our differences, strengthen our convictions, and love for this nation, our best days are still ahead of us."