Hillary Clinton vs. Donald Trump: Foreign Policy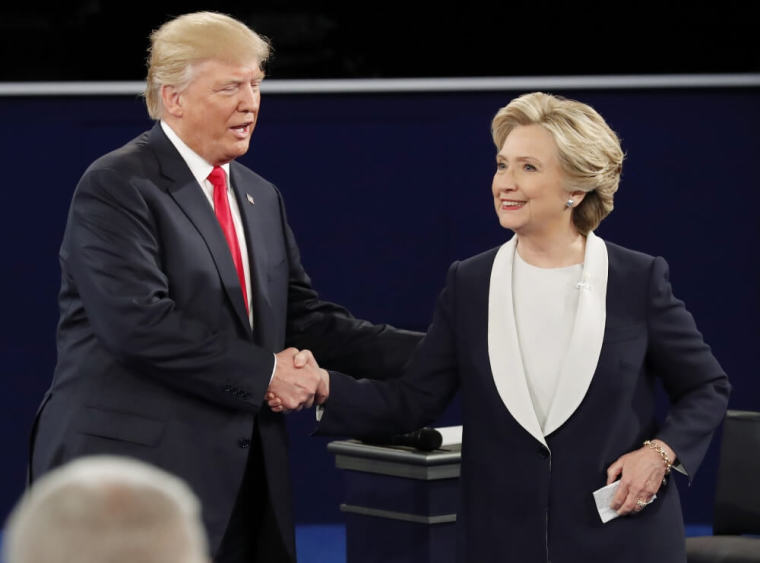 Democratic presidential nominee Hillary Clinton and her Republican rival Donald Trump have presented to the American public a foreign policy vision that aligns in some aspects, but also diverges on several important issues, such as NATO.
While topics such as the ongoing war against the Islamic State in Iraq and Syria, as well as immigration issues will be covered in separate comparison pieces by The Christian Post, below is a summary of where the two nominees stand on several other issues of international importance.
Clinton has notable foreign policy experience and served as the 67th Secretary of State from 2009 to 2013 under President Barack Obama's administration, something which she has alluded to in many of her speeches.
On her campaign website, she argues that one of her top achievements was to "restore America's leadership in the world after it was badly eroded by eight years of [former President George W.] Bush administration's go-it-alone foreign policy."
Outlining her vision for a strong America, Clinton says essential partnerships in the Middle East, Asia and Europe need to be strengthened. Clinton insists that "diplomacy and development" are key tools needed to solve international problems before they threaten Americans at home.
"Diplomacy is often the only way to avoid a conflict that could end up exacting a much greater cost. It takes patience, persistence, and an eye on the long game — but it's worth it," Clinton's website states.
Russia and China
On some of America's top international rivals, like Russia and China, Clinton says that America needs to be "firm but wise."
The Democratic nominee vows that she will stand up to Russian President Vladimir Putin and work with European allies to deter Russian aggression in Europe and beyond. Furthermore, she promises to hold China accountable on human rights issues, but work with with the world's most populous nation when it is "in our interest."
Trump outlines on his campaign webpage that he wants "peace through strength" to be at the center of America's foreign policy.
"We will achieve a stable, peaceful world with less conflict and more common ground," Trump's website promises.
Trump has been critical of efforts in Congress to deplete the military's budget, and aims to submit a new budget to "rebuild our military, enhance and improve intelligence and cyber capabilities."
He has said that he is opposed to the "current strategy of nation-building and regime change," and said that any refugee policy that the U.S. adapts should take into account the security of the American people.
Iraq
Regarding Clinton's time as Secretary of State under Obama, Trump argues that America made several big foreign policy mistakes, from withdrawing troops from Iraq that he blames on the rise of the Islamic State terror group, to the interventions in Libya and Egypt looking to build democracies.
On Russia, Trump has said that improved relations from a position of strength is "absolutely possible," but has criticized China on a number of occasions, and accused it of taking jobs away from Americans.
He said in July that he will stop "China's outrageous theft of intellectual property, along with their illegal product dumping, and their devastating currency manipulation."
"They are the greatest ... currency manipulators ever," Trump said.
NATO
NATO has been a main point of disagreement between Clinton and Trump, with the Republican nominee arguing that for too long, America has been paying too much to protect countries that he called "extremely rich."
"If we cannot be properly reimbursed for the tremendous cost of our military protecting other countries … then yes, I would be absolutely prepared to tell those countries, 'Congratulations, you will be defending yourself," Trump said in an interview with The New York Times in July.
Clinton, on the other hand, has said that NATO is vital for the stability of America and Europe, and warned that a weakening of the alliance would only strengthen Russia.
"Both Moscow and Beijing know our global network of alliances is a significant strategic advantage they can't match," the Democratic nominee said in a speech at Stanford University in March.
"NATO, in particular, is one of the best investments America has ever made, from the Balkans to Afghanistan and beyond, NATO allies have fought alongside the United States, sharing the burdens and the sacrifices," she added.
Trans Pacific Partnership
Both candidates have come out in opposition to the Obama-backed Trans Pacific Partnership Agreement, which is a controversial trade agreement among Pacific nations looking to lower barriers to trade and increase economic growth.
Trump has warned, however, that TPP would be a "catastrophe" that would kill millions of jobs, and noted that America already has a "large and growing trade deficit" with the 11 other members of TPP.
While Trump has blamed Clinton for supporting TPP in the past, the Democratic nominee has vowed to oppose the agreement should she be elected president.
"I oppose it now, I'll oppose it after the election, and I'll oppose it as president," Clinton said in August.
Israel
On Israel, Trump has argued that America has failed to provide enough support to its close ally, and said that will change if he takes charge.
"When I become president, the days of treating Israel like a second-class citizen will end on day one," Trump vowed in March.
Clinton, while also promising to support Israel-U.S. relations, has argued that citizens of both countries feel an "emotional connection" to each other because of their shared values of "equality, tolerance and pluralism."
"It's why we cannot be neutral about Israel and Israel's future, because in Israel's story, we see our own, and the story of all people who struggle for freedom and self-determination," she said in March.