Hillsong NYC's Carl Lentz Admits to Once Fearing God Isn't Real, Dreading Terrible Christian Music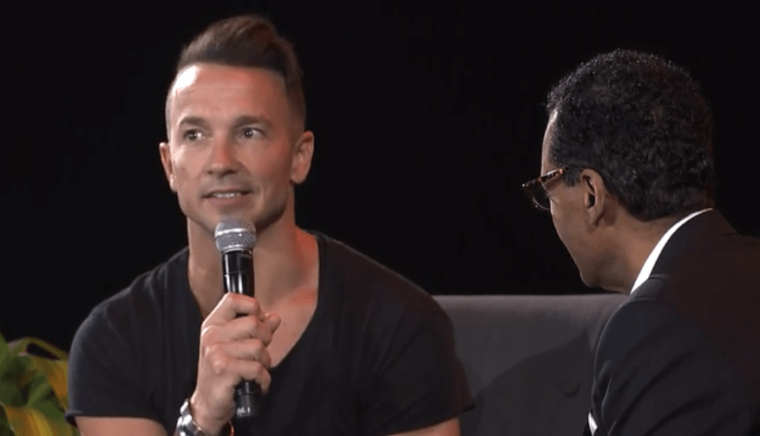 Hillsong NYC megachurch Pastor Carl Lentz has revealed in a new book that in the past he ran away from church and feared that God wasn't real.
On Thursday, The New York Times published an interview with Lentz about his new book, Own The Moment, in which he detailed his struggles on the Christian path.
"I have a real palpable disdain for religious jargon. I grew up in church. I ran from church. I know a real Christian from a churchgoing nominal Christian better than most," Lenz reveals.
He added that on the day he found God he was "riddled with fear."
"Things like 'What if this isn't real?' 'What if this means I have to give up everything that I love?' 'What if this means that for the rest of my life I have to listen to terrible Christian music and wear pleated khaki pants and get a haircut that looks like literally every single Alabama football fan?'" he wrote.
The book deals with a variety of different issues, with NYT describing it as a "collection of sermons."
"The way I try to preach is the way I tried to write this book," Lentz said in the interview.
"I'm going to preach straight, and hopefully open a wide enough door that even if you don't believe what I believe, you can glean something from it."
Lentz, who leads close to 10,000 congregants in New York City, counting among his supporters Christian celebrities such as Justin Bieber and Selena Gomez, speaks out in support of the Black Lives Matter movement in one of the chapters.
The pastor noted that Opal Tometi, one of the founders of the movement, was part of his church for a number of years.
"Racially speaking, are things better?" Lentz writes. "Yes. But that statement is like saying, 'If you have been shot 10 times before and recently have only been stabbed five times, are you in better shape?' The issue is constant attack, not different types of pain."
He argued in the interview that American discourse is in trouble.
"There's some stuff that's really basic to me that I feel is in jeopardy right now, like decency, awareness, humanity. Stuff that shouldn't be complicated is complicated," he said. "I feel like the national climate has made it more urgent."
As the article noted, Lentz and Hillsong have been criticized by some conservative voices, such as Albert Mohler Jr., president of the Southern Baptist Theological Seminary.
"There isn't a great deal of historical Christianity or explicit theological content in their worship," Mohler said.
"I think there is a determined effort on the part of these churches, to avoid dealing with hard theological questions that might offend people."
The Black Live Matter, which has also been backed by Bieber, has in turn been criticized by other conservatives, such as Michael Brown, author and host of the nationally syndicated Line of Fire radio program.
Brown wrote in August that the media needs to hold Black Lives Matter accountable for violence and offensive remarks.
"The media should give equal attention to radical leftists who engage in violent words and acts in other settings, be it Antifa activists vandalizing a campus, student protesters assaulting a professor, or Black Lives Matter marchers chanting (about cops), 'Pigs in a blanket, fry 'em like bacon,'" Brown said at the time.
Lentz declared back in September 2016 that his church won't be chanting "all lives matter," because "this is a logical assumption that most reasonable people agree with."
"All lives are not at risk right now. We are saying Black Lives Matter. Because, right now, black lives apparently are worth LESS on our streets. It's 'our fight' not 'their fight,'" Lentz added.