I Was Ashamed of Being Myself, Says Hillsong NYC's Carl Lentz in Revealing Talk on Spiritual Growth and Influencing Celebs Like Justin Bieber
Lentz, OKC Thunder Kevin Durant Join LifeChurch.tv Pastor Craig Groeschel in Discussing Influential Faith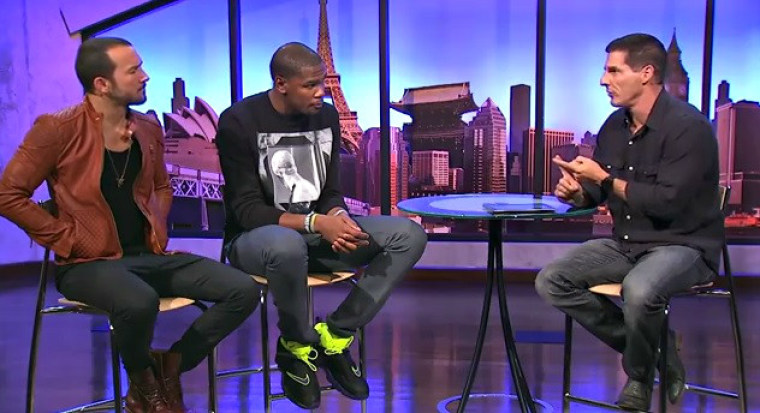 Hillsong NYC Pastor Carl Lentz and NBA star forward Kevin Durant recently joined Pastor Craig Groeschel at LifeChurch.tv to discuss spiritual growth, encouraging others in their faith and wielding Godly influence. Lentz also revealed how he learned to embrace what sets him apart from other pastors and why he thinks Justin Bieber is just like "any other kid" trying to work out his faith.
LifeChurch.tv's founding pastor Groeschel interviewed Lentz and Durant, baptized over the summer by the NYC pastor, on stage at the Edmond, Okla., megachurch as part of a new teaching series.
"Pastor Carl, you've got a tremendous ministry in NYC and beyond," said Groeschel at the onset their discussion. "But what's interesting about you is God has opened up doors of relationships. You're able to speak into the life of Justin Bieber. You help with the New York Knicks, you're kind of like the pastor to the team. You've impacted other athletes."
Groeschel asked, "How do you reach out to people and engage those who may not be spiritually interested but help them to become interested in spiritual things?"
Lentz, who has been the subject of much press of late due to the rapid growth of the Hillsong NYC congregation he co-pastors with Joel Houston as well as his atypical preacher appearance, insisted that any influence he has can be credited to God.
"For me, I've never really sought a particular type of person," said Lentz. "For me, God handles what the fruit of stuff is, but faithfulness is my job. … The beautiful thing of Jesus is, he's so appealing that he'll work out the street, he'll work out what you see. But for me, I've always just tried to stay faithful to what God's called me to do and be who I am."
Lentz, 34, went on to reveal that he wasn't always comfortable with being himself.
"I'm kind of like not your typical pastor in some regards," he explained. "I used to be ashamed of some of that stuff, but then I realized, well I actually do get along with guys who play basketball and video games. I get along a lot better with a dude in a club than I do in a pastor's green room, being that guy. I think it's encouraging to be a part of churches like ours that champion who you are. Whatever you're good at, whatever you love, God needs you there."
He added, "Pastors used to make fun of me, they used to say, 'You need to start playing golf because that's where the influencers are.' And I was like, 'Really? Well, I'd rather die than play golf.' I actually thought about that, and you know, that's just not who I am, so I'm just gonna play ball."
Lentz, who had a brief basketball career at North Carolina State and remains passionate about the sport, reportedly serves as a chaplain to the New York Knicks and counts among his "influence circle" folks like Scooter Braun (Bieber's manager), Tyson Chandler, AnnaSophia Robb, Jeremy Lin, and Vanessa Hudgens.
"I think my life is a testament [to] God just using a regular guy [and] what is in my hand. I think everybody can do that. If you chase certain things, I think that's when it can get weird," said Lentz when asked by Groeschel how he reaches out to people and help them to become interested in spiritual things.
"Justin Bieber is another example," Lentz added. "Justin is a 19-year-old kid who loves Jesus, trying his hardest to make it. He's like any other kid we've dealt with, it's just that he's got one or two more fans that the average person."
Lentz circled back to his initial comment, adding, "I think if you're faithful to what's in your hand, God will help you fulfill what's in your heart. You don't have to chase anything. Just chase Jesus and his journey is so much better."
The Hillsong NYC pastor made it clear that he is no respecter of persons, and believes everyone should be treated like a celebrity, or "be celebrated."
"That's how I see it. If you're in my face, I'm going to do everything I can to serve you," said Lentz.
As for what he believes has helped Hillsong NYC to attract over 5,000 worshippers every week in just three years, Lentz chalks it up to authenticity and honesty.
"What I've seen in New York is that people who will be honest — because we live in a church world where it's like Twitter, 'show your best, hide the rest,'" said Lentz. "That is empty and it's hollow and it kills people in church. Because you could be sitting in church and you could be hurting but you're in a church culture that says you can't have any problems or any needs. In our church we say come as you are, but love Jesus enough to realize he's not just going to leave you like that. So when you come as you are, make sure you're ready to be healed as you were and just walk on into something new."
In regard to dealing with people who may be resistant to spiritual growth, Lentz said, "I'm going to love people who don't want it, and I'm going to walk with people who do."
He added, "You have to be open for people to be able to talk to you. New York is like that to me. New York is tough to get in there, but once you get in there, people are for you. I think our church is an example of how people are just desperate to know Jesus better. That's how Kevin is and that's how I pray I am."
Calling Durant, an All-Star Oklahoma City Thunder player, "perhaps one of the greatest athletes of all time," Groeschel commended the NBA star for also being "a great man of God." The LifeChurch.tv pastor questioned Durant, 25, about his Christian walk and what he does to move forward and grow in his faith.
"It's grown a lot, after meeting this guy (Lentz), just meeting different people in my life that's help me grow spiritually," said Durant. "I have to do it myself, I can't rely on too many people. I have to want to do it. I think just having that urge of wanting to know more, especially about God's grace and love that He has on my life, and maybe I can help more and more people as well. It's something that I've wanted to do, and with a lot of help I have grown."
Groeschel, whose church occasionally serves as a place of worship for Durant, affirmed that he has seen the pro athlete's growth, saying, "It's just amazing to watch your spiritual fruit. You're not just a great leader on the court, but you're a great leader for Christ as well."
As for what kind of spiritual helps or disciplines he uses, Durant shared that he mostly reads the Bible, but also relies on "spiritual brothers" to help keep him in check and encourage him when he's struggling.
"With basketball I didn't just wake up and decided I wanted to be good and it just happened without me putting that work in," said Durant, who is engaged to WNBA player Monica Wright. "As a Christian, I just try to do little things every single day to put work in, to know Jesus, to know more about his Word and to grow."
The OKC forward also emphasized that having the right kind of relationships helps him stay focused.
"One thing I try not to do is get distracted," he told Groeschel. "I think that bad relationships can get you distracted and get your eye off of God. I think if I continue to just have the right people in my life, listen to them when they're real with me, definitely apply it and try to move forward in my life and then things will change for me." Durant added that his biggest testimony on the court and in the locker room comes from leading by example.
Watch Lentz, Durant and Groeschel's entire discussion at LifeChurch.tv on YouTube, or in the video below: