HTC Desire Eye vs Asus Zenfone 2 Specs Review: Comparison of Features, Price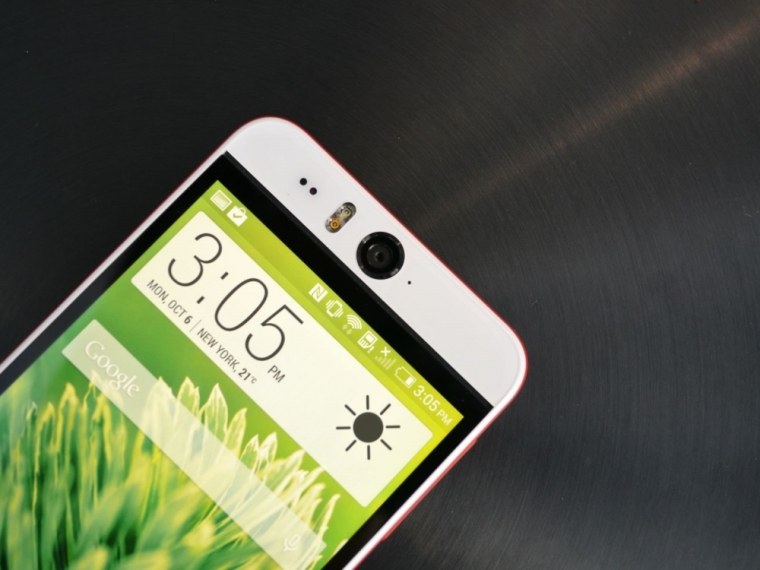 The HTC Desire Eye continues to dominate as the device, touted as one of the best selfie phones in the world, is still gaining a lot of fans since it was released in October last year. Aside from its superb front facing camera, the phone also has an impressively bright screen and a great design.
Meanwhile, the newly launched Asus Zenfone 2 has premium specs but is expected to cost far less than what a premium device normally costs. With its big screen and great features, tech watchers are on alert as the phone is expected to be in the market by this month.
Here, we compare the two phones:
Design:
The HTC Desire Eye has a colorful, two-tone plastic body with curved edges. It's waterproof and can survive in up to 3 feet of water for 30 minutes. The phone measures 5.97 x 2.91 x 0.33 inches and weighs 5.43 ounces.
Meanwhile, the Asus Zenfone 2 has a hard plastic shell with curved edges. The phone measures 6.00 x 3.04 x 0.43 inches and weighs 6 ounces. It's available in white, black, red, gray, and gold.
Features:
The Desire Eye has a 5.2-inch display with a resolution of 1920 x 1080 and pixel density of 424ppi. Meanwhile, the Zenfone 2 has a 5.5-inch screen with a resolution of 1920 x 1080 and pixel density count of 403ppi.
The HTC device is powered by a Qualcomm Snapdragon 801 quad core processor and runs on Android 4.4 KitKat with HTC Sense 6 UI on top. The Asus phone has an Intel Atom quad core chip set and runs on Android 5.0 Lollipop with Zen UI.
The Zenfone 2 comes in 16GB, 32GB and 64GB storage options and can be expanded with a microSD card up to 64GB. The Desire Eye comes with 16GB internal memory which can be expanded up to 128GB.
Both phones have a 13MP rear facing camera, but the Desire Eye wins with its 13MP front facing camera versus the Zenfone 2's 5MP front shooter.
Price:
Off contract, the Asus Zenfone 2 is expected to cost $200 once it goes on sale, while the HTC Desire Eye costs $540.