Huawei P9 Specs News: Smartphone Stipe Image Leaks Showing Dual Rear Camera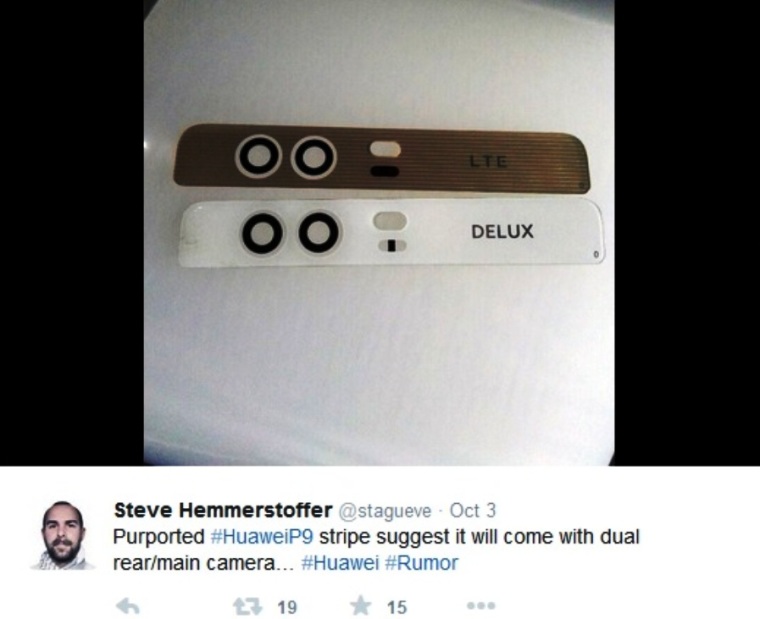 A leaked image of what appears to be the Huawei P9's camera stipe made its rounds online showing two cutouts for dual cameras at the rear of the device.
Rumors that Chinese tech manufacturer Huawei was developing a new smartphone recently solidified after an image of a handset stipe showing two main cameras leaked on Twitter, pointing towards the emergence of the Huawei P9.
The image was outed on Twitter by Steve Hemmerstoffer, also known by his leakster handles, @OnLeaks and @stagueve, and the the image shows two panels, a white Delux pane and a brown LTE strip, indicating the Huawei P9 may come in two models offering dual cameras for its main shooter module.
Apart from the twin camera cutouts, there appear to be openings for the LED flash and another slot that may house the smartphone's laser autofocus module, one of the more popular additions to current devices in the market.
While not a lot of other information has been leaked as to its specs, the Huawei P9 is rumored to have a 5.2-inch 1080p resolution touchscreen and will carry an octa-core Kirin 950 processor, manufactured using Taiwan's TSMC's 16nm FinFET process, which is expected to run at DDR4 speeds, all of which will be supported by 4GB of RAM.
One of the two main cameras may have a 16MP sensor with optical image stabilization, and carry the now standard fingerprint scanner on its rear panel. It is yet to be confirmed whether the second rear camera would be a 16MP OIS, as well.
Based on the rumored specs, Huawei's next flagship is likely to fall within the high-end spectrum, with more speculations suggesting the flagship will be accompanied or followed by a P9 Max and a P9 Mini along the road.
Touted to be the Huawei P8's successor, the P9 is expected to make its debut sometime in early or mid-2016.