Huckabee: Muslim Can Be President; Obama 'Pretends to Be' Christian, Makes Living Out Faith Difficult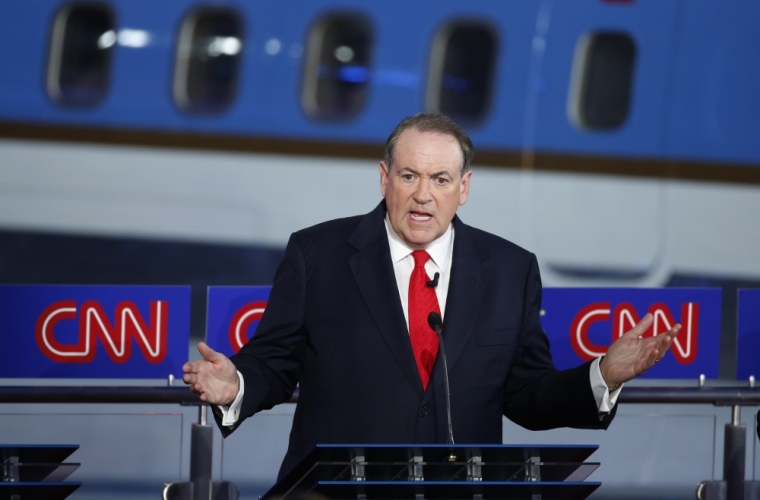 A Muslim can be president, Republican presidential candidate and former Arkansas Gov. Mike Huckabee said, but he is more concerned about the authenticity of President Barack Obama's Christian faith.
In an interview Tuesday with Newsmax TV's Ed Berliner, Huckabee was asked what he thought of the comments made on Sunday by Republican presidential candidate Dr. Ben Carson, who stated that he would not support a Muslim president.
"There is no religious test to hold public office in America," Huckabee responded. "I am less concerned about what faith a person has. I am more concerned about the authenticity of their faith, and how that plays out in their policies."
Huckabee criticized Obama for policies that force Christians to compromise their beliefs; for example, the Obamacare Health and Human Services contraception mandate that attempts to force Christian institutions to provide abortifacients and birth control to employees through their healthcare plans.
"I am also concerned about a guy that believes he is a Christian and pretends to be, and says he is, and then does things makes it very difficult for people to practice their Christian faith," Huckabee added.
Huckabee continued by bringing up Obama's guest list for Pope Francis' first-ever White House visit on Wednesday, which included many individuals who oppose components of Catholic teachings, such as an openly gay Episcopal bishop, a pro-abortion nun, two Catholic gay activists and a transgender individual.
"I am dissapointed if a person says 'I am Christian,' but you invite the pope into your home and then you invite a whole bunch of people who are at odds with the Catholic Church policy," Huckabee said. "I think there is something very unseemly about that."
Huckabee also voiced his displeasure with Obama's papal guest list in a recent op-ed, where he accuses Obama of "exploiting" the pope to progress "partisan politics."
"Welcoming a pro-life, pro-marriage leader at the White House with a crowd of abortion and gay rights activists is as classy as hosting an Alcoholics Anonymous meeting with an open bar," Huckabee wrote. "President Obama should be ashamed of himself."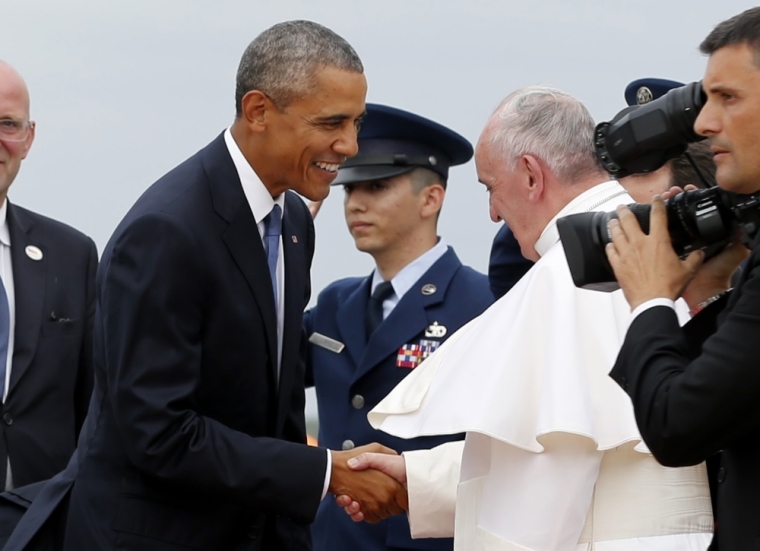 Huckabee is not the only one who has asserted the opinion that Obama is pretending to be a Christian. Liberal comedian and Obama donor Bill Maher suggested in a 2014 interview on Comedy Central's "Daily Show" that Obama is really a "drop dead atheist" pretending to be a Christian.
Maher, an atheist himself, opined that Obama only joined Rev. Jeremiah Wright's church in Chicago "because it was politically necessary."
"He joined because he wanted to move ahead in the political world and of course you had to be part of a church," Maher explained.
Obama, who frequently brings up his "Christian faith," asserted during a 2004 interview with the Chicago Sun-Times that he identifies as Christian but has a plethora of other religious cultures to draw from.
"I am a Christian," the then-Illinois state senator assured. "So, I have a deep faith. So, I draw from the Christian faith. On the other hand, I was born in Hawaii where obviously there are a lot of Eastern influences. I lived in Indonesia, the largest Muslim country in the world, between the ages of six and 10."
"My father was from Kenya, and although he was probably most accurately labeled an agnostic, his father was Muslim," Obama added. "And I'd say, probably, intellectually I've drawn as much from Judaism as any other faith."
Obama continued by implying that most religions are rooted in the belief of a "higher power" and that they will all take their respective believers to the "same place."
"So, I'm rooted in the Christian tradition," Obama stated. "I believe that there are many paths to the same place, and that is a belief that there is a higher power, a belief that we are connected as a people, that there are values that transcend race or culture, that move us forward, and there's an obligation for all of us individually as well as collectively to take responsibility to make those values lived."