18,000 People 'Living in Hell' and Squalor, Chained Up in Indonesian 'Healing' Institutions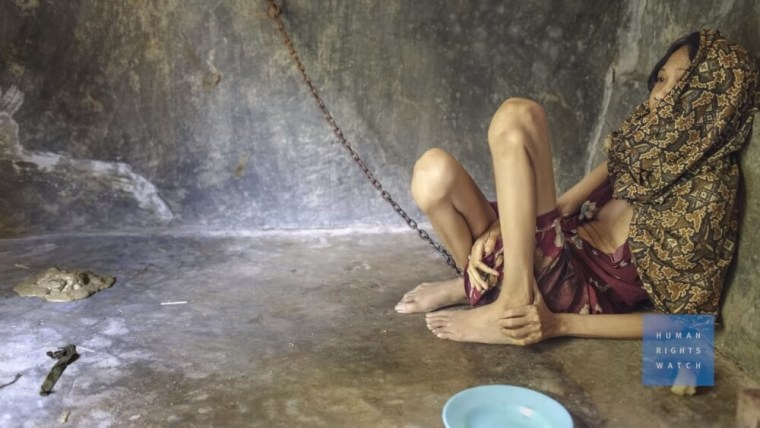 A new report released by Human Rights Watch details the horrifying abuse suffered by the mentally ill in the Southeast Asian country of Indonesia, where over 18,000 people are chained and confined in overcrowded rooms for days, weeks and even years at a time.
HRW report, "Living in Hell," released Sunday documents the widespread practice of pasung (pausing) in Indonesia, where families and faith healers treat mental illness by confining people in chains or on wooden stocks for prolonged periods of time.
The report documents over 175 cases of mentally ill people who are in pasung or have been released from pasung detainment. Additionally, the organization received information about 200 other cases of pasung that have been documented in recent years.
Although the practice of pasung has been illegal in Indonesia since 1977, HRW reports that there are an estimated 18,000 people being victimized by the practice, while data indicates that there are over 57,000 people in the island nation that have been shackled at least once in their lifetime.
"Across Indonesia, there is a widespread belief that mental health conditions are the result of possession by evil spirits or the devil, having sinned, displayed immoral behavior, or lacking faith," the report explains. "As a result, families typically first consult faith or traditional healers and often only seek medical advice as a last resort."
The report states that access to standard mental healthcare is nearly impossibly for families to get real medical help for their mentally ill loved ones. HRW reports that ministry health data shows 90 percent of those who want access to mental health services cannot get access.
"The country of 250 million people has only 48 mental hospitals, more than half of them located in just four provinces of Indonesia's 34 provinces," the report explains. "Eight provinces have no such hospitals, and three have no psychiatrists. In all of Indonesia there are just 600 to 800 psychiatrists — or one trained psychiatrist per 300,000 to 400,000 people. The few facilities and services that exist often do not respect the basic rights of people with psychosocial disabilities and contribute to the abuses against them."
Although mental health services are not widely available, Shantha Rau Barriga, director of HRW's disability rights division, said in an interview with Voice of America that many families don't see mental illness as a medical issue but rather a "curse."
"Sadly, there is so much misinformation and misperception about mental health," Barriga said. "People in Indonesia and in many other countries see it not as a medical condition, but as a curse, or that the person is possessed by evil spirits."
Since it is easy under Indonesian law to admit someone with a psychosocial disability into an institution, families often turn private institutions, social care institutions and healing centers to help cure what they beleive is a curse through torturous confinement and often abandon their loved ones there.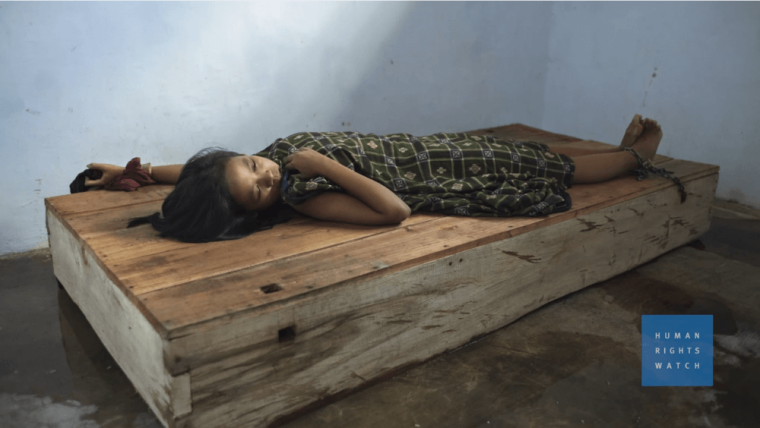 Ujud, a 15-year-old boy with a psychosocial disability who resided in the Galuh rehabilitation center in Bekasi for over a month, told HRW that his father admitted him at the center after stripping him from his clothes in a mosque.
"Father said he was taking me to a relative's house but then he brought me here," Ujud said. "Life behind bars is not good. I can't play football, can't study."
Ismaya, a 24-year-old man with mental disorder, told HRW that he was chained and handcuffed for three weeks at a healing center.
"The paranormal [traditional healer] kept me tied in a special room for people who are trying to be healed. They chained my hands with a dog leash and put chain to my leg. I used to try to get out. The more I tried to get out, the tighter it became," Ismaya said. "They never opened it. There was no toilet. I would scream to go to toilet but they wouldn't allow it. They told me to go in the room and they would clean it during my bath."
In visiting seven different healing centers, HRW noticed that patients were forced to live in overcrowded quarters and didn't have access to toilets. In one center on the outskirts of Jakarta, 90 women were forced to live in a room that realistically only should contain about 30 women.
"In the traditional or religious healing centers, personal hygiene is a serious problem as people are chained and do not have access to a toilet," the report states. "As a result, they urinate, defecate, eat, and sleep in a radius of no more than 1 to 2 meters."
Although HRW reports that an average stay at a legitimate mental hospital in Indonesia rarely exceeds three months, the length of stay at the private institutions can be years long.
The longest stay documented by HRW was a woman who was in pasung for over 15 years.
"My daughter is around 50 years old. I locked her up about 15 years ago. Someone cast a spell on her. She became destructive, dug up other people's crops and ate raw corn from the plant. I was ashamed and scared she'd do it again," Engkos Kosasih told HRW. "Her husband left her and married again. I consulted five faith healers but that didn't work; nobody can heal her. We couldn't take her to see any doctor for help because I didn't have any money."
The process to evaluate whether or not a person has been healed is quite subjective, according to the report.
HRW interviewed Islamic faith healer Haji Hamdan Saiful Bahri, who runs a private healing center in Cianjur. He detailed for investigators how he evaluates if an individual is ready for discharge.
"When the [body] heat becomes cold, they're ready to leave," Bahri said. "When I take them outside to the market or to play football and the person feels cold, it means they're cured."
Barriga told VOA that Indonesia is not the only country where the practice of pasun has become a widespread problem.
"HRW has documented shackling and other abuses against people with mental health conditions — psychosocial disabilities — in a range of countries," Barriga said. "We've documented it in Ghana and Somaliland. We've seen people locked up in institutions in Russia and Croatia. And we've seen abuses happening in prisons in the United States."