Hurricane Ida leaves 1 dead, over 1 million without power in Louisiana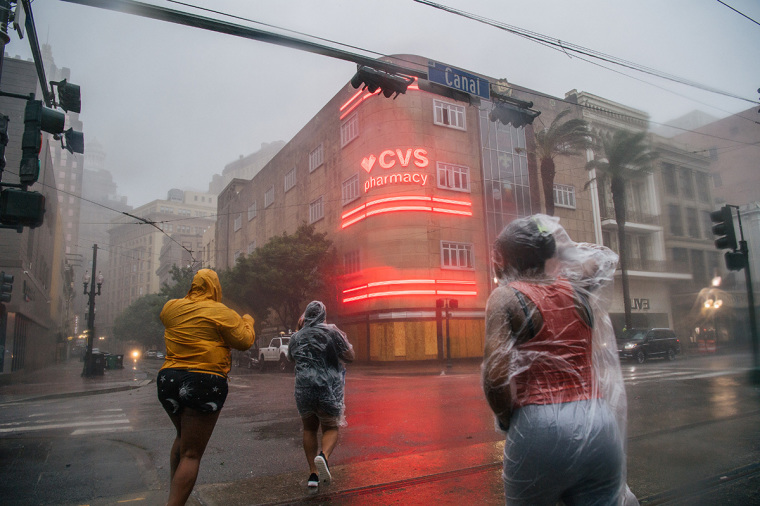 At least one person has been found dead, and all of New Orleans left without power with many homes flooded after Hurricane Ida slammed Louisiana as a Category 4 storm Sunday, before weakening into a Category 1 hurricane and then to a tropical storm early Monday.
As Ida plowed through the Gulf of Mexico into Louisiana Sunday, it lashed the coast with 150 mile-per-hour winds and torrential rains and pounded surf that plunged large parts of the shoreline under several feet of water, Reuters reported.
At 4 a.m. local time Monday, Ida was about 95 miles south-southwest of Jackson, Mississippi, and the maximum sustained winds had reduced to 60 miles per hour and was moving north at 8 mph, the National Hurricane Center said.
However, the National Weather Service warned that as the "extremely dangerous Ida moves inland, life-threatening impacts will spread into Louisiana and Mississippi overnight and into Monday."
It added, "Wind damage will occur in areas near the core of the storm. Heavy rain will result in life threatening flash flooding over portions of the Lower Mississippi River Valley into the Tennessee Valley through Monday."
As of early Monday morning, more than 1 million homes and businesses in Louisiana were left without power, as per PowerOutage.US.
Orleans Parish was hit with "catastrophic transmission damage," leading to power outage in all of New Orleans, CNN reported, adding that over 93,000 customers were without power in Mississippi.
"Due to catastrophic transmission damage, all of Orleans Parish is currently without power," utility company Entergy told customers by sending the text on their phones.
Entergy Louisiana also warned that some of its customers could be without power for weeks.
A 60-year-old man died in Prairieville area in Ascension Parish, between New Orleans and Baton Rouge, after a tree fell on his home, NBC News reported.
"Tonight, we have confirmed at least one death and sadly, we know there will be others," Louisiana Gov. John Bel Edwards said in a statement. "Thousands of our people are without power and there is untold damage to property across the impacted parishes."
Tim Kerner Jr, mayor of Jean Lafitte, south of New Orleans, said: "We've suffered flooding before. We suffered storms before. But I've never seen water like this in my life. It just hit us in the worst way possible and it was such a massive storm that it just totally devastated us."
Ida made landfall on the anniversary of the dangerous Category 3 storm Katrina, which devastated Louisiana and Mississippi 16 years ago.
President Joe Biden approved a major disaster declaration for Louisiana late Sunday, allowing federal funding.