'I Don't Want to Die,' Says Brittany Maynard, Cancer Afflicted Woman Scheduled for Assisted Suicide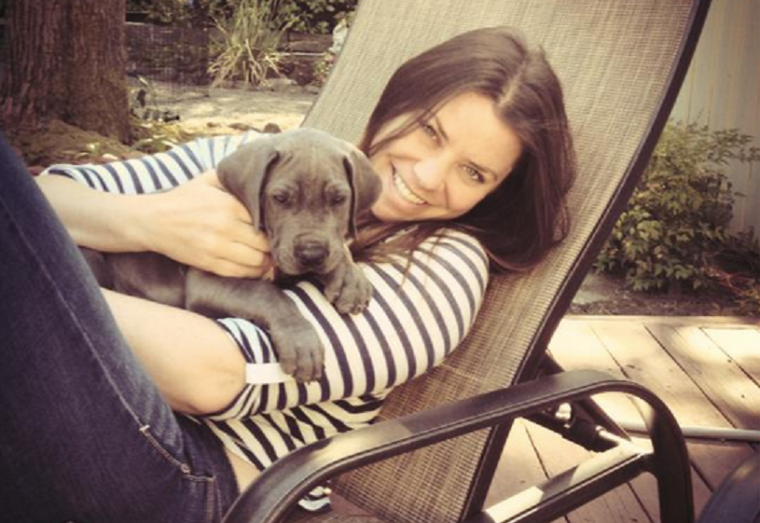 After sparking a vociferous debate about assisted suicide when she announced in a viral YouTube video earlier this month that she will commit suicide under Oregon's Death With Dignity Act on Nov. 1 to escape her terminal brain cancer, 29-year-old Brittany Maynard recently declared "I don't want to die."
In a heartbreaking interview with CBS, Maynard defended her right to end her life when she chooses rather than allowing terminal cancer to take it from her, but made it clear that if she could, she would live.
"I don't want to die," Maynard told CBS. "If anyone wants to hand me, like, a magical cure and save my life so that I can have children with my husband, you know, I will take them up on it."
Brittany is in possession of prescription pills that will allow her to end her life at any time when she feels her illness is unbearable. She has decided that she will end her life six days after her husband, Dan's, birthday. When she dies, she says, she will be surrounded by family and her best friend, in her matrimonial bed while her favorite music plays in the background.
"I plan to be surrounded by my immediate family, which is my husband and my mother and my step-father and my best friend, who is also a physician. … I will die upstairs in my bedroom that I share with my husband … and pass peacefully with some music that I like in the background," she said in the YouTube video.
Brittany explained to CBS that if people could experience the life she is living right now, they would understand the rationale behind her decision to end her life on her own terms.
"I think until anyone has walked a mile in my shoes and knows what they're facing and has felt the — like, just bone-splitting headaches that I get sometimes, or the seizures, or the inability to speak, or the moments where I'm looking at my husband's face and I can't think of his name," she explained.
She said it took a while for her family to come to terms with her choice as well, but they have now come to accept it.
"I think it took my family a little while to realize that this is what made sense, because no one wants to hear that their daughter is going to die," she said. "No mother should have to lose a child. It goes against the grain of nature."
Her mother, Deborah Ziegler, explained that she would have gladly cared for her daughter until her life had independently ran its course, but she respects her daughter's decision.
"Early on, I told her, 'It would be my honor to take care of you, whichever way; if you need to be fed or diapered, it would be my honor,'" Ziegler said. "And that was important for me, for her to know."
Her husband planned on supporting his wife to her life's natural end but confessed that things changed.
"There's absolutely that — the idea of wanting my wife to be at my side forever," he said. "That was the original plan, right? But the reality that, I guess, that feeds into the argument of quality of life versus just quantity."
Since Brittany publicly announced her decision to end her life and is now advocating for all states to allow assisted suicide, many Christians and health professionals have public expressed their disapproval.
"If I were her doctor I would certainly try to talk her out of it," University of Chicago medical ethicist Dr. Daniel Sulmasy told CBS. "I would try to tell her what the opportunities are for her to live to the fullest possible extent that she can even when she is dying."
Some 67 percent of healthcare providers opposed assisted suicide in a recent poll as well as the American Medical Association. Many argue that the practice could be abused, particularly in cases involving elderly and disabled people.
Joni Eareckson Tada, an internationally known advocate for the disability community who has been a quadriplegic more than 47 years and is also a breast cancer survivor, recently urged Brittany to rethink her decision as well.
"Like many, my heart broke when I watched Brittany's video in which she outlined her plans to die through physician-assisted suicide. No one — absolutely no one — welcomes the pain that dealing with a terminal disease invariably brings, and it's clear that this young woman is firm in her convictions," she noted in a statement Monday.
"But if I could park my wheelchair beside her, I would tell her how the love of Jesus has sustained me through my chronic pain, quadriplegia and cancer. I don't want her to wake up on the other side of her tombstone only to face a dark, grim existence without life and joy; that is, without God. There's only one person who has transformed the landscape of life-after-death, and that is Jesus, the One who conquered the grave, opening the path to life eternal. Three grams of phenobarbital in the veins will only provide a temporary reprieve. It is not the answer for the most important passage of her life," she added.
According to Brittany, however: "No, cancer is ending my life. I am choosing to end it a little sooner and in a lot less pain and suffering."
"… I've realized there's a bit of the legacy I'm creating this way and I'm not ashamed of that. I'm not ashamed to attach my name to what I think is a right that should belong to all terminally ill Americans. I really do," she added.
According to CBS, since the Death With Dignity law took effect in Oregon 17 years ago, more than 1,000 people with terminal illnesses have requested life-ending drugs. Just over half of that number went through with their suicides.