'I Feel at Peace Because We Did the Right Thing,' Joel Osteen Tells Critics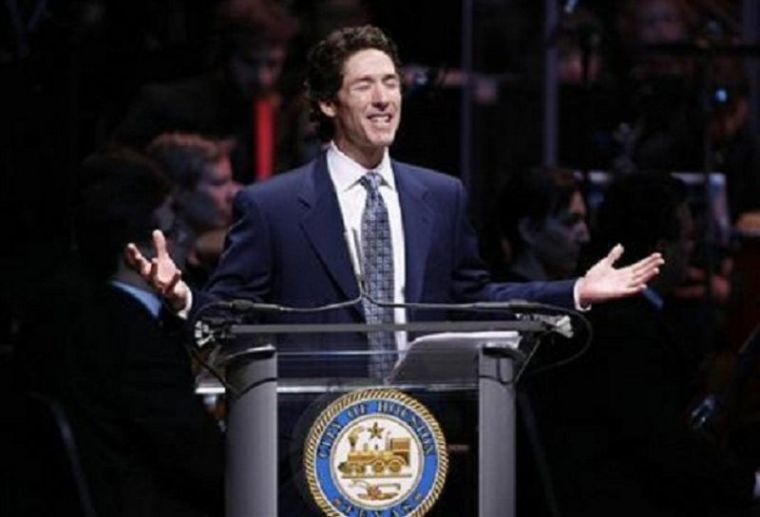 Pastor of Lakewood Church in Houston, Texas, Joel Osteen says he is "at peace" knowing he "did the right thing" despite facing withering attacks online from critics who refuse to believe he did not initially open the doors of his megachurch to shelter Harvey flood victims because he was worried about flooding in the massive 16,000-seat church.
"I don't spend any energy on the Twitter universe or social media," Osteen told ET's Kevin Frazier. "And I don't mean that disrespectfully. I just don't put any energy into it. I mean, life is too short to put energy into negative emotion and I feel at peace because we did the right thing."
He added: "My reputation is in God's hands and He can take care of that."
On Saturday, Osteen wrote on social media that he was praying for the safety of those affected by the flooding as Tropical Storm Harvey inundated Houston and other parts of Texas with historic rainfall. A day later, on Sunday he said the church was "inaccessible" due to "severe flooding."
Several people on social media started re-posting images online refuting that Lakewood Church had been affected by flooding, however, and a blistering media firestorm ensued. The church soon become a shelter for flood victims after the city requested help.
High-profile critics like popular internet preacher and leader of Global Vision Bible Church in Tennessee Greg Locke insisted along with many others, however, that Osteen was "shamed" into opening up the doors of the church.
"Are you gonna tell me that all the water in the building completely assuaged and went away and the entire building was cleaned up so that now they can take refugees? No. It was just as clean then. They're only doing this to save face because of the media firestorm," Locke said Tuesday.
"They can do with their building what they will, but don't lie to us about it. At the end of the day, I really hope and pray they help a lot of people," he noted.
Osteen said he wants to focus on helping the more than 400 Harvey victims now at Lakewood church. He was seen on camera getting quite emotional during his first church service since the storm this week.
"We're concerned with these people (victims now at the church) and how they move forward. And there were safety issues that people don't understand. But I really believe that if people were in my shoes, they would have done the same thing. When the building is clear, when it's safe, we can start taking people. That's what we have done for 60 years. We love helping people and that's what our message is all about," he explained.
When asked to explain the videos posted online by his critics that show no flooding, Osteen said it was all relative.
"You know, it depends on what day that is," he said. "I think another thing that people don't understand — it could flood. That street could flood and in 14 hours it can be down. ... So you can't go by that. I have video of it flooded on either Saturday night or Sunday night, I can't remember. But, you know, it can go down in 14, 15 hours."
In an earlier interview with the Today show, Osteen noted that the building had flooded before. The flooding took place during Tropical Storm Allison in 2001 when the building was the Compaq Center.
"And so we were just being precautious but the main thing is the city didn't ask us to become a shelter (until days later)," Osteen said.
He admitted that had he known the storm was going to be so devastating, the church would have been better prepared.
"Knowing what I know now, I would have put staff in here before the storm hit, put beds, do everything we could to be prepared," he said. "When it catches us by surprise, even when the cities overflow and, you know, nobody dreams that shelters will overflow. ... Hindsight, it's 20/20, but we've got to move forward and do what we've done for the last 60 years and take care of these people, help them rebuild their lives, bring hope to their spirits and let them know that they can come out of this stronger than before."
On Wednesday, Lakewood Church was providing shelter to over 400 storm victims. It has also received thousands of pounds of donated items that the church will be distributing to other shelters and those in need.
The church will partner with the city, FEMA, "with anyone we can where we think we can be of help," Don Iloff, a Lakewood spokesperson and Osteen's brother-in-law, told The Christian Post Wednesday. Iloff expects the church's ministries to be dealing with the damage caused by the storm for years to come.