Idaho gov. signs bill to prohibit 'indoctrinating' students with critical race theory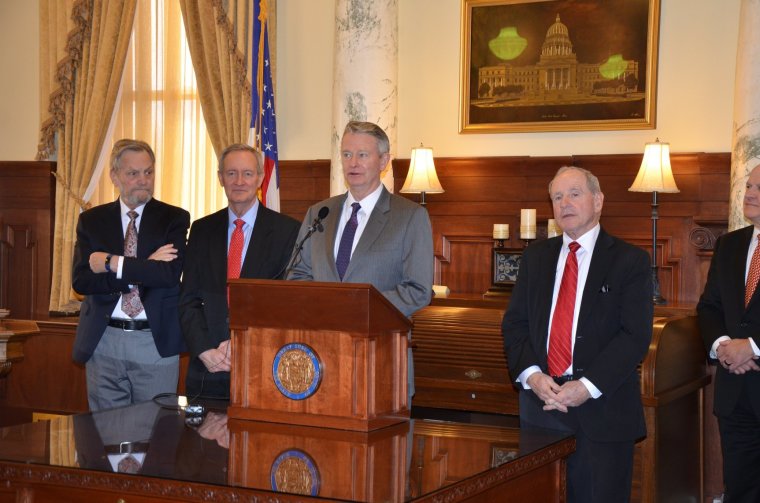 In a preemptive strike to prevent the "indoctrination" of students in public schools with the controversial critical race theory, Idaho Gov. Brad Little signed legislation into law late Wednesday that prohibits forcing students to accept it.
"The claim that there is widespread, systemic indoctrination occurring in Idaho classrooms is a serious allegation," Little wrote in the bill's transmittal letter addressed to Republican House Speaker Scott Bedke The Associated Press reported. "Most worryingly, it undermines popular support for public education in Idaho."
Critical race theory is a framework through which some scholars seek to understand how victims of systemic racism are affected by cultural perceptions of race and how they are able to represent themselves to counter prejudice. Scholarship on the theory traces racism in the U.S. through the legacy of slavery, the civil rights movement and recent events.
Kimberlé Crenshaw, a founding critical race theorist and a law professor at UCLA and Columbia universities, explained the idea to CNN last year.
"It's an approach to grappling with a history of white supremacy that rejects the belief that what's in the past is in the past and that the laws and systems that grow from that past are detached from it," she said.
While the recently signed legislation, HB 377, does not ban the teaching of critical race theory, it prohibits all public schools, including institutions of higher education and school districts, from teaching that "any sex, race, ethnicity, religion, color, or national origin is inherently superior or inferior." It also prohibits teaching that "individuals, by virtue of sex, race, ethnicity, religion, color, or national origin, are inherently responsible for actions committed in the past by other members of the same sex, race, ethnicity, religion, color, or national origin."
These ideas, Idaho lawmakers noted, are "often found in 'critical race theory,'" and they "exacerbate and inflame divisions on the basis of sex, race, ethnicity, religion, color, national origin, or other criteria in ways contrary to the unity of the nation and the well-being of the state of Idaho and its citizens."
Opponents of critical race theory, like Christopher F. Rufo, a director at the Discovery Institute, praised the move Wednesday as a "historic win."
"Idaho becomes the first state in the nation to ban critical race theory indoctrination in public schools. Governor Brad Little signed the bill into law, which will prohibit schools from promoting race essentialism, collective guilt, and neo-segregation. A historic win!" he wrote in a statement on Twitter.
Layne McInelly, president of the Idaho Education Association, said in a statement to CNN that the bill is seeking to address a problem that doesn't exist.
"The passage of HB 377 and the accompanying insinuations about Idaho teachers are very disappointing," she said. "This is a 'monster under the bed' problem brought about by a false and misleading narrative that some legislators have willfully conflated. They aim to diminish the public's trust in our teachers and schools, just to come back next year and push to privatize education."