Ignoring Nancy Pelosi, San Francisco Archbishop Joins March for Marriage Rally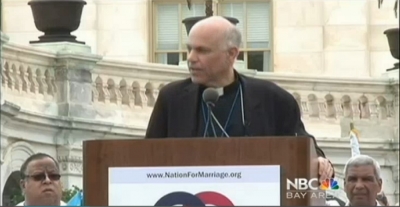 San Francisco Archbishop Salvatore Cordileone delivered a speech at the March for Marriage rally in Washington, D.C. on Thursday, defying calls for him not to participate from House Minority Leader Nancy Pelosi and pro-gay groups.
During his speech, the archbishop linked traditional marriage to "truth and love."
"Both are necessary, both, together, if we wish to have a flourishing society: truth and love," Cordileone said.
The Roman Catholic archbishop called on followers of Christ to proclaim the truth inspired by their predecessors: "the truth of a united family based on the union of the children's father and mother in marriage as the foundational good of society."
"Every child comes from a man and a woman, and has a right, a natural human right, to know and be known by, to love and be loved by, their own mother and father. This is the great public good that marriage is oriented towards and protects," Cordileone continued.
"The question is then: does society need an institution that unites children to the mothers and fathers who bring them into the world, or doesn't it? If it does, that institution is marriage – nothing else provides this basic good to children."
The second annual March for Marriage, sponsored by the National Organization for Marriage and supported by several pro-traditional marriage groups, was held on Thursday outside the U.S. Capitol Building. It brought together thousands of people from across the U.S. who demonstrated in support of traditional marriage.
Pelosi and pro-gay groups urged Cordileone last week not to attend the march, claiming that some of the participants show "disdain and hate towards LGBT persons."
"We share our love of the Catholic faith and our city of San Francisco," Pelosi, a Catholic, wrote to Cordileone in a letter obtained by the San Francisco Chronicle.
The House Minority Leader quoted a famous remark by Pope Francis, which reads: "If someone is gay and is searching for the Lord and has good will, then who am I to judge him?" – A quote that made gay publication The Advocate name the Catholic leader its person of the year in 2013.
While the quote has often been used by pro-gay groups, Francis has previously said that he upholds the official teachings of the Catholic Church.
"The teaching of the church, for that matter, is clear and I am a son of the church, but it is not necessary to talk about these issues all the time," Francis explained in a September 2013 interview, but added that LGBT people "must be accepted with respect, compassion and sensitivity."
Cordileone is chair of the Promotion and Defense of Marriage of the U.S. Conference of Catholic Bishops, and was a key petitioner for California's Proposition 8, which sought to ban same-sex marriage in 2008.
In his speech on Thursday, the San Francisco archbishop said that the truth must be proclaimed to those who disagree with the traditional definition of marriage, and for those who are hostile toward its supporters.
"We must be careful, though, not to paint our opponents on this issue with broad strokes. There is a tendency in our culture to do this to groups of people the powerful don't know and think they don't like. We must not do that. We must recognize that there are people on the other side of this debate who are of good will and are sincerely trying to promote what they think is right and fair," he said.
"It is misdirected good will. But even those from whom we suffer retribution – and I know some of you have suffered in very serious ways because of your stand for marriage – still, we must love them. That is what our ancestors in faith did, and we must, too."
Cordileone noted that "love in the truth" is the "answer," and said that the truth is that every child comes from a father and a mother.
"To deliberately deprive a child of knowing and being loved by his or her mother and father is an outright injustice," he declared. "That is our very nature, and no law can change it. Those with temporal power over us might choose to change the definition of marriage in the law even against all that we have accomplished through very generous participation in the democratic process, but our nature does not change."
Former Arkansas Governor Mike Huckabee also spoke at the rally, and was interviewed by The Christian Post. Other speakers included the Rev. Ruben Diaz, New York State Senator and president of the New York Hispanic Clergy Organization; Bishop Harry Jackson, Jr., founder and president of the High Impact Leadership Coalition; and former U.S. Senator Rick Santorum.