Indian Christian Convert Tortured, Left for Dead by Hindu Radicals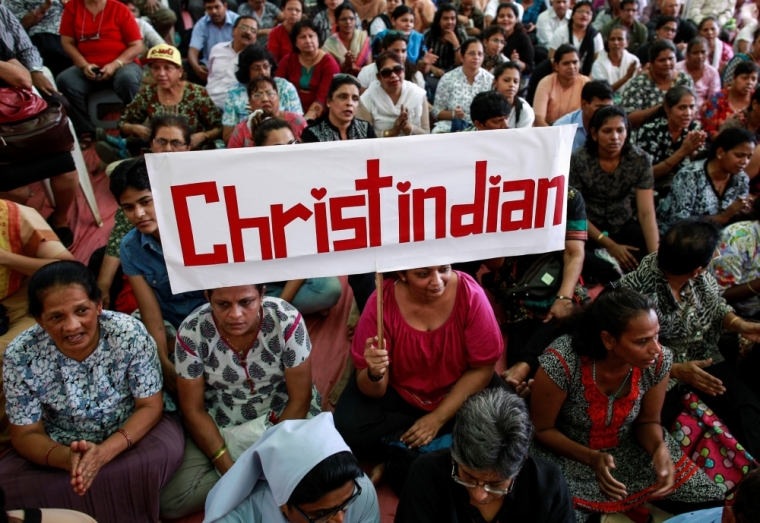 A Christian convert who refused to stop worshiping Jesus Christ was kidnapped, tortured and left for dead by a group of Hindu radicals in the Indian state of Uttar Pradesh, a Christian persecution monitor has reported.
Hindu extremists in the the area of Tewardih, Varanasi kidnapped the 30-year-old Christian convert named Joginder Gold after frequently demanding that he and his family stop worshiping Christ.
Gold told Morning Star News that the extremists kidnapped him around 11 a.m. on April 9 while he was on his way to the market to sell vegetables.
According to an area church leader named Rev. Patsy David who spoke with Morning Star News, the six Hindu radicals accused Gold of stealing vegetables from their farm house. Gold denied the accusation and said he could take the men to the seller who sold him the vegetables.
One of the Hindus told Gold that he would take him to the seller and told him to get on the back of his motorbike. Instead of taking Gold to the seller, the radical took Gold the Hindus' farm house.
"They tied me upside down on a tree and started verbally abusing me for my faith in Christ and started to beat me on the soles of my feet," Gold told Morning Star News.
Gold explained that he endured about three hours of beatings and torture. He added that one of the men stuck a stick in his mouth, while two other extremists held him down by sitting on his chest. He recalled throwing up at least three times before he lost consciousness.
David said that Hindu radicals have long harassed Gold and his family over their faith.
"For the past two years, they tried to implicate Joginder in a false case and told him to stop worshipping Christ or that he will pay for it," David, a male clergy member, explained.
David added that the extremists must have thought Gold died because they threw him into a pit and covered his body with hay and leaves. Fortunately, a witness took Gold into his home and notified Gold's family and the police.
"The man lay Joginder on a [traditional woven] bed and thereafter put the bed out on the road, and the villagers gathered up to see Joginder lying almost dead on the bed," the male clergy member explained.
Gold was later taken to a public hospital by police.
"The injuries he suffered on the soles of his feet were so severe that they affected the veins in his head, and he suffered severe head pain along with severe pain in his chest, thigh, arm, buttock, upper back and left calf," David told Morning Star News.
Although the police took Gold to the hospital, they initially took little action after a legal complaint was filed by a local Christian leader, according to David, who explained that police asked questions about the legality of Gold's conversion to Christianity.
Gold told the police that he gave his life to Christ over eight years ago after seeing how Jesus helped heal his sister and witnessing the other members of his family put their trust in Christ.
Instead of asking questions about the assault and kidnapping, the police were more focused on when Gold converted and who converted him.
Although it appeared as though local police would take little action in Gold's case, they have assured Christian leaders that a high-level investigation has been launched and action will be taken against the perpetrators.
Morning Star News reports that Gold was transferred to a private hospital after six days of treatment and was discharged from the hospital after 20 days. Gold was not initially able to talk and as of last Friday was still not able to walk normally.
Christian persecution at the hands of radical Hindus is becoming a growing problem in India.
In fact, a 57-year-old Christian pastor was severely beaten in a premeditated attack by three radical Hindus about 31 miles away from the town where Gold was tortured on the very same day, Morning Star News reports.
The Hindu gang approached Pastor Samuel Marikuda Joseph at the Indian Pentecostal Church in Saidpur Garur, Jaunpur at around 10:30 a.m. and told him they wanted to know about God.
Jospeh, however, noticed the men were drunk and said he would talk to them about God if they came back when they were sober. After that, the men verbally and physically abused the pastor and ridiculed his Christian faith.
"The three people told my father to simply leave the village and to stop conducting worship services," the pastor's son, Sijo Joseph, told Morning Star News. "They shouted, 'Bharat mata ki Jai [Victory for Mother India],' and they started to kick, punch and beat him with sticks."
Joseph's son said the radicals then put his father on a motorcycle and took him away, after accusing him of forcible conversion.
Pastor Joseph was eventually returned by the radicals to the local police station. The pastor had cuts and abrasions all over his body.
"Initially, the local police refused to take our complaint and told us to leave the area and go back to our native place, Kerala," Sijo Joseph said. "They even told us rewrite our complaint and delete many of the details."
Although Christian leaders filed a more formal complaint, no arrests have been made in Joseph's case.