Indonesia: Extremist Group Spray Paints Women in Tight Jeans, Claims to Enforce Sharia Law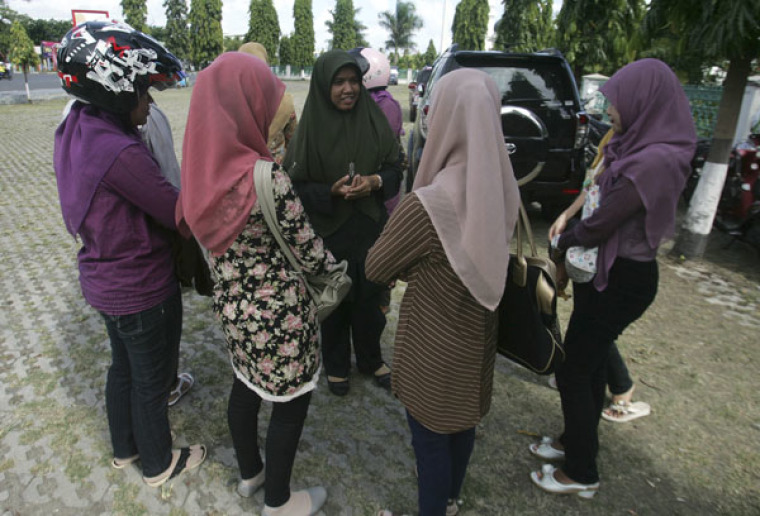 A new extremist group operating in Indonesia is going after women on the streets wearing tight pants and jeans and covering them in spray paint as a form of enforcement against violations of the Islamic law and the local law of the land.
The group, which calls itself Tadkiiratul Ummah and operates in the Indonesian province of Aceh, has recently began a new "moralization" campaign to make examples of women and men who are wearing what the group deems to be "too tight pants."
Asia News reports that the group is finding violators of the law and covering their pants in a permanent color spray. According to the group's spokesman, Teungku Nurdin Usman, the group's campaign of spray painting people wearing tight pants comes in response to local law enforcement failing to enforce the Iaw, which, among other things, prohibits women from wearing tight clothing.
"Local authorities have shown poor performance in implementing the sharia law-based regulations," Usman said.
Usman further noted that since the authorities aren't doing an acceptable job of upholding the law, it is the group's "moral duty" to ensure that the law is respected by both men and women. He added that the group's enforcement efforts include the spray painting raids, "inspections in the streets" and giving women who are caught wearing tight pants in public a sarong (a long dress like fabric) to wear over their pants.
As Free Malaysia Today estimates, the group has stockpiled over 7,000 sarongs that are ready to hand out to women in violation of the dress code.
"It is our hope that they will be shamed in public and will refrain from repeating similar misleading behavior," Usman added.
Modern muslim movements like the Nahdlatul Ulama are critical of the group's new-found initiative and claim that the group has no legal standing to promote this kind of action, which publicly humiliates the victims.
Although it might be confounding by Western standards for a group of people to walk up to a random stranger on the street and spray paint his or her clothes, the enforcement of Sharia law in the areas of Aceh is quite tame in comparison to that of other areas in Indonesia, which is the most populous Muslim country in the world.
In areas like Bogor and Bekasi, Asia News states that many Christian places of worship have been shut down in the face of extremist pressure. But in Aceh, a province coming off of the regime of a secular governor, newer and stricter Islamic-based regulations that have been put in place by the region's new governor have not been greeted with overwhelming support by the people of Aceh. Many citizens in Aceh are contesting the bans that restrict the rights of women by placing bans on jeans, skirts, tight dresses, dancing in public, and women straddling a motorcycle (women must legally ride a motorcycle with both feet dangling off of one side.)
However, many of the Aceh citizens are also in support of the bans as they claim it preserves their society from Western influence.
"As an Acehnese who understands the culture and values of Aceh, I very much agree with the tight clothing ban," Chairman of the Aceh Graduate Students Association, Sayuti Abubakar told Khabar South East Asia. "Such regulation is necessary to filter western influences and preserve Acehnese values, which are rooted in Islam."