International Christian Film & Music Festival to honor Roma Downey at annual event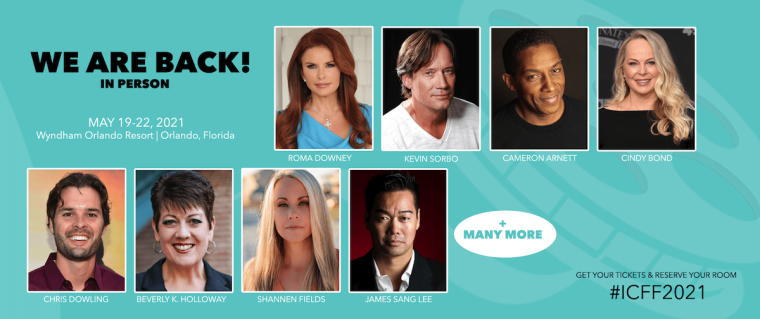 The International Christian Film & Music Festival announced it will honor Roma Downey with a Lifetime Achievement Award at its annual event scheduled to be held in-person this year. 
Last year, the festival, which celebrates those who work in Christian entertainment, was held online due to COVID-19. This year, however, it will be held on May 19-22 at the Wyndham International Resort in Orlando, Florida. Tickets are now available and include the ability to screen over 150 movies and attend seminars and workshops. The festival will also feature live music and an "Oscar-style" awards ceremony.
Marty Jean-Louis, the founder of the ICFF, said he and his team have taken all the measures necessary to ensure attendees are safe at the festival amid the pandemic. 
"We are complying with local and CDC guidelines to make it a safe experience for everyone," he told The Christian Post in a recent interview. 
Jean-Louis also expressed his excitement that the festival would "select the first woman this year for the Lifetime Achievement Award." He said their selection is "well deserved."
Preceding Downey, recipients included Louis Gossett Jr., Kirk Cameron, Alex Kendrick and David A.R. White.
"This year's speakers will include: actor Kevin Sorbo; Cindy Bond, the producer of "I can only Imagine;" actor Cameron Arnett from "Overcomer;" Chris Dowling, the writer for Tim Tebow's movie "Run the Race" and for King and Country's movie "Priceless." 
"We also have Hallmark screenwriter Bob Saenz doing a special workshop," Jean-Louis added. "This year is packed with lots of exciting movies, workshops and networking opportunities for both film and music."
Bond is currently producing the upcoming film "Redeeming Love," which Downey is an executive producer on.
The festival will be screening the highly anticipated film "Don't Say My Name," which focuses on human trafficking and raising awareness about victims of exploitation. The film's cast and crew will be in attendance at the premiere along with government employees from Homeland Security who assisted with the project.
Jean-Louis added that several movie screenings will take place throughout the four days.
"We know that people are eager to come out to watch some amazing Christian films," he added.
Sorbo, who is a regular attendee of the annual festival, will also be attending the screening of his new documentary "Against the Tide: Finding God in an Age of Science."
"This film is a master-class in understanding and combating the atheist manifesto," Sorbo said in a statement previously shared with The Christian Post. "I know it will be a thought-provoking asset to anyone who seeks to have a deeper understanding of both the wonder of Scripture and the need for Christians to be able to defend what they believe."
Founded in 2011, ICFF is known for highlighting faith-based, family-friendly films, documentaries, music, student films and Christian music. 
To register for the event, visit the website.