Iowa Gov. Reynolds signs heartbeat abortion ban at Family Leadership Summit featuring Tucker Carlson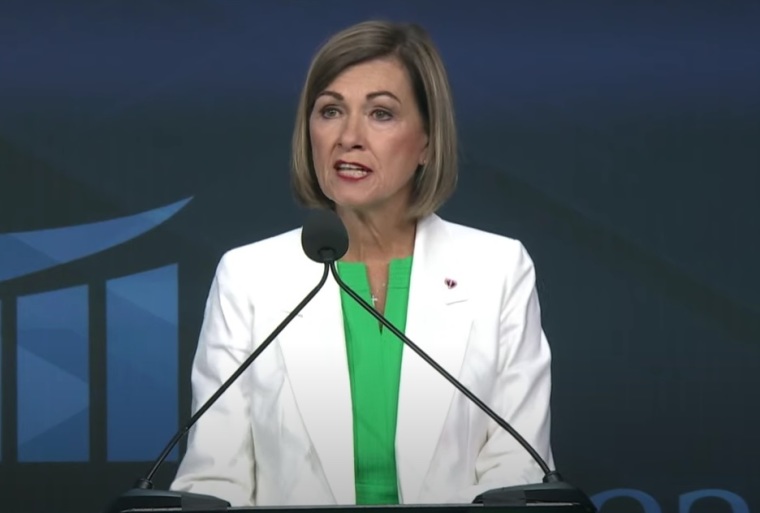 Iowa Gov. Kim Reynolds signed a law Friday banning most abortions after a baby's heartbeat can be detected, usually around six into a pregnancy, just weeks after a similar law was blocked.
At The Family Leadership Summit, a gathering organized by the conservative group Blaze Media, Reynolds signed House File 732, which prohibits most abortions when an unborn baby's heartbeat is detected.
In remarks given to those gathered at the Summit shortly before she signed the bill, Reynolds said "the most important human rights cause of our time" was "protecting unborn human lives from the atrocity of abortion."
"All life is precious and worthy of the protection of our laws," Reynolds added. "Everyone understands that a heartbeat signifies life, and we understand that when it falls silent, something precious has been lost."
Reynolds also commended the conservative activists in the room, saying, "You have lifted us in prayer, grounded me in God's Word, and reminded me that He is always in control." Reynolds said she was also grateful for their "public witness."
On Tuesday, the Republican-controlled Iowa Legislature voted in favor of HF 732, with the legislation passing the House of Representatives in a 56-34 vote, and the Senate in a 32-17 vote.
"A physician shall not perform an abortion upon a pregnant woman when it has been determined that the unborn child has a detectable fetal heartbeat, unless, in the physician's reasonable medical judgment, a medical emergency or fetal heartbeat exception exists," reads the bill.
Listed exceptions include pregnancies resulting from rape or incest or an abortion being performed because an unborn baby has "a fetal abnormality that in the physician's reasonable medical judgment is incompatible with life."
Even before Reynolds had signed the bill, a lawsuit was filed against it by Planned Parenthood of the Heartland, the Emma Goldman Clinic, and the Iowa chapter of the American Civil Liberties Union.
"This law is deeply cruel and callously puts the lives and health of Iowans at risk," said Rita Bettis Austen, legal director for the ACLU of Iowa, in a statement released Tuesday.
"We are seeking to block the ban because we know that every day this law is in effect, Iowans will face life-threatening barriers to getting desperately needed medical care — just as we have seen in other states with similar bans."
Last month, the Iowa Supreme Court deadlocked 3-3 over whether an earlier heartbeat law passed by state lawmakers in 2018 could take effect, allowing a lower court block to stand. Justice Dana Oxley, the seventh member of the state high court, did not take part.
If the new ban is likewise blocked, Iowa law will still prohibit elective abortions after 20 weeks into a pregnancy.