Iraq War vet reveals what many don't understand about battle; 1 thing that can restore soldiers after war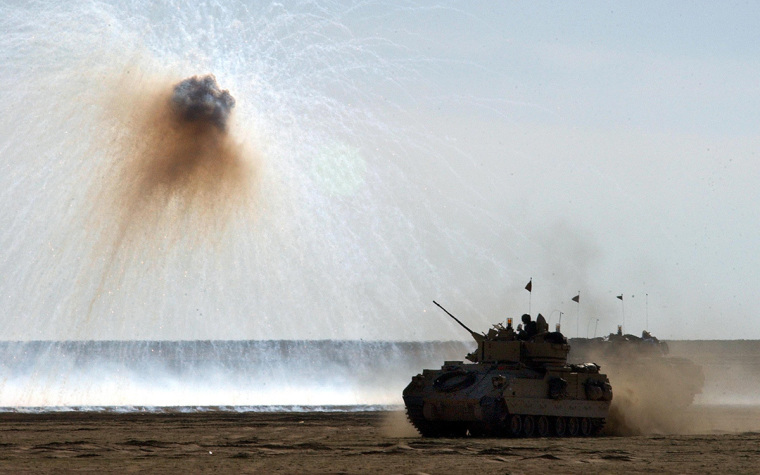 Iraq War veteran Jeremy Stalnecker, who is on a mission to help fellow veterans, first responders and others impacted by trauma, recently revealed some of the powerful lessons he learned on the battlefield.
Stalnecker now serves as executive director of the Mighty Oaks Foundation, an organization that helps combat veterans heal from Post Traumatic Stress Disorder and other emotional wounds.
SUBSCRIBE: Listen to Jesus Is All We Need on Your Favorite Podcast Platforms
As someone who has served on the frontlines, he knows the struggles that can emerge on and off the battlefield, and believes there are some realities and difficulties that should be better misunderstood.
"What people don't understand about war — everything you're told from the time you're a small child not to do, now you're there to do," Stalnecker said on a recent episode of the "Jesus Is All We Need" Podcast. "You're shooting live rounds at human beings, you're dealing with things that you talked about, you trained for, you've seen play out in movies — but now you're dealing with it in real time."
Listen to Stalnecker break down these issues:
He added that these realities are compounded by the exhaustion that comes from remaining awake for several days at a time and dealing with the other realities of war. Despite some truly overwhelming elements, it is in those tough moments, though, when soldiers' training kicks in.
Stalnecker, who was a lieutenant on the ground at the start of the U.S.-led Iraq War, was responsible for countless Marines amid the array of fast-moving parts that came with the complex mission.
"When we got into Iraq … you train … there was just so much happening all at the same time," Stalnecker recalled. "In the moment, you have so many responsibilities … people who you need to take care of."
He said it's often after the start of a mission when the chaos of what is unfolding finally hits people. Stalnecker recalled a moment in his own journey right after the Iraq War began when he was sitting on the roadside and suddenly felt a "wave of fear" overtake him.
It was in that moment, though, that faith sustained him.
"Isaiah 41:10 came into my mind at that moment … it dropped on top of me — 'Fear not for I am with you. Be not dismayed for I am your God, I will strengthen you, I will hold you, I will uphold you with the right hand of my righteousness,'" he recalled. "Just as fast as the fear came, the peace came."
Stalnecker didn't dive deep into the political debate that continues to plague the Iraq War, but he did note that he came to love and appreciate the Iraqi people. He also explained that the government had them living in "absolute poverty" and that the U.S. military worked to help ease that dynamic.
"One of the great things about the United States is that we take personally the responsibility that we've been given by God on this planet to help those who cannot help themselves," he said.
As for the struggles veterans and others face as a result of trauma, Stalnecker said there are many tools ranging from counseling to medication that can help, but that there is only one thing that will fully restore a person: a relationship with God.
"Foundationally, there's only one thing that can restore you or make you whole and that's a relationship with Jesus Christ," he said. "The underlying foundation has to be a relationship with God."
Find out more about Stalnecker and his work at the Mighty Oaks Foundation, and subscribe to the "Jesus Is All We Need" podcast.