Is Peyton Manning Christian? Denver Broncos Quarterback Prays Every Night & Before Each Game, Testifies Faith in Jesus Comes First
As Super Bowl 2014 Between the Denver Broncos and Seattle Seahawks Gets Ready to Kick Off, Here is a Profile of Quarterback Peyton Manning
Peyton Manning will take to the field at MetLife Stadium in East Rutherford, New Jersey on Sunday for Super Bowl 2014 with a huge weight of expectation on him. So how does the Denver Broncos quarterback manage to cope under so much pressure? Quick answer; the support of his family, and his faith in Jesus Christ! The quarterback is a devout Christian, and he has previously revealed that he is devoted to Christ, and prays every night, and before every game.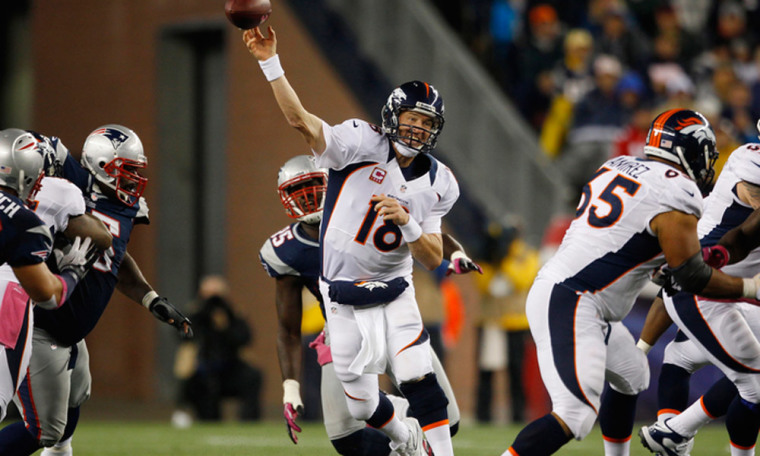 Manning has been destroying opposition defenses all season long (as well as through much of his career), and he has been breaking records left, right and center. However, his record-breaking exploits have also raised the expectation on him, and millions around the world will be tuning in for Super Bowl 2014 understandably hoping to watch the best quarterback in the NFL put on a big show.
In his autobiography "Manning" the Broncos talisman wrote: "I committed my life to Christ, and that faith has been most important to me ever since."
MORE: Is Russell Wilson Christian? Seattle Seahawks Quarterback Testifies, 'Jesus Is Always There, He Will Never Leave, Forsake You'
He added, "I hope (and pray) I don't do too many things that displease Him before I get to Heaven myself. I believe, too, that life is much better and freer when you're committed to God in that way."
He also revealed that prayer is something he leans on daily, speaking to God each night before he sleeps, and also prior to each time he takes to the field.
The four-time league MVP has been in amazing form throughout the season, and has set NFL regular season records in both passing yards (5,477) and touchdowns (55).
"Manning" was published back in 2001, and reveals how the Broncos quarterback came to faith in Jesus as a 13-year-old boy in a New Orleans church.
Although the spotlight will be on how Manning fares on the football field in today's Super Bowl he has openly testified that his priorities in life are faith, family, friends and football – in that order!
He wrote in "Manning": "Some players get more vocal about it – the Reggie Whites, for example – and some point to Heaven after scoring a touchdown and praise God after games."
He added, "I have no problem with that. But I don't do it, and don't think it makes me any less a Christian. I just want my actions to speak louder, and I don't want to be more of a target for criticism than I already am."
Explaining how he sees his relationship with God, Manning admits it is not about trying to make time for God in his busy schedule, but that it is he himself who is blessed at even being given the chance to speak to God and ask for His guidance.
Even though Manning is often heralded as the hero on the football field, has testifies that he is far from perfect and is "no better than anybody else in God's sight."
"I pray every night, sometimes long prayers about a lot of things and a lot of people, but I don't talk about it or brag about it because that's between God and me, and I'm no better than anybody else in God's sight," he wrote.
When sports stars talk about how they pray before games and rely on Jesus, oftentimes they are misunderstood and mocked for praying for victory. Manning though clarifies that he does not pray for victory – rather he prays for the safety of players on both teams.
Manning has also spoken about how important his family are to his life, and he admitted that when it comes to this year's Super Bowl, they are his good luck charm.
Talking to People magazine, Manning said recently: "It's my family – my wife and kids. My entire family keeps me positive and they always support me. They will be coming to town to be with me. Without them, I would not be where I am today. I am very grateful."
Manning has been married to his wife, Ashley, for nearly 13 years, and together they have 2-year-old twins, Mosley and Marshall.
MORE: Is Russell Wilson Christian? Seattle Seahawks Quarterback Testifies, 'Jesus Is Always There, He Will Never Leave, Forsake You'
The Christian quarterback will be vying to claim his second Super Bowl title in today's game against the Seattle Seahawks. He of course won his first Super Bowl in 2007 with the Indianapolis Colts against the Chicago Bears.