ISIS Assassin Reveals Horrific Ways He Killed Victims in Syria; Cut Man's Tongue Off With Scissors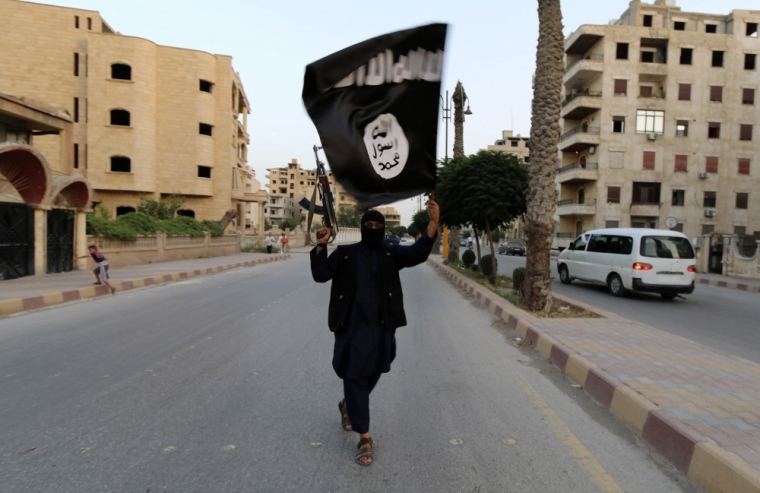 An Islamic State assassin who claims to have killed over 100 people while fighting in Syria has described the horrific ways in which he killed his enemies, including brutally cutting out a man's tongue before ending his life.
Khaled, a former double agent with the Syrian-based al-Nusra Front who acted undercover as an assassin for IS (also known as ISIS, ISIL or Daesh), is sharing his experiences fighting in the Syrian civil war.
In a recent interview with BBC, Khaled (not his real name) detailed how he went from a guy who was once a peaceful Syrian government protester to one who is now a hardened war criminal living with no regrets in Turkey.
Khaled explained that when he first joined anti-government protests when the unrest began in Syria in 2011, he was a peaceful man who was "a bit religious, but not too strict" and simply wanted to bring change and freedom to his country.
It wasn't until he was arrested and tortured by the forces of Syrian President Bashar Al-Assad that he began to have a desire for violent revenge.
"They took me from my house to the Criminal Security Department, then to other departments. Political Security, State Security ... and then to the Central Prison where I stayed for a month before they released me," Khaled said. "By the time I entered the Central Prison I couldn't walk, and couldn't sleep because of my backache."
It was the torture he endured at the hands of a guard at the Criminal Security Department that would eventually drive Khaled to seek revenge.
"His shift was every other day, and when it came I knew I would be tortured," Khaled recalled. "He used to hang me from my arms with chains to the ceiling. He would force me to strip, then put me on 'the flying carpet' and whip my back. He would tell me: 'I hate you, I hate you, I want to you to die. I hope you die at my hands.'"
Khaled said that the guard forced him to get down on his knees and declare that Assad is more immortal than God.
Khaled said that he left the department paralyzed and when they moved him to Central Prison, inmates cried when they saw him brought in on a stretcher.
"I decided that if God saved me I would kill [the guard] wherever he goes," Khaled said. "Even if he went to Damascus, I would kill him."
After being released from prison, Khaled then took up arms against the government, BBC reports.
Khaled claimed that he helped 35 Syrian Army soldiers defect from the 17th Reserve Division, some of whom he kidnapped and sold their possessions for funds.
Despite being freed from prison, Khaled couldn't forget about the guard who brutally tortured him.
"I asked people about [the guard] who worked at the Criminal Security Department until I found him," Khaled said. "We followed him home, and took him."
Khaled said he abducted the guard and took him to a farm located near the Central Prison.
"I cut off his hand with a butcher's knife. I pulled out his tongue and cut it with scissors," Khaled said. "And still I wasn't satisfied."
Khaled said that he eventually killed the guard after he begged for an end to his misery.
"I came for revenge, so I wasn't afraid," Khaled declared.
"Despite all the torture methods I used with him, I don't feel regret or sorrow," Khaled continued. "On the contrary; if he came back to life again right now I would do the same."
Although Khaled initially joined the ranks of the anti-Assad rebel coalition Ahrar al-Sham, he eventually left the faction and joined the Al Qaeda-linked al-Nusra Front.
But after IS took control of Raqqa in 2014, the terror group offered Khaled a job as a "security chief" in which he would have other militants under his command.
Considering that saying "No" to IS would have likely costed him his life, Khaled accepted the job with the understanding of an Nusra leader that he would serve as a double agent.
"I showed IS a friendly face, but I would secretly kidnap and interrogate their members, then kill them," Khaled said. "The first one I kidnapped was Syrian, the leader of an IS training camp."
Khaled said that he would leak to IS whatever information the Nusra leader wanted him to leak.
"Some information was true, to make IS believe me," he said. "But at the same time I took secrets from them."
Khaled explained that he killed at least 16 people on behalf of IS, shooting all of them inside their homes with a silencer.
Khaled recalled the time he killed an Islamic scholar from the town of Al-Bab.
"I knocked at the door. He opened it. I immediately went in with a gun pointed at his face. His wife started screaming. He knew that I was coming to kill him," Khaled said. "Before I said anything he said to me, 'What do you want? Money? This is my money — take whatever you want.' I said no, I don't want money. And I locked his wife in the other room.'"
Khaled recalled the man offering him the opportunity to sleep with his wife in front of him.
"What he said encouraged me to kill him," Khaled said.
Knowing that he could have wound up dead if IS found out about his arrangement, Khaled told BBC that he decided to flee for safety.
Khaled first fled from Raqqa to the eastern Syrian city of Deir ez-Zor. He later slipped into Turkey where he claims to be a civilian.
"I killed over a hundred people in battles against the regime and IS, and I don't regret it ... because God knows I never killed a civilian or an innocent person," Khaled claims. "When I look in the mirror I see myself as a prince. And I sleep well at night, because everyone they asked me to kill, deserved to die."