ISIS Calls on Chinese Muslims to 'Take Up Weapons and Die on Battlefield'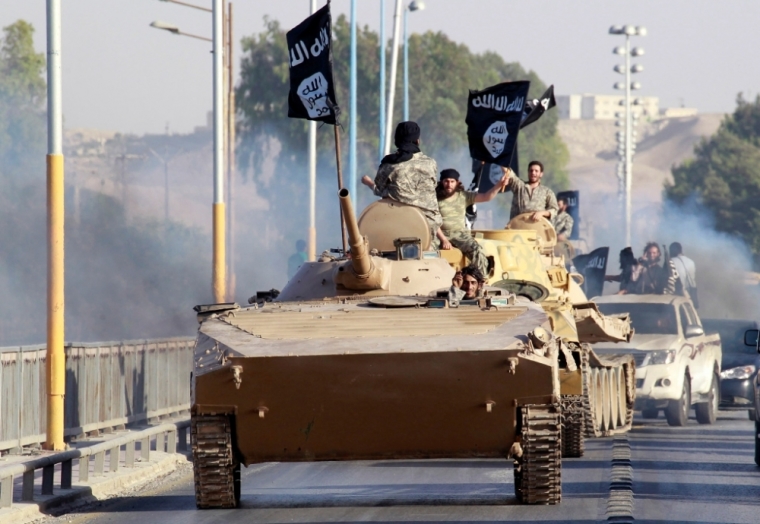 The Islamic State terror group has reportedly been expanding its recruitment efforts into China with a new song in Mandarin seeking to attract Chinese Muslims to jihad.
The "I am Mujahid" song was released earlier this week, and has been reported on by several sources, including terrorism monitoring website SITE intelligence Group. The song's lyrics call for "Muslim brothers to awaken," to take up weapons, and to "die fighting on the battlefield."
The song is being distributed online by the Al Hayat Media Center, which is the terror group's foreign-language media division.
IS has been expanding its army with foreign troops around the world, issuing a rallying call for Muslim minorities in several countries across Europe, Asia, and Africa.
The CIA Factbook notes that about 1.8 percent of China's over 1.3 billion population identifies as Muslim.
The New York Times pointed out that IS leader Abu Bakr al-Baghdadi has spoken out against the Chinese government in his speeches, and in July 2014 said that the world's most populous nation is a country where "Muslims' rights are forcibly seized."
Sunni Islam followers have complained about anti-Islamic policies and persecution, especially in the western region of Xinjiang.
The Communist government in China is known to keep a tight control over religion on its territory, and often restricts or even shuts down non-sanctioned Christian churches as well.
While it is not known how many Chinese Muslims may have already been recruited, the Chinese government has warned that the threat of Islamist militants has been growing in Xinjiang. It has claimed that some Muslim Uighurs, the ethnic group native to Xinjiang, have traveled to join IS' ranks in Iraq and Syria.
Back in November, IS militants reportedly executed a Chinese national after ransom demands were not met.
IS' online English-language magazine, Dabiq, published photos of a Chinese and a Norwegian hostage, claiming the men have been "executed after being abandoned by their kafir [infidel] nations and organizations."
China's Foreign Ministry responded by promising to hold IS accountable for the killings, and claimed that it made "all-out efforts" to help rescue the hostage.
"The Chinese government strongly condemns this inhuman action and will definitely hold the perpetrators accountable," the ministry's spokesman Hong Lei said in the statement.
"Terrorism is the common enemy faced by all humanity. The Chinese government opposes all forms of terrorism and firmly cracks down on any violent and terrorist crime that challenges the baseline of human civilization. The Chinese side will continue to enhance counter-terrorism cooperation with the international community and safeguard world peace and tranquility."
China, which has called for a political solution to the ongoing civil war crisis in Syria, has urged cooperation by the international community in the fight against terrorism, but without laying out a specific plan of action, Reuters noted.
Chinese Vice Foreign Minister Cheng Guoping said at a briefing in Beijing: "At present, relevant countries have proactively coordinated and consulted on their anti-Islamic State actions in Syria and they have had definite progress on fighting terrorism."