ISIS Claims Trained Soldiers Are Ready to Attack in Virginia, Maryland, Illinois, California, Michigan and 10 Other States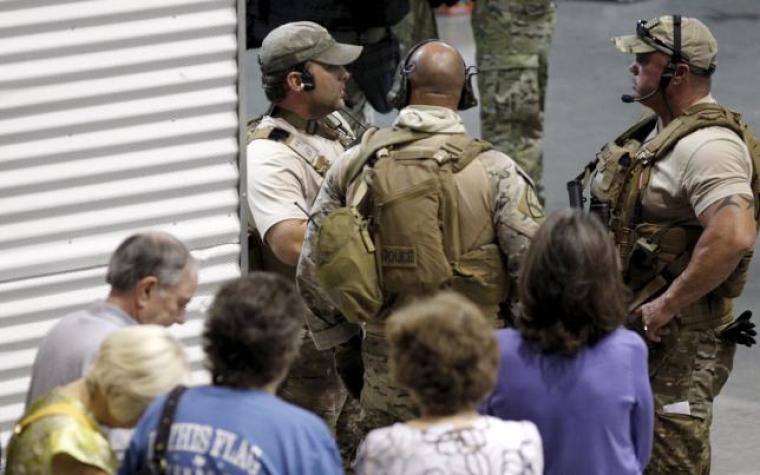 Terror group ISIS reportedly has 71 trained soldiers, at least 23 of who are ready to carry out attacks in 15 states similar to the shooting on Sunday at a cartoon contest featuring images of the Muslim prophet Muhammad in Garland, Texas.
"Out of the 71 trained soldiers 23 have signed up for missions like Sunday, we are increasing in number," reads the warning, posted on a file-sharing site and attributed to Abu Ibrahim Al Ameriki, the moniker of an American believed to have joined a terror group in Pakistan several years ago. "Of the 15 states, five we will name: Virginia, Maryland, Illinois, California, and Michigan."
Fox News reported that U.S. officials are looking into the threat, but believe it comes from a low-level militant rather than ISIS leadership.
The threat makes reference to Sunday's incident in Garland, where two terror suspects opened fire outside the Curtis Culwell Center, but where shot dead by a police officer after wounding a security guard.
The event was hosted by political blogger Pamela Geller, president of the American Freedom Defense Initiative, in response to the controversial Islamic "Stand with the prophet" conference held at the same Texas location on Jan. 18 that featured New York-based Imam Siraj Wahhaj, who was an alleged "co-conspirator" in the 1993 World Trade Center bombings.
The online posting reads: "The disbelievers who shot our brothers think that you killed someone untrained, nay, they gave you their bodies in plain view because we were watching."
ISIS, which has captured cities across Iraq and Syria and has been hit by airstrikes by the U.S. and a broad coalition of allies, claimed responsibility for Sunday's incident, and said that more attacks are to follow.
"We say to the defenders of the cross, the U.S., that future attacks are going to be harsher and worse. The Islamic State soldiers will inflict harm on you with the grace of God. The future is just around the corner," the Islamic militants warned.
The jihadists, who have beheaded Christians in a number of their propaganda videos, addressing other believers as "the nation of the cross," added: "We tell America that what is coming is more bitter and harder and you will see from the soldiers of the Caliphate what harms you."
The FBI has been investigating reports of people tied to ISIS operating in the U.S., but has not yet produced conclusive evidence to support the claims.
In February, FBI Director James Comey said: "We are focused keenly on who would be looking to travel to join this band of murderers who will have come back from Iraq and Syria and to the United States."
Comey continued: "We have opened cases all over the place focused on this threat, so it is not … a Washington thing — it is something we focus on throughout the FBI."
The shooters in Texas on Sunday were identified as Elton Simpson and Nadir Soofi, U.S. citizens who had both been living in Phoenix.
An investigation will seek to establish whether the suspects were indeed ISIS sympathizers, and to what extent they were linked to international terrorism. FBI reports have shown that Simpson, who was born at Dallas' Texas Health Presbyterian Hospital, was once the subject of a terror inquiry.