ISIS Executes Failed Leaders by Feeding Them to Ferocious Dogs, Kurdish Leader Says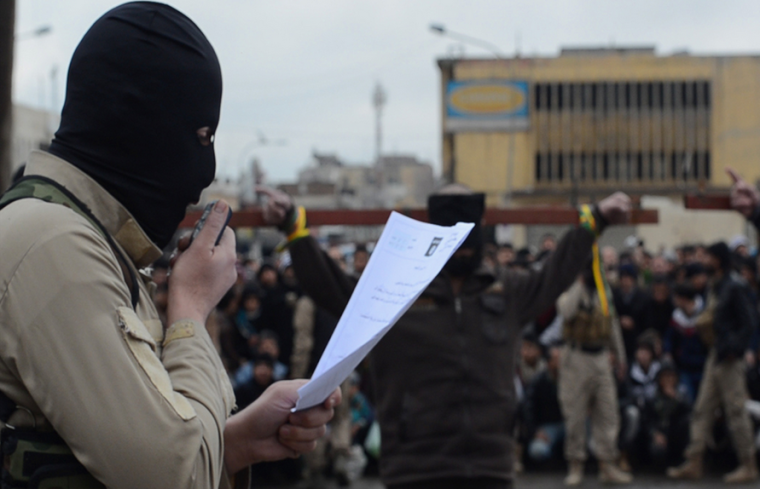 The Islamic State terrorist organization in Iraq has found yet another new and barbaric way to execute jihadi leaders who fail to meet the group's military expectations.
According to a Kurdish commander who spoke with the Iranian media outlet AhlulBayt News Agency (ABNA), IS (also known as ISIS or ISIL) recently executed a number of its own commanders for failing to "accomplish their chief duties."
Instead of just shooting the commanders in the back of the head or beheading them like the group has done with many others, IS employed another new and frightening method for execution designed to scare other militants.
The Kurdish commander, Hasan Khala Hasan, who serves on the Gwer front in northern Iraq, explained that the former militant leaders were fed alive to ferocious dogs.
Hasan detailed how militant leaders were tied to trees and left defenseless for the dogs to maul them to death.
Kurdish sociologist Dler Ahmed told ABNA that the terrorist group often kills its own fighters in order to intimidate and motivate other jihadis to accomplish IS' military goals.
"IS uses any members who are thought to be of no use, for the organization to frighten other members," Ahmed said.
The execution of the IS commanders comes after the terrorist group has suffered a number of military setbacks in Syria and Iraq in the last few months.
Just last week, the United States-led coalition estimated that the militant group has lost over 45 percent of territory in Iraq and 20 percent of territory in Syria that it conquered when it rose to prominence in the summer of 2014.
Although IS has reportedly lost large percentages of its territory, the group still has found the time to come up with sick new ways of killing people.
Over the weekend, a new IS propaganda video titled "Crush your enemies" was released. The video shows a prisoner in a blue jumpsuit being forced to lay his down on a boulder while IS militants pick up another boulder and slam it on the prisoner's head.
Another prisoner in the video was tied to a chair and gunned to death by militants, while another prisoner was decapitated.
Just last week, it was reported that IS executed 25 civilians in its Iraqi stronghold of Mosul by tying them up and dissolving their bodies in nitric acid.
"ISIS terrorist members executed 25 persons in Mosul on charges of spying and collaborating with Iraqi security forces," an anonymous source told IraqiNews.com. "ISIS put the citizens in a large tub containing nitric acid inside one of its headquarters."
Earlier this month, IS militants reportedly executed a prisoner in its Syrian stronghold of Raqqa by publicly stabbing him in the heart and then shooting him in the back of the head.
In April, the Syrian Observatory for Human Rights estimated that IS has executed over 4,000 people in Syria since June of 2014.