ISIS Fighters Earn More Money With Each Sex Slave, Forced Wife, Child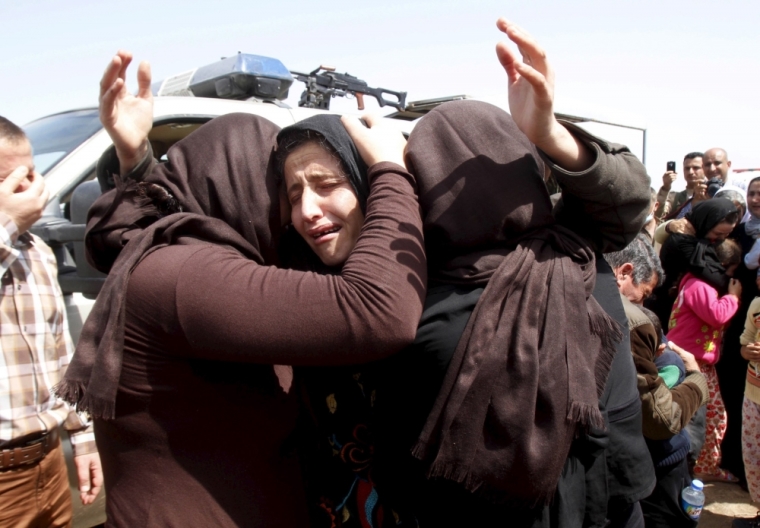 Documents regarding salaries and bonuses paid to Islamic State fighters have revealed that radical militants are not only encouraged, but rewarded for keeping more sex slaves, as well as for having more children and wives, who are often forced into marriage.
Aymenn Jawad al-Tamimi, a British scholar who obtained the documents and shared them with the media, revealed that the base salary for a single IS (also known as ISIS and ISIL) fighter was only $50 a month, but the payment was doubled for each wife, or each "female captive," or sex slave, that a fighter would keep. Each child under the age of 15 also brought in an additional $35.
The Washington Post reported that the documents come directly from IS' self-declared Caliphate over Iraq and Syria, where the terror group continues to hold significant territory. Al-Tamimi offered in his analysis that the records suggest IS is struggling to compensate its members, and is being forced to ration electricity, fuel and other resources.
"The documentary evidence confirms the current coalition approach has brought about significant losses for the Islamic State and put it under pressure on multiple fronts," al-Tamimi wrote for the CTC Sentinel, published by the Combating Terrorism Center at West Point, New York.
Other parts of the document forbid IS fighters from using vehicles for personal reasons, calling it "causing an unjustified waste" of the governorate's resources, that was "reaching the point of forbidden excess."
The document dictates: "It has therefore been decided to direct all brothers not to use vehicles … except by permission."
Al-Tamimi argued, however, that despite the financial challenges that IS seems to be facing, that does not mean that the terror group is necessarily growing weaker.
"You have to be careful," the British scholar said. "Some defectors are claiming that the Islamic State's end is imminent, but I don't see that. It's just not the case."
IS has been accused of serious human rights abuses, including the mass rape of women and girls, by the U.N. and many other watchdog groups. The terror group's actions in Iraq and Syria have been declared a genocide by the U.S. and other Western governments, including the British Parliament.
Last week, British Conservative MP Fiona Bruce shared the testimony of one 16-year-old Yazidi girl who revealed that radicals raped every last girl older than the age of 8 in her community.
"She spoke of witnessing her friends being raped and hearing their screams, of seeing a girl aged 9 being raped by so many men that she died," Bruce shared of what the girl told her.
IS' practice of keeping sex slaves was also detailed in a report by the anti-extremist group Quilliam Foundation in March.
"Several women reported that, while in captivity, young women and girls were taken and raped on a daily basis by IS fighters. An elderly woman reported that the young women would come back after some hours or days in a 'miserable condition,'" the Quilliam report explained.