Muslims Killed by ISIS for Helping Christians Escape al-Qaryatain
Muslims Killed by ISIS for Helping Christians Escape al-Qaryatain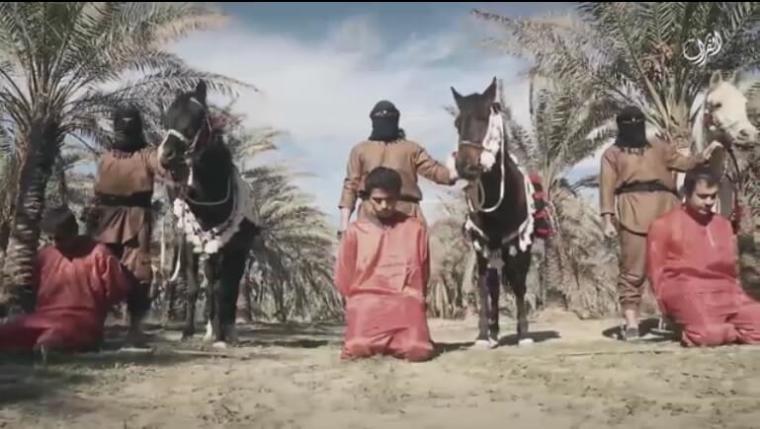 Islamic State militants have reportedly murdered Muslims who helped Christians escape the wrath of the brutal terror group in the besieged Syrian town of al-Qaryatain.
It was widely reported after IS (also known as ISIS or ISIL) conquered the town of al-Qaryatain last August, the group kidnapped as many as many as 230 Assyrian Christian hostages and forced them to sign contracts that required them to submit to IS' laws or be killed. Now that the town was liberated by Russian-backed Syrian forces earlier this month, local sources have been able to detail the plight of Christians and their quests to escape from the town under IS' rule.
According to sources who spoke with Fides news agency, many of the Christians who were kidnapped by IS in the town were freed on or around Oct. 10, 2015. It was in October that Christians, aided by Muslim friends, began to flee the city.
Sources said Christians would leave in small groups and travel toward the Syrian town of Homs, where there were villages that were controlled by the Syrian army.
The report states that Christian girls were the first to flee al-Qaryatain because it was believed that IS leaders wanted to force them to be their wives and sex slaves.
After militants realized that some of the Christians had escaped, the jihadi group abducted 10 Christian men and subjected them to torture and threatened to kill them if they did not convert to Islam.
But Christian families continued to flee and Fides reports that the families used a specific farm located in an area that was neither controlled by IS or the Syrian regime as a "logistic base."
"On that farm, five Christians and six Muslims were helping Christian families who arrived on foot to escape by organizing their journey to Homs and agreeing to keep the goods that the fugitives could not take with them," the report explains.
The farm, however, came under attack one day by a non-IS militant organization and the five Christians and six Muslims who helped others to escape were killed and the assets left behind at the farm were taken.
The report further explains that there was a number of Muslims in al-Qaratain who were killed by IS for helping the Christians flee.
"There were also Muslims killed in Qaryatayn while helping their fellow Christians flee the violence, in the hope of returning to live 'a quiet and peaceable life' in their land one day, as that provided for by St. Paul in the First Letter to Timothy," the report states.
Although it was previously reported that IS also executed 21 Christians who were kidnapped in al-Qaryatain, several local sources who spoke with Fides denied the claim made by Syriac Orthodox Patriarch Mar Ignatios Aphrem II in an interview with BBC published on April 10.
Even though a number of Christians died in al-Qaryatain, the sources stressed that many of them were not killed by IS. According to the report, only one Christian was killed by the jihadi group after being accused of blasphemy after he was heard saying curse words in the vineyard by Muslim workers.
From Sept. 5 through Sept. 20, 2015, there were five Christian deaths in al-Qaryatain. Four of the deaths resulted from natural causes, while a young man was killed during an anti-IS airstrike.