US deploys Green Berets to Mozambique; ISIS-linked militants accused of beheading children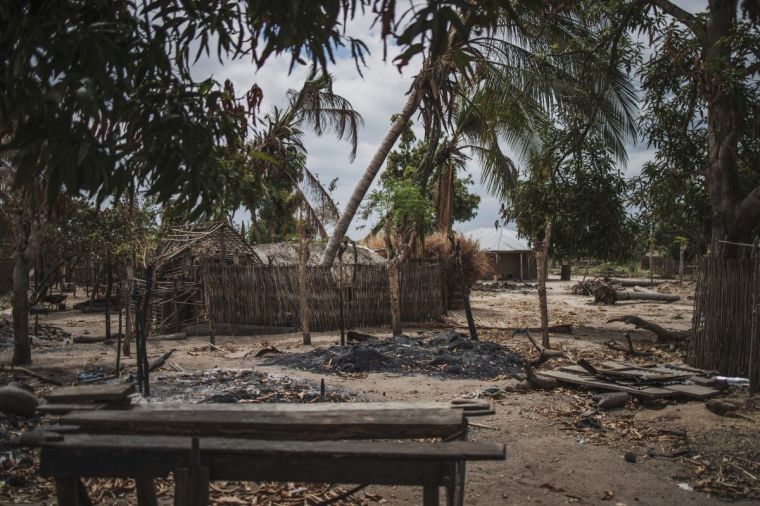 The United States has deployed U.S. Army Green Berets to Mozambique to train local troops as the country faces a growing insurgency that has seen children as young as 12 beheaded as well as thousands killed and displaced in the southern African country.  
Analysts say this intervention is long overdue with a worsening humanitarian crisis and rise in "appalling atrocities." More than 2,600 people have died since 2017 from the fighting and terrorist activity that began in north Mozambique, according to the United Nations. 
The U.N. reports the "mysterious group" of insurgents has committed "killing, rape and other atrocities."
The U.S. Army Special Forces soldiers were sent to train Mozambican marines for two months to counter the spread of violence by the Islamic extremist group, al-Shabab.
"The United States is committed to supporting Mozambique with a multifaceted and holistic approach to counter and prevent the spread of terrorism and violent extremism," the U.S. Embassy in Mozambique said in a statement. "Civilian protection, human rights, and community engagement are central to U.S. cooperation and are foundational to effectively counter the Islamic State in Mozambique."
"This approach addresses socioeconomic development issues as well as the security situation," the statement adds. 
The elite Green Berets are often deployed worldwide to build relationships, go on missions with locals and teach them how to fight effectively, Business Insider reports.
The U.S. government launched the two-month Joint Combined Exchange Training program to help prevent the spread of terrorism and will also provide communications and medical treatment.
The U.S. recently designated the Islamic State-linked insurgents in Mozambique's Cabo Delgado province a "foreign terrorist organization" on March 10.
Islamic State affiliates in Mozambique are also known as Ansar al-Sunna and known locally as al-Shabaab. The group reportedly pledged allegiance to the Islamic State of Iraq and Syria in 2018.  
"Since October 2017, ISIS-Mozambique, led by Abu Yasir Hassan, has killed more than 1,300 civilians, and it is estimated that more than 2,300 civilians, security force members, and suspected ISIS-Mozambique militants have been killed since the terrorist group began its violent extremist insurgency," a State Department announcement reads. "The group was responsible for orchestrating a series of large-scale and sophisticated attacks resulting in the capture of the strategic port of Mocimboa da Praia, Cabo Delgado Province."
According to the State Department, attacks by Islamic extremists in Mozambique have caused the displacement of nearly 670,000 persons within northern Mozambique.
U.S. State Department spokesperson Ned Price said in a March 11 press briefing that designating Islamic State-Mozambique and Islamic State-DRC as specially designated global terrorist organizations is a "decisive action against extremism" and "an important step in the global fight to defeat ISIS."
"The United States will continue to expose and isolate terrorists, disrupt their support networks, deny them access to the U.S. financial system, and do everything in our power to preserve the security of the United States," Price said. "We remain decisively engaged with our partners to address security challenges and to advance peace and security in Africa."
Islamic extremist-fueled violence in Mozambique has become a trend since 2017.
Senior leaders with the U.N. High Commissioner for Refugees warned of the urgent need in the Cabo Delgado province due to the displacement of hundreds of thousands of individuals.
The number of internally displaced people has increased from around 70,000 about a year ago to nearly 700,000 today. U.N. officials predict the number is expected to reach 1 million by June.
Most displaced people have fled south or found shelter with family or friends. The government is developing sites for those who remain. More than half of the displaced people are children.
The British aid organization Save the Children published a report earlier this month featuring interviews with survivors who recalled children as young as 11 being killed by insurgents. 
A 28-year-old mother told the aid agency that her 12-year-old son was beheaded.
"That night our village was attacked and houses were burned. When it all started, I was at home with my four children," she recalled. "We tried to escape to the woods, but they took my eldest son and beheaded him. We couldn't do anything because we would be killed too."
Christian persecution watchdog group Open Doors said the "fresh wave of extremist violence" in Mozambique ranked the country at No. 45 on the group's World Watch List of countries where Christians face the greatest persecution.
"Instability in the region prevents a reliable count of those affected, but we believe the violence is widespread and often religiously motivated," Open Doors USA spokesperson Amy Lamb told The Christian Post in an email. "It's part of a greater spread of extremist violence throughout the entire Sub-Saharan region, as factions of ISIS, al-Shabaab, Boko Haram, and their splinter groups expand their reach."
Lamb said this matter is of "grave concern" and is often fueled by religion against believers.
"Make no mistake: this violence is religiously-motivated, and Christians alongside other religious minorities are being systemically targeted," Lamb wrote. "Christians in the U.S. should pray urgently for the protection and provision of people in this region."
Christians make up over half of Mozambique, yet Islamic oppression is strong and accelerating.
Islamic extremists have destroyed Christian places of worship, schools and business, as many Christians have been forced to flee their homes, Open Doors reported. The presence of drug cartels in some areas also leads to increased persecution, especially in the country's northern region.