ISIS Sex Slave 'Bill of Sale' Emerges in Mosul Showing 20-Y-O Sold for $1,500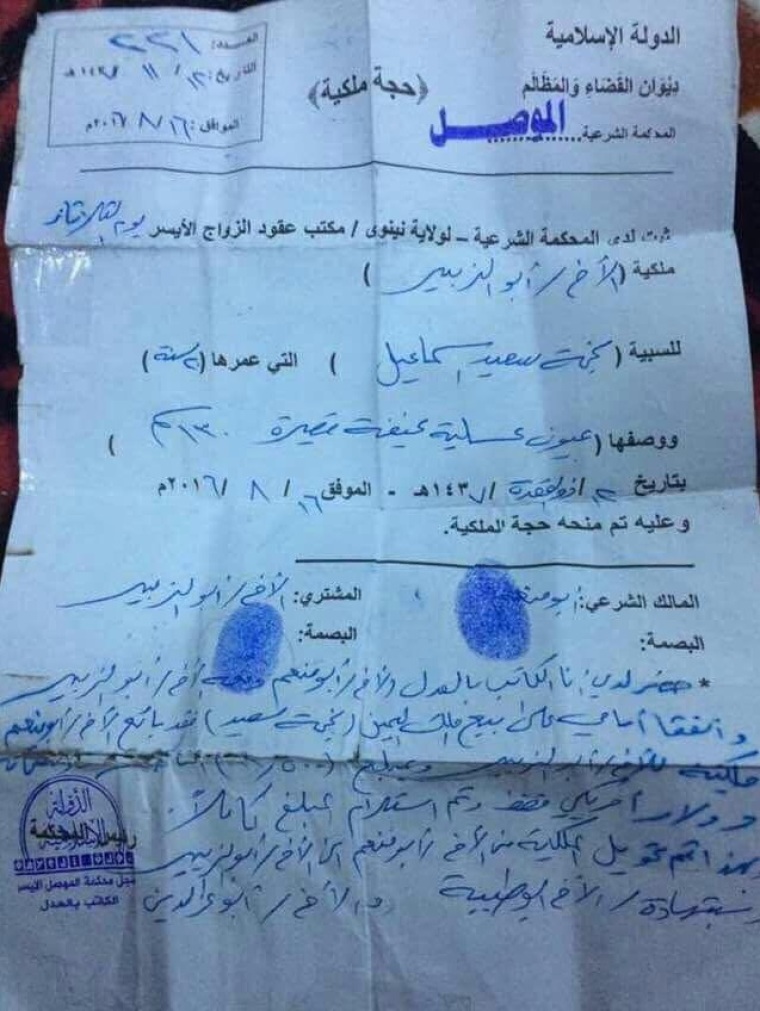 A receipt for an Islamic State jihadi's purchase of a 20-year-old woman from another man has been circulating online and provides insight into how the terrorists sold women and girls in the now liberated city of Mosul.
U.K. news outlets have reported that a "bill of sale" for a young sex slave who was sold for approximately $1,500 has been discovered in Mosul, Iraq's second largest city that was formerly the jihadi death cult's largest stronghold in the country before the city was liberated by coalition forces earlier this month.
The document, which has been shared on social media, purports to be a purchase agreement between two men named Abu Zubair and Abu Monem.
The document was signed with inked fingerprints. According to The Daily Mail, the "bill of sale" written in Arabic describes the woman by her physical features: "20 years old, physically fit with brown eyes."
The Sun notes that Zubair was the man who sold the woman, while Monem was the one that purchased her. The identity of the woman who was sold is not known.
Even though the document has made its rounds on social media, both news outlets report that the authenticity of the document cannot be independently verified.
The "bill of sale" isn't the first document discovered that purports to show how IS (also known as ISIS, ISIL or Daesh) engaged in the buying and selling of women as sex slaves.
In November 2014, a document obtained by Iraqi News was believed to be an IS sex slave pricing guide that listed the sale price for a young girl as being more than an older woman. The guide even included the prices for girls ages 1 through 9.
A United Nations official confirmed the existence of the IS sex slave pricing list that allowed for the sale of young girls for as much as $165 in 2015.
"The girls get peddled like barrels of petrol," United Nations special representative on sexual violence in conflict, Zainab Bangura, said in an interview with Bloomberg. "One girl can be sold and bought by five or six different men. Sometimes these fighters sell the girls back to their families for thousands of dollars of ransom."
Bangura said earlier that year that one sex slave was forced to undergo virginity restoration surgery over 20 different times after being raped and sold off to numerous IS fighters.
"Girls are literally being stripped naked and examined in slave bazaars," Bangura asserted during a press briefing. "[They are] categorized and shipped naked off to Dohuk or Mosul or other locations to be distributed among ISIS leadership and fighters."
A majority of the thousands of women who were forced into sex slavery by IS are Yazidis who were captured when IS swept through their lands in northern Iraq in August 2014.
In May, PLOS Medicine, a peer-reviewed journal published by the nonprofit publisher Public Library of Science, estimated that over 6,800 Yazidis were kidnapped by IS while about 3,100 Yazidis had been killed by the terror group.
The study estimates that as many as 4,300 Yazidis were able to escape from IS' captivity, while an estimated 2,500 were still missing.
Yazidis who were able to escape from the grips of IS have detailed the horrors of their experiences as sex slaves.
Khalida, a 20-year-old former sex slave, told The Daily Mail that she was bought, raped and sold by eight different IS fighters.
"I tried to kill myself many times. I covered myself in water and put my hand on electric cables but I always survived," she explained. "I asked God to kill me. I thought it was better to die than to live as a sex slave with what they were doing to me, every day."