ISIS Video Shows Child Soldiers in Combat Training for Battle Against US, Allied Forces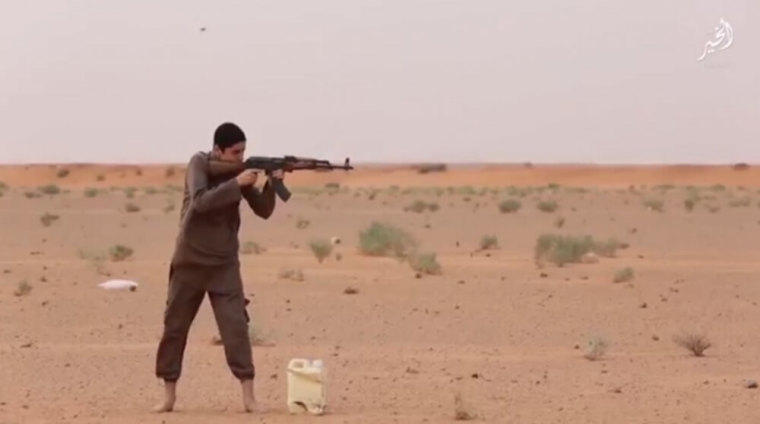 The Islamic State terror group in Iraq and Syria is increasing its use of child soldiers as more of its adult jihadis are killed off, a newly released video of the "cubs of the Caliphate" reveals.
In the video, which has been re-posted by The Mirror, children are seen in combat training at undisclosed locations.
Amid reports that IS is losing ground to allied forces in Iraq and Syria, the terrorist group has released the video to display the influence they have over young boys who are being trained to serve as soldiers and suicide bombers.
Military experts have condemned IS' strategy on a number of occasions.
"There is nothing more despicable than hiding behind human shields of women and children and forcing children to fight for you," Colonel Richard Kemp, former head of British forces in Afghanistan, said according to The Mirror.
"Yet these are the standard cowardly tactics of Islamic State and their jihadist bedfellows," he added.
"We will see the Islamic State thrusting more and more children into the front line as their adult recruits are wiped out and Western governments become increasingly effective at stopping their citizens from traveling to join the jihad," Kemp said.
Other groups, including the Syrian Observatory for Human Rights, have published several reports documenting the use of the so-called "Cubs of the Caliphate." The recruitment drive was especially strong in 2015, with as many as 400 children being recruited by IS in Syria between January and March alone.
Charlie Winter, researcher at the counter-extremism think tank Quilliam, said it would not be correct to think of the children is willingly joining the jihadists, however.
"Even if they have the perception of choice, it's not choice. If you're a minor and being indoctrinated from a very young age, you don't have the power to make a serious choice. I think that it's certainly worth considering more robustly that people are being groomed," Winter said at the time.
IS has sought to justify its use of child soldiers by arguing that such practices are consistent with the Islamic prophet Muhammad's teachings and the Muslim way of life.
IS' Dabiq magazine has in the past acknowledged the West's horror at the terror group's use of child soldiers.
"The Islamic State has taken upon itself to fulfill the Ummah's [the global Muslim community] duty toward this generation by preparing it to face the crusaders and their allies in defense of Islam," the Dabiq article published in 2015 asserted. "It has established institutes for the lion cubs to train and hone their military skills."
Beside being used on the battle fronts in Iraq and Syria, children are also in danger of being radicalized by IS' message and carrying out lone attacks in Europe, German police warned last week.
Wolfgang Trusheim, head of the Frankfurt state police, said that the danger lies in radical Salafist schools that take in young Muslim boys and train them on the path to terrorism, and urged authorities to remove children from such schools and Salafist homes.