Islamic Militant Group Hamas Vows Revenge on Israel After Gaza Airstrikes Kill Seven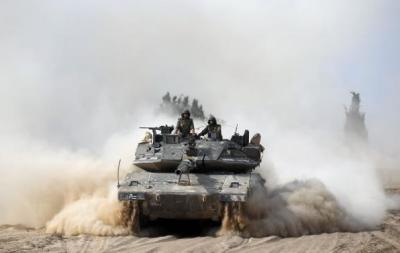 Islamic militant group Hamas has vowed revenge on Israel after airstrikes on Gaza Monday morning killed seven of its members.
"The enemy will pay a tremendous price," the group said, according to The Associated Press.
The seven men were reportedly killed by an Israeli airstrike on a tunnel used by the militants. Two other militants from a different group were also killed in another bombing.
The airstrikes were the deadliest exchange of fire since violent altercations between the two sides started up again two weeks ago.
Israel has said that it has carried out airstrikes on "14 terror sites" including "concealed rocket launchers" in Gaza. The bombings were in response to a dozen rockets fired from Gaza at Israel overnight, which injured one soldier.
"We will continue to act in order to debilitate and incapacitate the Hamas terror infrastructure striking its warehouses, rocket manufacturing capabilities and those that endanger the well-being of the Israelis in the south of the country," said Lt. Col. Peter Lerner, a military spokesman.
In another incident Monday morning, an Israeli army patrol was attacked along the Gaza border fence, though no injuries were reported.
Last week, three kidnapped Israeli teens, one with dual-U.S. citizenship, were found killed in the West Bank.
The discovery drew outrage from Israel, with Israeli Prime Minister Benjamin Netanyahu promising that Hamas "will pay" for the murders.
"[The teens] were kidnapped and murdered in cold blood by animals," Netanyahu said at a security cabinet meeting last week. "In the name of the whole of Israel, I ask to tell the dear families – to the mothers, the fathers, the grandmothers and the grandfathers, the brothers and sisters – our hearts are bleeding, the whole nation is crying with them."
Later that week, a 16-year-old Palestinian-American from east Jerusalem was abducted and killed in what is believed by authorities to be a revenge slaying. Six Jewish suspects were arrested in Israel on Sunday in connection to the murder.
"I would like to express my outrage and that of the citizens of Israel over the reprehensible murder of your son," Netanyahu told Abu Khdeir's father.
"We acted immediately to apprehend the murderers. We will bring them to trial and they will be dealt with to the fullest extent of the law. We denounce all brutal behavior, the murder of your son is abhorrent and cannot be countenanced by any human being."
Reuters noted that Hamas has been frustrated over the failure of a new unity government, formed under a reconciliation pact with President Mahmoud Abbas' Fatah movement, which was expected to pay the salaries of Hamas' 40,000 public servants in the enclave.