Israel Allows 26,000 Palestinian Christians to Celebrate Christmas in Country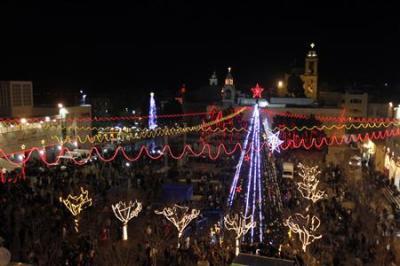 Israel has allowed 26,000 Palestinian Christians to enter the country in honor of Christmas.
Coordinator for Government Activities in the Territories, Israel Defense Force Maj. Gen. Eitan Dangot, announced that the government would ease travel restrictions on Palestinians to allow its Christians to celebrate their holiday a "fitting way."
Twenty-one thousand Christians from the West Bank and 5,000 Christians from the Gaza Strip have been given clearance by the Israeli army, which controls the inflow and outflow of Bethlehem, to enter the city.
According to the Associated Press, 10,000 foreign visitors had made their way to Bethlehem by Dec. 24, and the Israeli Tourism Ministry said that the number could reach as high as 25,000.
European Union Foreign Policy chief Catherine Ashton is expected among the list of high profile guests who will be in attendance at Bethlehem's Midnight Mass in the 1,700-year-old Church of the Nativity, reported the Israeli-newspaper Haaretz.
Ashton, who is spending the Christmas holiday in Bethlehem and Jerusalem, is expected to sit next to Palestinian President Mahmoud Abbas, who also attends the mass annually. Some have suggested that Abbas intends to take advantage of this arrangement to petition for the territory's grievances against Israel.
Last week, Abbas made headlines in Israeli and Palestinian media after he referred to Jesus as "a Palestinian messenger who would become the guiding light for millions around the world."
Abbas' comments incited outrage from Israel's Foreign Ministry spokesperson, Yigal Palmor, who called it an "outrageous rewriting of history."
"He should have read the Gospels before uttering such offensive nonsense, but we will forgive him because he doesn't know what he is doing," Palmor said.
In his statements, Abbas also complained that Israel was infringing upon Palestinians' freedom of religion and that they were preventing Christian Palestinians living abroad or in the Gaza Strip from visiting Bethlehem.
"We celebrate Christmas in Bethlehem under occupation. ... We are thinking of our people in Gaza, trapped under siege. ... Our prayers are with the churches and mosques of Jerusalem which remind the world of the Arab identity of our occupied capital," Abbas wrote.