Israeli Film 'Holy Air' Examines Profiting From Spiritual Tourism, Arab Christian Identity
Israeli Film 'Holy Air' Examines Profiting From Spiritual Tourism, Arab Christian Identity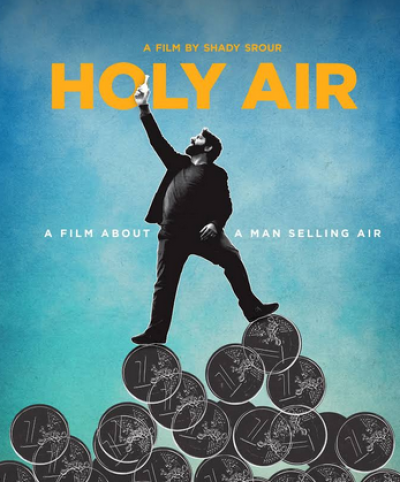 One Oscar-nominated actor is exploring what could happen if people sought to profit off of spiritual tourism in Israel with his new film "Holy Air," which is told from an Arab Christian perspective.
Shady Srour, the lead actor from the Oscar-nominated film "Ave Maria," has written, directed, produced and starred in the film that appeared at the 2017 Tribeca Film Festival in New York City last April. This month, the comedy has made its official big screen debut with positive reviews from The Los Angeles Times and The Hollywood Reporter.
The comedy follows Adam, an Arab Christian in Nazareth, Israel, who is desperate to find a new stream of income after learning that his wife, Lamia, is pregnant and his father is gravely ill. Adam comes up with the idea to sell the air off of Mount Precipice, the biblical site where an angry crowd of people tried to throw Jesus Christ off of, as told in Luke 4:29.
While Adam plans to sell the holy air to tourists, he also has to maneuver the Catholic Church, Muslim mobsters and Jewish political officials when trying to make his business successful. According to Srour, the spiritual comedy represents the different religions present in the Israel that he calls home and the dynamics in the area.
"While the film is not blatantly about politics and religion, it is written and made from a unique perspective. Three cultures collide (and often come together) in the region: Christianity, Judaism, and Islam, and among them, a small minority: Christian Arabs," Srour explained in a Movie Maker report last week. "I was raised in the city of Nazareth by Christian Arab parents, and while this is not a film based in religion, it certainly explores religious themes, such as the commercialization of religion and spirituality."
The movie is the first fictional project to film in the Basilica of Annunciation church, which required some meetings with high level officials. Srour and the film crew had to meet with the custody of the Holy Land, who is the highest priest under the pope in the Holy Land, and the Greek Orthodox patriarchate before he could film in St. Gabriel Greek Orthodox Church and Basilica of the Annunciation.
Srour explained the importance of filming in these places and hopes to shed some light on how he feels the Arab Christian minority are viewed in the Holy Land.
"As a filmmaker, it was important to me to film in both these places, because in many ways, Holy Air is really an allegory — a modern day version of the annunciation," he said. "Ultimately, the biblical locations — Basilica of the Annunciation, St. Gabriel Greek Orthodox Church, Mount Precipice, the Synagogue, Our Lady of the Fright, Notre Dame de l'Effroiare— are at the heart of the film and intended to reflect the conflict, oppression, commercialization and hypocrisy that Christianity presents for all religious and political factions of the region, particularly those who identify as Christian Arabs."