'It's Like Advertising a Satanic Church in Front of Our Home,' Alarmed Indiana Residents Say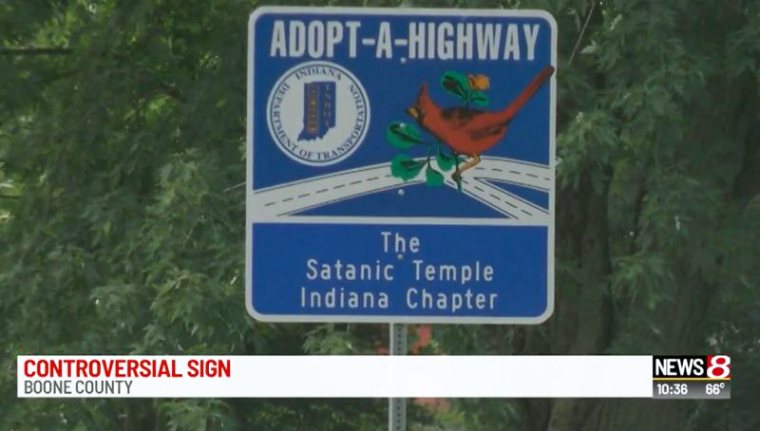 Some Indiana residents are speaking out against roadside signs for The Satanic Temple near their homes, saying it's akin to advertising for a "satanic church."
"We're obviously believers in God," resident Jill Konija, whose house is along the U.S. 421 near State Road 32, told WISH on Wednesday.
"It's like advertising a satanic church in front of our home."
Mary Rosswurm, who lives across the street of one such Satanic Temple sign, said the sign is affecting her property value.
"There could maybe only be one other sign that's worse than that to have up from your house," Rosswurm said, "which would be the KKK."
The signs in question were put up as part of the Satanic Temple Indiana Chapter agreeing to "adopt" a portion of the Zionsville highway. The Adopt-A-Highway program allows groups to have their signs put up on the roadside if they commit to cleaning up litter on the stretch.
Satanic Temple Indiana Chapter head Damien Blackmoor said that there are misconceptions about the organization, saying that members are atheists, and do not actually worship Satan, despite its name, logo, Baphomet statue, and other chapters wearing devil horns and pouring blood over the statue of the virgin Mary during Christmastime. 
"We're not out here sacrificing babies," Blackmoor said.
"(We are) very much wanting to pursue knowledge and free will, act with compassion and empathy toward all creatures within reason," he added.
Blackmoor insisted that the group would clean up the highways even if it wasn't given signs.
"It's not about the attention, it's about doing something good, and we like to show people that we're doing that good," he said.
A spokesperson with Indiana Department of Transportation told WNDU that there is no restriction on the type of groups that can adopt a highway, adding that it respects freedom of speech.
Satanic Temple chapters around the country have demanded representation in different cases.
In August, The Satanic Temple in Arkansas unveiled a large statue of a goat-headed, winged creature called Baphomet at the state capitol, as a means of protesting the Ten Commandments monument that is allowed to stand there.
"If you're going to have one religious monument up then it should be open to others, and if you don't agree with that then let's just not have any at all," argued Satanic Arkansas co-founder Ivy Forrester.
The group members at the unveiling were met with protests by Christians who displayed signs with messages from the Bible.
Back in January, The Satanic Temple of Arizona also adopted a highway stretch, where they cleaned litter with devilish pitchforks, and nicknamed the section "the road to Hell."
"People have this perception that one side does the good stuff and the other side does all the bad stuff," chapter founder Stu de Haan told NBC 4 at the time.
"What we are really showing here is that satanism is a legitimate religion, even though it's non-theistic. We are showing that people do have a sense of community and they want to get involved."