Jeb Bush Blasts Obama for Using 'Coercive Federal Power' to Limit Religious Freedom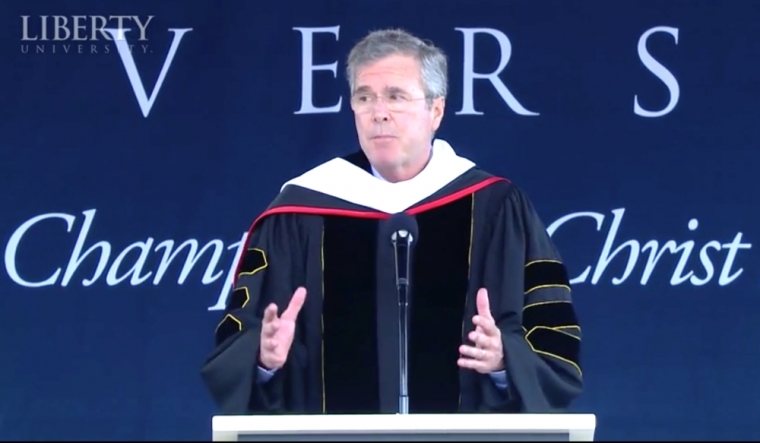 In his commencement address at Liberty University in Virginia Saturday, former Florida Gov. Jeb Bush, who is a likely Republican presidential candidate, condemned the Obama administration's use of "coercive federal power" to limit religious freedom.
"The present administration is supporting the use of coercive federal power," Bush, a converted Catholic, said in his speech at a graduation ceremony at the evangelical university in Lynchburg.
"What should be easy calls in favor of religious freedom have instead become an aggressive stance against it," he told a crowd of about 34,000 people.
"Somebody here is being small-minded and intolerant, and it sure isn't the nuns, ministers, and laymen and women who ask only to live and practice their faith," he added.
Bush warned that there are consequences "when you don't genuflect to the latest secular dogmas." Those dogmas, he explained, can be "hard to keep up with."
"So we find officials in a major city demanding that pastors turn over copies of their sermons. Or federal judges mistaking themselves for elected legislators, and imposing restrictions and rights that do not exist in the Constitution. Or an agency dictating to a Catholic charity, the Little Sisters of the Poor, what has to go in their health plan – and never mind objections of conscience," he said, apparently alluding to the subpoena of various pastors' sermons in Houston, Texas; overturning of gay marriage bans by courts; and President Obama's signature health care law.
Bush went on to say that the Little Sisters know better about doing the right and good thing than the regulators at the Department of Health and Human Services. "From the standpoint of religious freedom, you might even say it's a choice between the Little Sisters and Big Brother – and I'm going with the Little Sisters."
He charged that federal authorities are "demanding obedience, in complete disregard of religious conscience," and affirmed that "in a free society, the answer is no."
Bush said faith should not be kept out of the public sphere.
"The mistake is to confuse points of theology with moral principles that are knowable to reason as well as by faith," he explained. "And this confusion is all part of a false narrative that casts religious Americans as intolerant scolds, running around trying to impose their views on everyone. … Our friends on the Left like to view themselves as the agents of change and reform, and you and I are supposed to just get with the program."
Bush said it's strange to hear Christianity "spoken of as some sort of backward and oppressive force."
"Your generation is bringing the Christian voice to where it always is needed, and sometimes isn't heard enough," he told the audience. "Wherever there is a child waiting to be born, we say choose life, and we say it with love. Wherever women and girls in other countries are brutally exploited, or treated as possessions without rights and dignity, we Christians see that arrogance for what it is. Wherever Jews are subjected to the oldest bigotry, we reject that sin against our brothers and sisters, and we defend them."
Bush indicated that most of the issues he stands for are also in line with universal values. "In my experience, at least, you generally find the same good instincts, fair-mindedness, and easygoing spirit among Americans of every type — including, of course, the many who belong to no church at all."