Jeb Bush Answers 12 Christian Post Questions for Every Presidential Candidate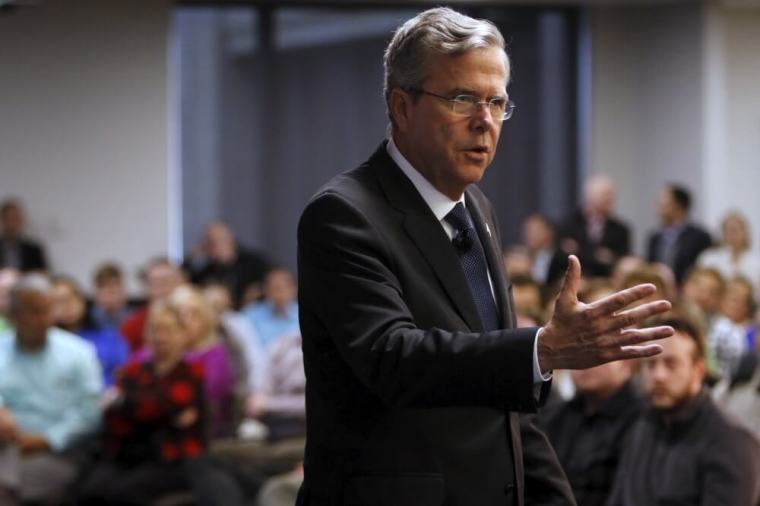 7. A growing consensus of liberals and conservatives agree that economic mobility in the United States has decreased and is a serious problem. (See here and here.) What can the federal government do to improve economic mobility for Americans struggling in the bottom half of the income distribution?
The only way to increase mobility is through sustained economic growth. We must adopt the pro-growth policies necessary to ensure all poor Americans are able to rise out of poverty.
The current administration may be content with two percent growth rates, but that is not nearly enough to deliver opportunities for all Americans. Under President Obama labor force participation is at a 38-year low. There are 6 million more Americans in poverty than there were in 2008 and median household income has fallen by $2,000.
I will replace our broken tax code with a simpler system focused on growth, higher take-home pay for middle class families, and lower rates. Under my tax plan a family of four earning less than $40,000 will face no federal income tax whatsoever — roughly 15 million American families will no longer bear any income-tax liability. Low-income seniors will receive a reduction in their payroll tax burden and the earned income tax credit will be expanded for more low-income workers.
But we can't stop with tax reform. We will reform our regulatory system to reduce the burden of government on families and businesses. We will fix our social safety net to ensure every low-income assistance program encourages work and strong families. And we will transform our education system to ensure that every child has the skills they need to succeed.
These policies will improve economic mobility. I know because it worked in Florida. We cut taxes, reduced regulation, and improved our education system. The result was broad-based prosperity. Median household income rose by $1,300 during my time as governor. We led the nation in small business growth and added 1.3 million new jobs.
8. At what point in a pregnancy, and under what circumstances, should abortion be illegal?
I am proud to be pro-life, and my record reflects these strong core principles. I believe our laws should respect the human dignity of the most vulnerable members in our society, those who are in most need of our protection: the unborn, the sick, and the elderly. I believe that we should advance the cause of human dignity by building consensus where we can, beginning with a ban on late-term abortions.
9. For those opposed to gay marriage as a matter of faith or conscience, to what extent should they be allowed to behave according to those beliefs now that the U.S. Supreme Court has declared gay marriage is a fundamental right found in the U.S. Constitution?
I don't support efforts to use the Supreme Court's same-sex marriage decision to punish religious beliefs or people who act on those beliefs. The government should not punish or withhold benefits from those who, like me, adhere to the traditional definition of marriage. I don't think businesses should discriminate against people on the basis of their sexual orientation. But they should not be compelled to participate in, for example, weddings that violate their religious beliefs.
10. What are your priorities related to both protecting the nation's natural resources and using those resources to provide for the nation's energy needs?
America's environmental debates can be too cold, too sterile of life. We need to be reminded what's really at stake. Christians see in nature and all its creatures designs grander than any of man's own devising — the endless, glorious work of the Lord of Life. The younger generation, in particular, strives to be protectors of creation, instead of just users, good shepherds instead of just hirelings. That moral vision can make a big difference. It has made a difference to me.
As Governor of Florida, protecting and improving the state's natural resources was a top priority for me. Perhaps most importantly I forged an historic state-federal partnership — the world's largest intergovernmental watershed restoration effort — to save the Everglades. We ended up significantly improving water quality and habitats including reducing phosphorus pollution entering the Everglades by over 2,000 metric tons and quadrupling wading bird populations in Kissimmee River Basin. Six months after I left the Governor's office, the World Heritage Council removed the Everglades from its list of endangered sites and commended the United States for its efforts.
One lesson I learned was that economic growth leads to environmental protection. As the Governor of Florida we achieved 4.4% economic growth, which allowed the state to commit to protecting natural resources at an unprecedented level. For instance, I also spearheaded "Florida Forever", the largest collaborative land protection program in the country. Working with landowners the state cooperatively acquired over 1 million acres of land including critical habitat, ecological greenways, recreational trails, and fragile coastline. Together, the Everglades project and Florida Forever protected 190 rare and endangered species and 700 historic sites. The state could not have undertaken these successful commitments without solid economic growth.
Generally, I think we should embrace innovation, embrace technology, embrace science. It's the source of a lot more environmental and energy solutions than any government-imposed idea. For example, the energy revolution, created by American ingenuity, is creating hundreds of thousands of jobs and saving working families hundreds of dollars a year. Also, because burning natural gas emits a lot less carbon dioxide, the energy revolution is a major factor in why the United States is a leader in reducing greenhouse gas emissions. With North American resources and American ingenuity, we can finally achieve energy security for this nation — and with presidential leadership, we can make it happen within five years. If we do all of this, if we do it relentlessly, and if we do it right, we will make the United States of America an economic, and environmental, superpower like no other.
11. How would you seek to change defense spending, Social Security, healthcare spending, or the tax code in order to slow the growth of deficit spending and tackle the nearly $18.3 trillion national debt and over $100 trillion in unfunded liabilities?
It's just wrong for Washington politicians to pile trillions in debt on the next generation. American families have to balance their budgets — Congress and the President should, too.
We need the discipline that would come from a Balanced Budget Amendment and a line-item veto. We need to reduce bureaucracy by 10 percent, just like we did in Florida. Corporate welfare and cronyism in Washington must be cut. We should repeal and replace ObamaCare with patient-centric reforms. And finally, we need to honestly reform Social Security and entitlement programs to make them work for this generation and the next. Once we determine priorities and implement fiscal discipline, we'll be able to reduce the debt and invest in priorities like national defense.
Finally, no plan to address the nation's debt will succeed unless we increase economic growth. This requires comprehensive tax and regulatory reform that will unleash U.S. economic potential.
I know this will work because I did it in Florida. During my time in office, we cut taxes every year I was governor. We eliminated job-destroying regulations. And they called me Veto Corleone because of my approach to spending restraint. These reforms helped grow the economy by 4.4 percent annually. We had 8 balanced budgets, $8 billion increase budget reserves, and a AAA bond rating.
12. What caused the Great Recession, and what should be done to ensure it doesn't happen again?
The Great Recession was caused by over-leveraged banks, purchasing risky investments with too little of their own capital. Many of these risky investments were related to a government-induced housing bubble, fueled by a rise in nontraditional mortgages and liberalized lending standards. When these large, interconnected banks failed, the U.S. taxpayer was forced to bail them out to avoid a fiscal catastrophe.
Now, eight years following the financial crisis, the big banks are even bigger. Rather than real reform, this Administration enacted complicated banking regulations that only help the well-connected. Dodd-Frank has hurt community banks, but it has done little to address the systemic risks that allowed big banks to threaten our nation's economy. We need to repeal Dodd-Frank and replace the failed legislation with real bank reform that ends too-big-to-fail.