Jeff Sessions, Sanders Cite Bible in Defense of Border Policy Separating Children From Families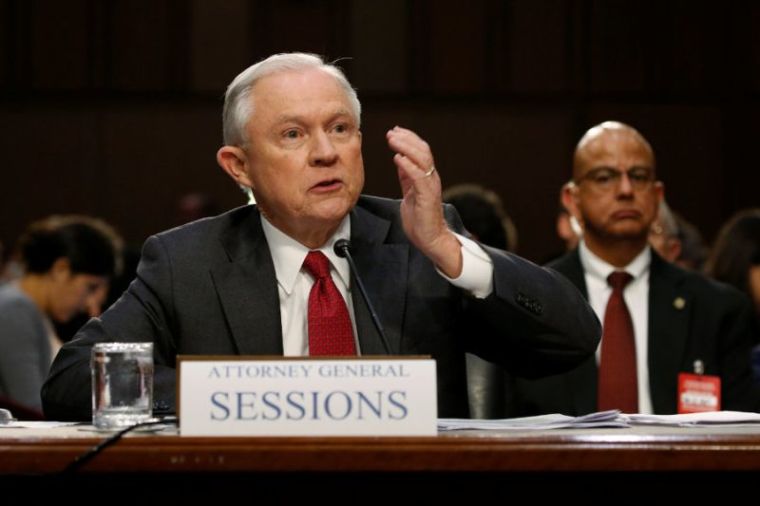 Attorney General Jeff Sessions and White House Press Secretary Sarah Huckabee Sanders cited the Bible in staunch defense of the Trump administration's "zero tolerance" policy on illegal immigration which critics have turned into a controversial talking point because enforcement of the policy results in the separation of children from their parents.
"I would cite you to the Apostle Paul and his clear and wise command in Romans 13, to obey the laws of the government because God has ordained the government for his purposes," Sessions said during a speech to law enforcement officers in Fort Wayne, Indiana. "Orderly and lawful processes are good in themselves. Consistent and fair application of the law is in itself a good and moral thing, and that protects the weak and protects the lawful."
Sessions announced a partnership in May between the Departments of Justice and Homeland Security to prosecute anyone who illegally crosses the southwest border and separate children from parents.
"If you cross this border unlawfully, then we will prosecute you. It's that simple," Sessions said. "If you smuggle illegal aliens across our border, then we will prosecute you. If you are smuggling a child, then we will prosecute you and that child will be separated from you as required by law. If you don't like that, then don't smuggle children over our border."
In his speech Session noted that in 2009, "the Department of Homeland Security reviewed more than 5,000 initial asylum screenings. By 2016, only seven years later, that number had increased to 94,000. The number of ... immigration court proceedings went from fewer than 4,000 to more than 73,000 by 2016 — nearly a 19-fold increase."
"Please note, Church friends, that if the adults go to one of our many ports of entry to claim asylum, they are not prosecuted and the family stays intact pending the legal process," Session added. 
Seeking asylum is a legal process, it's not a crime. Those who are denied asylum aren't necessarily criminals, it just means they weren't granted asylum.
"The problem," Sessions added, "is that it became well known that adults with children were not being prosecuted for unlawful entry and the numbers surged from 15,000 in 2013 to 75,000 four years later. That policy was a declaration of open borders for family units."
"Our policies that can result in short term separation of families is not unusual or unjustified. American citizens that are jailed do not take their children to jail with them. And non-citizens who cross our borders unlawfully — between our ports of entry — with children are not an exception."
While the adults are charged with crimes under the policy, children or unaccompanied minors are detained separately from adults. 
"I am not unaware that the Lord told Nehemiah when he got to come back home to Jerusalem to build a wall," Sessions further told the law enforcement officers in Indiana.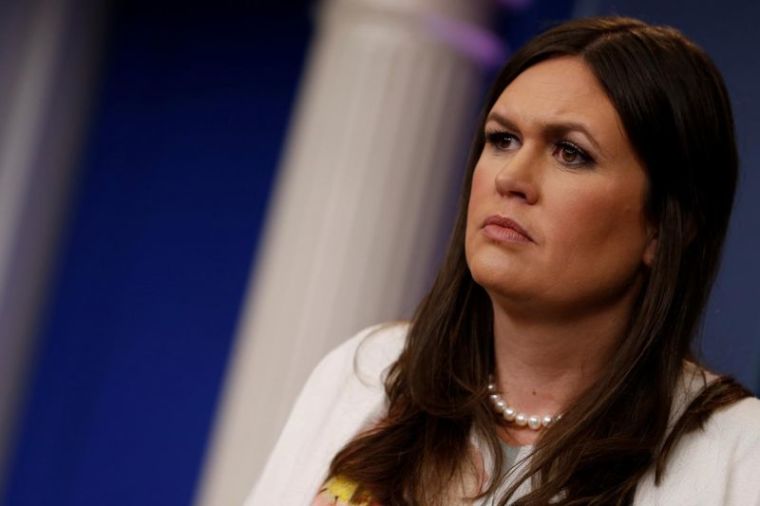 "That's the first thing he told him to do. It wasn't to keep people in. It was to keep bad people out. I don't think there's a scriptural basis that justifies any idea that we must have open borders in the world today or that reasonable nation states can't set reasonable policies for immigration in their country," he added.
Asked about Session's statement on Thursday, Sanders said while she had not seen the comments that she agreed that enforcing laws is a biblical concept.
"I can say that it is very biblical to enforce the law. That is actually repeated a number of times throughout the Bible," she said. "It's a moral policy to follow and enforce the law."
In a statement shared on Twitter Friday morning, the Rev. Samuel Rodriguez, president of the National Hispanic Christian Leadership Conference, said: "While the federal government has a duty to protect America's borders and defend the rule of law, we must always balance enforcement with compassion. Alleged reports that some illegal border crossers, many of them families, are enduring callous actions by law enforcement should cause us all to take pause. Regardless of the reason behind a person's attempt to come into the country, we must respond with American decency and respect for the dignity of every single child of God made in His image."
In 1997, the former Immigration and Naturalization Service entered into the Flores  Settlement Agreement relating to the detention and release of unaccompanied children which states that children can only be detained for 20 days before "releasing them to the Department of Health and Human Services which places the minors in foster or shelter situations until they locate a sponsor," the DHS said in February in a news release about ending "catch and release."
In 2016, the Ninth Circuit of Appeals ruled that the Flores Settlement Agreement also applied to accompanied minors. This means that children must be released to family members already living in the U.S. or a sponsor while their parents remain in detention. 
Gabriel Salguero, president of the National Latino Evangelical Coalition, told The Washington Post that Scripture overwhelmingly inspires the defense of families, not separating them.
"Overwhelmingly Scripture causes us to defend families. As Evangelicals, we have a doctrine to be a pro-family-values people, you know. The Bible calls us to be pro-family, and I personally find it deeply lamentable that we are separating children from their parents at the border or anywhere," he said.