Jeremy Lin's Fans Jumping Ship After Humbling Miami Heat Loss (VIDEO)
Jeremy Lin has received criticism for the 102-88 loss to the Miami Heat Thursday after scoring only eight points with an equal amount of turnovers, causing some to wonder if the New York Knicks guard is indeed ready for the big leagues.
SEE VIDEO OF GAME HIGHLIGHTS HERE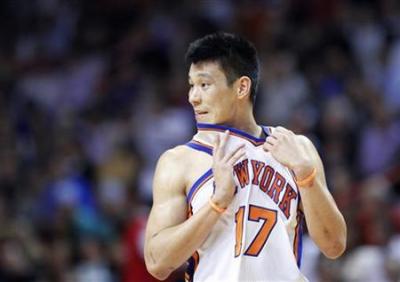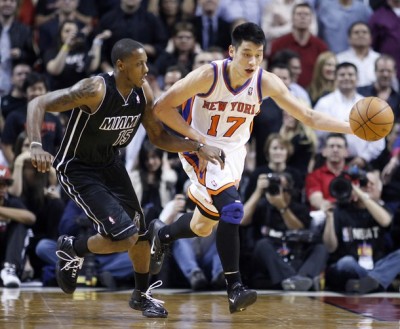 After the loss, a 23-year-old Lin headed to the locker room with his head held down. Following two weeks of varied puns inspired by his name, sold out basketball jerseys, magazine covers, interviews and controversy surrounding his race and record-breaking introduction as a starting NBA guard, some started to claim that the Linsanity phenomenon was nothing more than hype.
Cipha Sounds, a radio host on New York City's Hot 97, seemed ready to stop supporting Lin after the Knicks lost and the Asian-American guard produced his lowest statistical numbers thus far as a starter.
"Do I have to jump off the New York Knick Bandwagon," the DJ tweeted. "Lin, you're killing me!"
Christopher Boykin, a well-known bodyguard and television personality on the former MTV Show "Rob & Big" also tweeted his criticism of Lin. He said Lin may not yet be ready to take on the challenge of tougher NBA teams.
"The Heat made JLIN look like he was still in the D-league last night," Boykin tweeted. "[He's] still not ready for the elite teams in the NBA yet."
Before Lin and the Knicks took on the Heat, Miami forward Chris Bosh recognized that the New York guard's praise would soon turn to criticism.
"I don't really have an opinion of the linsanity thing but for him don't pay too much attention to it," Bosh said in an ESPN report. "The same people that will praise you and scream your name will hurt you next week."
Despite the criticism of Lin, his team has supported the guard's latest effort. Carmelo Anthony, all-star Knicks forward, said people need to recognize that Lin is still new to the Knicks and needs time to develop.
"We got his back, it's a learning curve for him too," Anthony said in a post-game interview. "At the end of the day, it's only been 10 games for him. I think a lot of people forget about that."
Knicks' head coach, Mike D'Antoni echoed Anthony's sentiments after the Heat loss.
"I'm not worried about Jeremy. He's got a learning curve he's got to go through," D'Antoni told the press after the game. "There's no way in heck he's going to come from without a training camp nothing to just one of the best players in the league. He's a good NBA player that will keep learning keep getting better."
Lin, also seemed to take the loss in stride. Instead of making excuses, the Knicks guard spoke about improving his game against tougher defenders in the league.
"They did a great job of making me uncomfortable. We're a no-excuse team so fatigue doesn't matter," Lin said after playing two games in two nights. "I'm not [going to] hang my head or anything like that. You can't win them all and you can't have a great game every game, but at the same time I need to understand what [I did] wrong and how [I can] improve."
WATCH VIDEO OF JEREMY LIN'S TESTIMONY
WATCH VIDEO OF JEREMY LIN PRAISING GOD FOR A VICTORY
WATCH VIDEO OF JEREMY LIN BEING COMPARED TO TIM TEBOW