Jerry Falwell Jr. denies report he got Trump's 'fixer' to bury embarrassing 'racy' photos
Jerry Falwell Jr. denies report he got Trump's 'fixer' to bury embarrassing 'racy' photos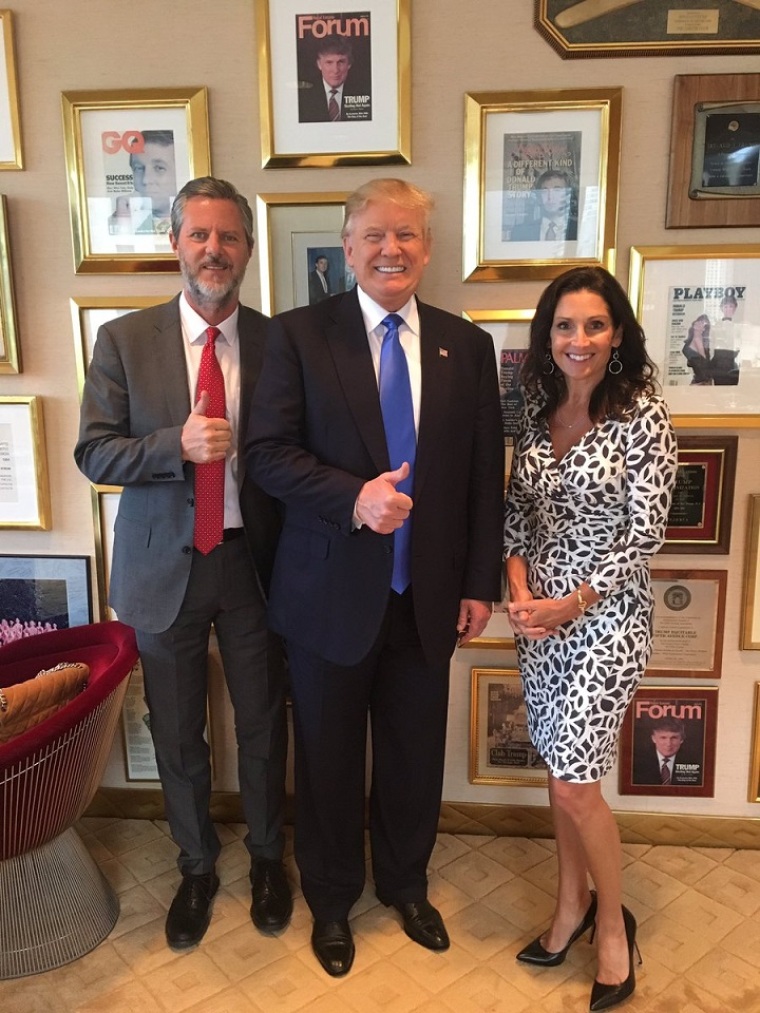 Liberty University President Jerry Falwell Jr. denied reports that President Donald Trump's former lawyer Michael Cohen intervened in 2015 after someone obtained "personal" photographs the Falwell's did not want to go public.
"There are no compromising or embarrassing photos of me," Falwell told conservative pundit Todd Starnes on his radio show Wednesday.
According to a recording of a phone conversation between Cohen and actor Tom Arnold that was reviewed by Reuters and The Washington Post, Cohen told Arnold that the Falwells had a "bunch of photographs" they wanted to keep from becoming public.
The photographs in question, he said, are ones that are usually kept "between husband and wife."
A source close to Cohen told Reuters that Falwell reached out to Cohen regarding the matter in 2015, just a few months before Falwell issued his endorsement for Trump in the 2016 presidential election.
According to the source close to the matter, the person who obtained the photos had demanded money and Cohen flew to Florida to meet with the attorney of the person who possessed the photographs.
Cohen was said to have told the attorney that his client is committing a crime and threatened to call law enforcement. The matter was reportedly resolved soon thereafter and the photographs were said to have been destroyed.
"I was going to pay him and I was going to get the negatives and do an agreement where they turn over all technology that has the photographs or anything like that, any copies," Cohen told Arnold on the call, according to The Washington Post.
"And it never happened. The guy just either deleted them on his own or what have you."
The conversation between Arnold, a known Trump critic, and Cohen took place on March 25 and was recorded without Cohen's knowledge.
"I actually have one of the photos. It's terrible," Cohen was quoted as saying in the recording, adding that he keeps the picture on his phone. 
However, Falwell stated that the "report is not accurate."
"While we have a long-standing friendship with Michael Cohen, we never engaged or paid Cohen to represent us in any legal or other professional capacity, and Cohen did not ever resolve any legal matter on our behalf," Falwell told Starnes.
According to The Washington Post, a lawyer for the Falwells also denied there being any personal racy photographs of Falwell and that the Falwells have never engaged Cohen in a professional capacity.
Cohen served as Trump's "fixer" for over 10 years and is serving a three-year prison sentence for federal campaign violations, tax evasion, bank fraud, and perjury.
The conversation with Arnold was first reported by The Wall Street Journal on April 24, which pointed to the fact that Cohen denied committing some of the crimes to which he pled guilty because prosecutors began targeting his wife.
As the son of Liberty University founder Jerry Falwell Sr., Falwell was one of the first well-known evangelical leaders to put their support behind Trump during the Republican primary election right before the Iowa caucuses.
At the time, many social conservatives were supportive of fellow candidates like Ted Cruz, Ben Carson, Marco Rubio, and Mike Huckabee. Cruz even launched his presidential campaign at Falwell's Liberty University in Lynchburg, Virginia.
Two people familiar with the matter told Reuters that Cohen helped to persuade Falwell to issue his endorsement of Trump just before the Iowa caucuses.
There is no evidence to suggest that Cohen's alleged assistance in the matter over the photographs had influenced Falwell's support for Trump. Even today, Falwell remains one of Trump's most vocal supporters, regularly issuing questionable comments on social media.
Earlier this week, Falwell tweeted, perhaps jokingly, that Trump should have two years added to his presidential term as "reparations" for the investigation into the Russian interference in the 2016 presidential election.
In January, news came out that Cohen had paid John Gauger, LU's chief information officer and vice president of analytics, to rig online polls in favor of Trump ahead of the 2016 election. In response, LU praised Gauger's "success" as an "independent entrepreneur." 
When Cohen first pled guilty last August, Falwell quoted scripture and blamed Jeff Sessions, who was attorney general at the time. 
"'By their fruits, ye shall know them' Today, we saw the fruits of @jeffsessions but it is too little too late! The AG sewed the wind but he will reap the whirlwind in November!" tweeted Falwell, quoting Matthew 7:20. 
Although it is not known who obtained the photos mentioned in Cohen's claims, historian Daniel Silliman of Valparaiso University recalled of litany of stories involving Cohen, the Falwells, and a Miami business venture that ultimately led to a lawsuit.
"Are all these things connected? The pool boy, the property deals, the lawsuit, the alleged racy photos, the shady deals with Michael Cohen?" Silliman asked. "Maybe. There are enough dots you can start to see a shape, even if you can't for-sure say what that shape is."